By David J. Phillips
Progenics Pharmaceuticals (NASDAQ:PGNX) fell more than 25% in recent days, recovering slightly, after an abstract presented at the 2014 Genitourinary Cancers Symposium revealed that two patients receiving the company's investigational antibody-drug conjugate (ADC) died due to sepsis in a trial designed to treat metastatic castration-resistant prostate cancer (mCRPC). A review of enrolled patient health histories, coupled with the unmet demand for effective mCRPC treatments, suggests the unnerved investors weren't fully informed when selling their common stock.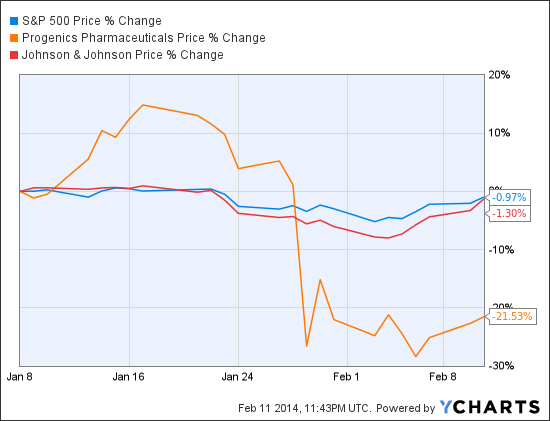 Progenics' ADC targets prostate-specific membrane antigen (PSMA), a protein overexpressed manifold on the surface of almost all prostate cancer tumor cells (and in tumor vasculature too). PSMA-ADC combines the molecular targeting of a monoclonal antibody with the tumor-killing activity of a potent chemical toxin and is rapidly internalized following select linkage at the antigen-binding (AB) cancer marker site.
Once inside the tumor cell, PSMA-ADC releases doses of monomethyl auristatin E, or MMAE, which kills the targeted cells by disrupting microtubule filaments that give cells their shape, structure and ability to proliferate and divide into new tumor cells.
The current Phase II Clinical Trial in question was designed to evaluate the anti-tumor activity and safety of the cytotoxic agent PSMA-ADC in killing cancer cells in men with mCRPC refractory to treatment with at least one taxane-containing chemotherapy regimen (e.g. docetaxel or cabazitaxel) and who had continued disease progression despite therapy with Johnson & Johnson's (NYSE:JNJ) or Medivation's (NASDAQ:MDVN) testosterone production inhibitors Zytiga (abiraterone) or Xtandi (enzalutamide).
Though complications reported were consistent with those witnessed in earlier dosing/safety trials – neutropenia (white blood cell counts below 500, 6.7% and 11.4% at 2.3 and 2.5 mg/kg, respectively) and peripheral neuropathy (grade 3 or higher, 12.4% in total) - the study abstract showed two of the 70 enrolled patient died from sepsis.
The stock came amid comments made by Brian Klein, an analyst at New York City-based Stifel Nicolaus, suggesting in a Bloomberg News interview that even at lower doses, PSMA-ADC-treated patients could experience life-threatening levels of toxicity.
Contrary to Klein's assessment, investors' bearish sentiment that further testing of the clinical utility of PSMA-ADC might be pointless due to toxicity concerns is unfounded: Robert Israel, MD, one of the study authors and executive vice president of medical affairs at Progenics, pointed out to Medscape Medical News that both of the patients who died had predisposing conditions.
"One had an indwelling central line [known to increase risk of developing sepsis] and the other had repeated urinary tract infections," said Dr. Israel. "The patients were also heavily pretreated and didn't have much in the way of other options."
As a new class of biological therapeutics, the ADC market is still in its infancy. Nonetheless, skeptics might want to spend a Saturday reading up on the managed benefits of these highly potent drugs in the context of understood off-target toxicities.
As observed by Dr. Israel: "This [two septic-related deaths with PSMA-ADC] is not going to make a difference to clinicians. Anytime you drop the white blood cell count, there is a risk associated with it."
The company also said an independent drug monitoring board and the FDA have agreed that the trial could move forward with the lower 2.3 mg/kg dose.
Obfuscated in the cloud surrounding the [known] cytotoxicity of PSMA-ADC is the reported interim data demonstrating the drug's potential efficacy: positive study endpoints included marked reductions in both PSA levels and the number of circulating tumor cells (more than 50% in 70% of patients).
Notwithstanding serious safety concerns, including septicemia, white blood cell irregularities, and peripheral neuropathy, health regulators – citing an overall benefit-risk profile – have approved two ADC products in recent years: Roche's (OTCQX:RHHBY) Kadcycla (ado-trastuzumab emtansine) and Seattle Genetics' (NASDAQ:SGEN) Adcetris (brentuximab vedotin) for the treatment of HER2-positive, metastatic breast cancer (2013) and Hodgkin's lymphoma (2011), respectively.
Progenics' first licensed product is a bust: The subcutaneous injectable Relistor (treats opioid-induced constipation (OIC) in patients with advanced illness who are receiving palliative care) being sold by Salix (NASDAQ:SLXP) brings in less than $5 million in annual sales. In addition, both companies received a negative response from the FDA to broaden the drug's labeling to include OIC in patients with chronic pain, suggesting an expected $290 million in additional commercial milestone payments to Progenics won't materialize.
Nonetheless, mCRPC treatment in the post-taxane setting represents a commercially attractive unmet market for PSMA-ADC. Other than skin cancer, prostate cancer is the most common cancer in American men; about 1 man in 36 will die of prostate cancer, with the median survival for men with mCRPC less than two years, according to the American Cancer Society.
The prostate cancer drug market will experience robust 10 percent annual growth from 2012 to 2022 in the world's major pharmaceutical markets (United States, France, Germany, Italy, Spain, the United Kingdom and Japan), totaling $8.6 billion in 2022, according to analytics firm Decision Resources.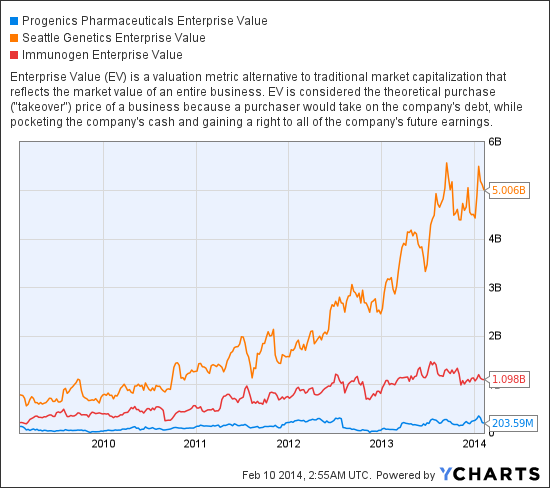 Progenics could soon become a rumored buyout target, given the company offers Big Pharma access to potentially lucrative ADC oncology assets on the cheap.