Let's talk about food. Have you chatted with your doctor about your diet recently? Chances are, you would have heard some variation upon this theme - "eat more fish, veggies and fruit." Sound familiar? Apparently the whole world has been increasingly heeding this advice, particularly when it comes to eating more fish.
The problem is, supply isn't growing as fast as demand. Global fish consumption grew by over 14% from 2006 to 2011, but the supply of fish as food only grew by around 8%: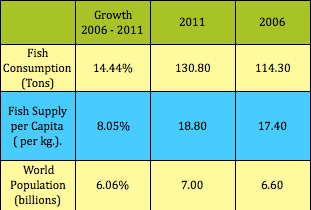 But, for investors in this week's focus stock, Marine Harvest ASA, (NYSE:MHG) (MNHVD), this surging demand is a good thing. This company controls over 22 % of the global production of farmed Atlantic salmon, the most industrialized and commercially developed aquaculture specie. - According to the UN, the world must increase its food production by 70% by 2050. As much as 70% of the globe is covered by water. Yet, only six% of the world's protein supply is sourced from the oceans today. A big opportunity indeed.
Founded in 1965, Marine Harvest, based in Norway, has operations worldwide. There are five major business units: Marine Harvest Norway, Marine Harvest Scotland, Marine Harvest Chile, Marine Harvest Canada and Marine Harvest VAP Europe. (VAP = Value Added Products).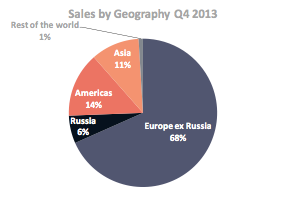 MHG, was just listed on the NYSE on 1/28/14. You can now easily buy American Depository Shares in the U.S. If you do so, you'd be joining heavy hitter John Frederiksen, the magnate behind Seadrill, whose Geveran Trading Group owns around 28.6% of the company. MHG's Chairman Leroy and his affiliates just increased their share of MHG to 1.4%, via a 10-for-1 reverse stock split, so management has some skin in the game also.
Dividends: Last week, MHG announced a new quarterly dividend of 1.20 NOK (Norwegian Krone), which translates into around $0.196/share for US shares. We've added MHG to the our High Dividend Stocks By Sectors Tables.
The nearly 7% forward dividend yield listed below merely projects this amount as MHG's quarterly dividend for 2014. Is this a given? No, but management made these statements in its recent Q4 2013 earnings release: "Based on the future supply-demand balance, we see great opportunities for delivering a solid return to the shareholders in the years to come. Such return is likely to include an increasingly large component of quarterly cash dividend payments as net debt comes down and capital expenditures normalizes."
"Marine Harvest will target a net interest-bearing debt/equity ratio of less than 0.5x. When target level is met, at least 75% of the annual free cash flow after operational and financial commitments will be distributed as a dividend." (Source: MHG website)
Another positive factor for future dividend growth is Mr. Fredriksen's track record of rewarding shareholders with increasing dividends in his other companies. Granted, those firms are in a totally different business - (offshore drilling rigs), but, with his big ownership stake in MHG, it seems probable that he'd press for a strong long-term dividend policy.
Options: We haven't added MHG to our Covered Calls Table or Cash Secured Puts Table, as there are no options available yet.
Earnings: MHG's main earnings engine is its farming operations. Record high prices for salmon helped MHG to achieve record revenue in Q4 2013. In addition, they stated that this price trend has continued so far in 2014, and that their overall volume will increase nearly 18% in 2014. This "strong market poses attractive 2014 net cash flow opportunity." (Source: MHG website)
Analysts agree - they forecast an average of over 100% EPS growth for the company in 2014, which makes MHG look very undervalued on a 2014 PEG basis*:

Here's a breakdown of Earnings before Interest and Taxes by Segment. MHG's new 220,000 ton processing plant in Norway should be completed by July 2014, and will be able to process up to 60% of its estimated 2014 Norwegian harvest, which should help costs going forward.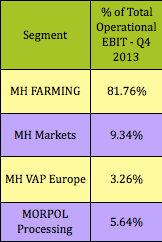 Valuations: MHG also looks undervalued on a P/E and Price/Tangible Book basis: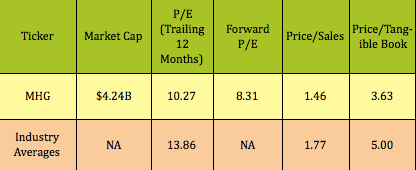 Financials: MHG's management efficiency ratios look solid, and it has a superior operating margin than the industry average:

*Earnings forecasts are translated into US dollars, from Norwegian Krone, on a post-split basis. Please note: The financial websites have very confusing data listed for MHG - some list the data in Norwegian currency, others in US dollars, and others haven't yet adjusted for the stock split. Hopefully, this will be corrected in the near future.
Disclosure: Author owned shares of MHG, not MNHVD, at the time of this writing.
Disclaimer: This article was written for informational purposes only.
Disclosure: I am long MNHVD. I wrote this article myself, and it expresses my own opinions. I am not receiving compensation for it (other than from Seeking Alpha). I have no business relationship with any company whose stock is mentioned in this article.
Additional disclosure: I presently own shares of MHG, not MNHVD. Since this is a newly listed stock, SA's disclosure program doesn't include the MHG symbol yet.