Time Warner Inc. (NYSE:TWX) released HBO's financials for the first time in their 4Q2013 earnings release on February 5, 2014. This calculated move was done so investors have a chance to see exactly how HBO stacks up against rival Netflix (NASDAQ:NFLX). While both companies turned in a solid 2013, Netflix outperformed Time Warner by over 100% over the past year. This article will examine how the two companies compare and how the market is valuing each company.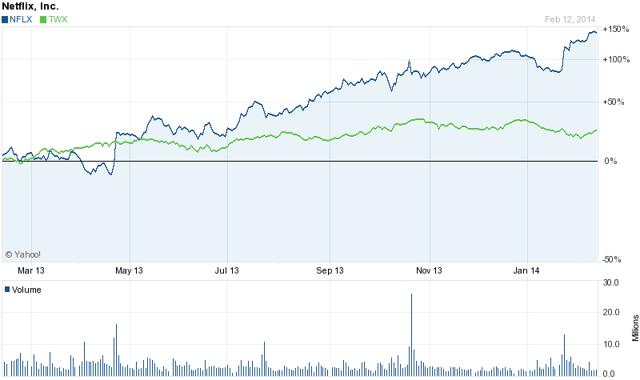 Rivalry
In Netflix's long term view, CEO Reed Hastings states:
"The network that we think is likely to be our biggest long-term competitor-for-content is HBO. In the USA for example, HBO recently won long-term exclusive domestic movie output deals with Universal and Fox. HBO bids against us on many original content projects though is not currently a bidder against us for prior-season television from other networks. HBO has global reach and a strengthening technology capacity. "
Both companies view original content as a major contributor to gaining and retaining customers. Netflix just started their own original programming last year with the successful launch of House of Cards and Orange Is the New Black, where as HBO has been successfully doing this for years. Some of HBO's original content includes Game of Thrones, The Sopranos, The Wire, Sex and the City, Boardwalk Empire, Band of Brothers, Oz, Entourage and True Blood, just to name a few. While Netflix just won its first Emmy for best director for House of Cards, HBO has won the most Emmys in the industry for 12 consecutive years. Netflix is hoping to model its original content business off of HBO. It is estimated the HBO has an original content budget of approximately $1 billion and Netflix has an estimated budget of $200-$400 million. Netflix plans to double its original programming in 2014 and gradually grow it going forward.
Financials
HBO

Netflix

2013

2012

Y/Y % change

2013

2012

Y/Y % change

Revenue

$ 4,890

$ 4,686

4.4%

$ 4,374

$ 3,609

21.2%

Adj. Operating Income

$ 1,678

$ 1,547

8.5%

$ 228

$ 49

365.3%

Operating Margin

34.3%

33.0%

3.9%

5.2%

1.4%

283.9%

28

26 (est)

7.7%

33.4

27.1

23.2%

International subscribers

85

74 (est)

14.9%

10.9

6.1

78.7%
Just by looking at the financial comparison, it's easy to see that Time Warner's HBO is a well established and profitable company where as Netflix is rapidly growing but has yet to bring in strong profits. The growth potential for Netflix has caused the market to give it an extremely high valuation and Time Warner a valuation that mirrors its industry peers.
| | | | | | | |
| --- | --- | --- | --- | --- | --- | --- |
| | Time Warner | Viacom (NYSE:VIA) | | Disney (NYSE:DIS) | Peer Average | Netflix |
| Current P/E | 17.2 | 16.3 | 21.7 | 21.3 | 19.1 | 237.7 |
| Forward P/E | 15.6 | 14.7 | 18.3 | 19 | 16.9 | 105.7 |
While it's not fair to directly compare Netflix to the media companies above, it does give you an idea of where Time Warner's HBO valuation comes from. The question then becomes, should HBO be valued the same as a company like CBS or Netflix? Previously HBO could only be viewed on your television just like ordinary cable channels, but now HBO is taking a more Netflix-like approach. HBO GO allows subscribers to view any episode of any season of any HBO series, 130 movies, documentaries, sports and comedy specials on your television, computer, iPad, iPhone, Apple (NASDAQ:AAPL) TV, tablet, Google (NASDAQ:GOOG) Chromecast, Kindle Fire, Roku and Xbox 360. HBO GO is also expected to be available on PS4 and Xbox One shortly. HBO GO saw a 30% increase in use during 2013 and is a powerful tool to bring in and retain customers.
Market Value
Netflix has a market cap of $26.2 billion. While it's slightly more difficult to get an accurate market value of HBO since its part of a much larger company, Time Warner Inc., I will estimate it for comparison.
| | | |
| --- | --- | --- |
| Time Warner Inc. | 2013 | |
| Revenues ($millions) | | est. % of Total |
| -Turner | $ 9,983 | 37% |
| -HBO | $ 4,890 | 18% |
| -Warner Bros. | $ 12,312 | 45% |
| intersegment eliminations | $ (724) | |
| Total Rev. excluding Time Inc. | $ 26,461 | |
| Adjusted Operating Income | | |
| -Turner | $ 3,536 | 54.1% |
| -HBO | $ 1,678 | 25.7% |
| -Warner Bros. | $ 1,327 | 20.3% |
| Total Adj. Operating Income | $ 6,541 | |
With limited data available on specifics in each business segment, I used revenue and operating income to get a broad estimated market value range for HBO. HBO is responsible for roughly 18% of revenue and 25% of adjusted operating income at Time Warner. Taking 18%-25% of Time Warner's $58 billion market cap, it's reasonable to assume the market values HBO at $10.5-$15 billion. Looking at Netflix's market cap of $26 billion, it's clear who the market favors. But is Netflix really worth $11-15.5 billion more than HBO? Time Warner showed HBO's financials because they believed the market would reward a favorable comparison between the two businesses. HBO is growing at a far slower pace than Netflix with only 4.4% revenue growth compared to 21.2% growth for Netflix in 2013, but HBO is far more profitable than Netflix. Netflix would need to grow operating income by 700% to match HBO's $1.67 billion operating income.
One important difference between the two businesses is how each company sells its product to subscribers. Currently HBO relies on cable providers to bundle packages which promotes HBO and in turn takes a cut of the monthly fee, while Netflix sells its service directly to the customer. This is one reason why Netflix is able to grow revenues far more quickly than HBO. However, Netflix customers have been shown to be sensitive to any price increases as shown when the company split its DVD and streaming services, effectively doubling prices for many customers. When Netflix did this in late 2011, the stock took an absolute beating.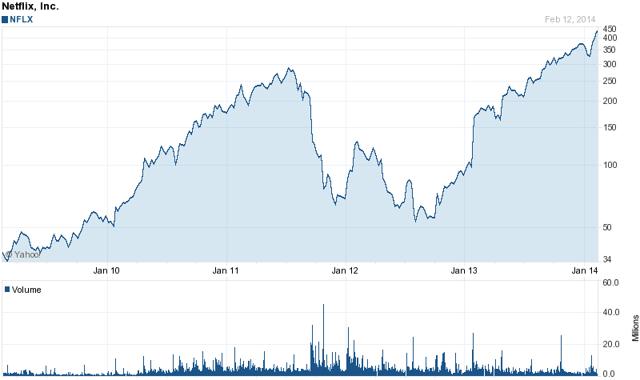 Netflix believes by providing strong original content as HBO does, it will gain more customer loyalty and develop a reason for subscribers to stick around. This is easier said than done. HBO has been releasing new critically acclaimed shows for years, but a few misses by Netflix could have a serious impact on the company and raise questions on its ability to grow this business segment.
HBO is also competing with Netflix for streaming movies and recently won an important contract with Universal Pictures and Fox Studios (NASDAQ:FOX). This will allow HBO subscribers to view movies from 2 of the largest studios in the industry which Netflix subscribers won't have access too. HBO getting involved in actively bidding for movie contracts will drive up the price for Netflix to gain new titles as well. This will further impact Netflix's cost structure and delay strong profitability that HBO already enjoys.
Conclusion
I believe Netflix is extremely expensive at current prices and its value has been inflated due to its impressive revenue growth other the past 2 years. Operating at a forward P/E of over 100 gives a company very little room for error, but the market has spoken and this is where investors believe it belongs. HBO has been lumped into Time Warner's business for over 2 decades and investors have only been able to digest its financials for around a week. On every level other than revenue and subscriber growth, HBO stands head and shoulders above Netflix. If Time Warner finds a way to continue to market HBO GO as a business model like Netflix, it will see improved revenue growth. Now that HBO is broken out in earnings reports, investors finally get to determine how it should be priced. Investors need to see continued growth in HBO for it to be given a multiple higher than the media industry average. Netflix has a successful business model that HBO GO has a chance to emulate. Right now an HBO subscription gets you HBO GO. If HBO can continue to evolve its business model, investors will see its value and Time Warner's strategy of giving investors an insight into its HBO business segment will pay off.
Disclosure: I have no positions in any stocks mentioned, and no plans to initiate any positions within the next 72 hours. I wrote this article myself, and it expresses my own opinions. I am not receiving compensation for it (other than from Seeking Alpha). I have no business relationship with any company whose stock is mentioned in this article.