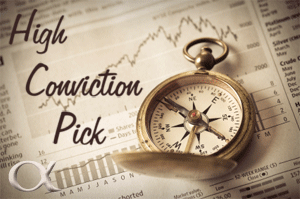 Tom White is principal of CAP Partners, an RIA based in Brentwood, Tenn., representing individuals, families and small-business owners. The firm takes a long-term perspective in investment advising and financial planning for its clients. He's spent 14 years in the industry.
Seeking Alpha recently got the chance to ask Tom about his current highest-conviction stock pick.
What is your highest conviction stock position?
One company that we own in clients' portfolios that I would cite with very high conviction is Visa (NYSE:V), which operates the world's largest retail electronic payments network.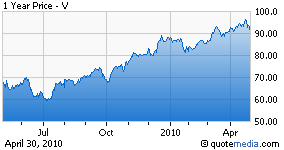 We have owned Visa since it went public in March 2008. At the time, the company issued over 400 million shares of Class A Common Stock at $44 per share. The IPO raised nearly $18 billion, which made it the largest initial public offering in the U.S. Prior to going public, the San Francisco-based company had been a private company for over 30 years and was owned by member financial institutions (mostly banks such as JPMorgan Chase (NYSE:JPM), Citigroup (NYSE:C) and Bank of America (NYSE:BAC)).
The banks had the responsibility for issuing cards and determined the interest rates and fees paid by cardholders. Visa does not earn revenues or bear credit risk from interest and fees paid by the cardholders. It derives its revenues primarily from card service fees, which are generated every time a consumer swipes their Visa card (debit or credit) for purchases.
When a cardholder uses his Visa card, the card information and the transaction details are received by Visa, which facilitates the authorization, clearing and settlement of the transaction. The company then charges its clients (merchants) different fees based on the dollar volume and the number of transactions. Since Visa does not issue the credit or debit cards, it do not hold the loans associated with those cards.
As of the end of Visa's most recent fiscal year (June 30, 2009), revenues were $6.9 billion with net income of $2.45 billion. The company just released its second-quarter results on April 28, with revenue of $3.92 billion on a six-month basis, and revenue growth of 16%. Net income for the same period was $1.48 billion, which is a 33% increase. It has over $4.5 billion in cash on its balance sheet with less than $50 million in long term debt. On the day it reported its second-quarter results, Visa's stock closed at $93.61 per share. It closed Friday at $90.23.
Can you talk a bit about the sector? How much is Visa an "industry pick" as opposed to a pure bottom-up pick?
Our investment in Visa is based on company-specific research. Our investment thesis is based on the ongoing shift among the world's consumers from paper-based payments (checks and cash) to card-based and other electronic payments. From 2000 to 2006, global card purchase transactions grew at a compound annual rate of 14%. Going forward, global growth estimates from 2006 to 2012 are at 11%, with the Middle East, Africa and Asia's total transactions growing in the high teens.
The shift to electronic payment forms is a worldwide phenomenon, but is only at an early stage in many developing countries. Rising incomes, globalization of commerce and increased travel is fueling the growth in these countries.
Visa has over 1.7 billion cards issued, and they're accepted in over 170 countries around the world. Some 66% of their revenues were derived from the United States and 14% from the Asia-Pacific region. It is also one of the most recognized and respected brands in the world.
Can you describe Visa's competitive environment? How is this company positioned against competitors?
Visa's primary competitors are MasterCard (NYSE:MA), American Express (NYSE:AXP) and Discover (NYSE:DFS). For the 12 months ended June 30, 2009, Visa had transaction volume of $4.25 trillion and its total number of transactions worldwide reached 40 billion. Both volume and number of transactions exceeded MasterCard, American Express and Discover combined. We believe Visa will continue to be positioned well in its industry relative to its competitors.
Can you talk about valuation? How does Visa's valuation compare to the competitors?
When we first bought the stock at the IPO, valuation was not the driving factor since we knew that there is always an inherent premium buying into an IPO. At the same time, we are always mindful of what we are paying for a company's stock. The underlying factor in this case was the opportunity to buy it at the outset, and if the stock's price ever fell below its initial offering price that we were ready to buy more. In fact, this did happen in January 2009 in the midst of the credit crisis. Visa's stock briefly traded in the low $40s, which allowed us to buy the stock for clients who did not participate in the IPO.
In the two years since the company went public, Visa's earnings have grown from $1.75 billion to $2.45 billion last year. It is projected to earn over $3.2 billion this year. With our basis on the stock at $44 per share, the valuation on our position in Visa has only gotten cheaper over time, with a forward P/E of 15 based on our cost basis. As we continue to hold the stock over the long term, it will ultimately offset the inherent premium we paid when we bought it at the IPO.
With regards to Visa's competitors, we do not generally factor in the competitors' valuations in deciding whether to invest in a company's stock or not, since we are more interested in the company's fundamentals. Because even if Visa's stock was trading at a discount to its competitors, if the company's overall business (earnings, balance sheet, growth prospects, etc.) is not attractive to us, we would not invest in it. Where a company's competition comes into consideration is in the company's enduring competitive advantage. Specifically, its technology, corporate culture, management team and market share. We believe Visa has these characteristics.
What is the current sentiment on Visa, and how does your view differ from the consensus?
We do not factor into our research what others' opinions are about a particular company and its stock other than what's reflected in the stock's price. In other words, if the general market sentiment is negative, the stock will likely trade down, which could provide us with an opportunity to buy so long as the fundamentals of the company's business are intact and its future prospects are positive. We are able to do this because our clients are long-term investors and view short-term disruptions in price as potential opportunities. Our job as investment advisers is to independently generate investment ideas.
Does the company's management play a role in your position? If so, how?
We view the management team of a company as a critical factor for investing. We have to have a great deal of confidence in the executive team - that they are experienced, competent managers and know how to run the business they are leading.
In Visa's case, its chairman and CEO, Joseph Saunders, has several decades of experience in the industry and was formerly chairman of MasterCard International's board in the late '90s. Many of the members of Visa's executive team were also former executives at other financial institutions. Another characteristic we look for in the management team and board of directors of a company is their focus on building the business for the long term, and not for short-term gains to try to manage the stock price. We believe Visa's leaders have the proper focus.
What catalysts do you see that could move the stock?
The main catalyst we experienced was the IPO in March 2008. At the same time, the bear market precipitated by the recent credit crisis provided investors an opportunity to buy the stock at the IPO price or better in January 2009. Moving forward, we see the ongoing recovery of the world's economies as a longer-term catalyst, especially with consumers in developing countries leading the charge. Since we are not active short-term traders, we can afford to be patient and simply let the company's earnings over time be the primary catalyst to attract other investors willing to buy the stock at a higher price.
What could go wrong with this pick?
Visa's overall business model is one of its main attractions. However, it is still a very competitive industry which leads to intense competitive pressure on customer pricing. Another risk is if the company is unable to keep pace with rapid technology developments in alternative types of payment systems which could lead to a decline in market share.
Finally, when Visa, Inc., became a publicly-traded company, it did not include its European division as part of the IPO. Visa Europe operates as a separate entity. As a result, Visa Europe has a put option, which if exercised at its discretion, would require Visa, Inc., to purchase all of Visa Europe's outstanding shares. This could amount to as much as $2.6 billion. We consider this last one more of an operational/cash flow risk than a business model risk.
The bottom line is that Visa is very much a dominant player in its industry. The growth prospects are very appealing, and its business model is easy to understand as an investor, which is why it remains our highest conviction position.
Thanks, Tom, for sharing your thesis.
Disclosure: CAP Partners is long V.
Read more High Conviction Picks »
If you are a fund manager and interested in doing an interview with us on your highest conviction stock holding, please email Rebecca Barnett.