Yesterday afternoon, Vringo hosted a conference call that gave investors an update on past, present and future litigation cases. Today, I wanted to cover some of these topics as well as eliminating some of the rumors that have been flying around lately.
1) Secondary Offerings - Possibly the biggest rumor that has been flying around lately is that Vringo is going to issue some kind of offering in order to raise some much needed capital.
While I've mentioned several times that the company has plenty of cash to operate with over the next two years, there isn't a better source than management itself. As of February 12, 2014, management stated that Vringo's cash position is over $31M.
Management also went on to say during the call that based on their internal budget and the cost of their anticipated licensing efforts, they believe the cash position is sufficient for Vringo to operate through 2014 and 2015 conservatively, without budgeting for a significant revenue event. So with that, we can finally put those rumors to rest.
2) ZTE Looks Like The Next Billion Dollar Case - Another rumor that has been flying around lately is that Vringo is just a one trick pony. Some have even called Vringo's victory over Google (NASDAQ:GOOG) "lucky." To those people I say its time to wake up and smell the roses.
Clearly Vringo has huge amount of potential going forward and is currently building a huge base to work from. Now with Google taking a backseat somewhat, investors can concentrate on the many other patent cases the company has going forward. As of right now, it all starts with ZTE (OTC:ZTCOY). Here is what management said about ZTE during the conference call and what they expect to get out of it.
"According to ZTE, they expected to ship between 45 million and 50 million smartphones in 2013. In the term sheet we provided to ZTE, we've offered a license at a rate of $2.50 per smartphone. If this ultimately became our rate and our license of ZTE, it would equate to over $100 million of royalties due for smartphones in 2013 alone. We are also seeking additional royalties on non-smartphones and infrastructure equipment. We are seeking six years of past royalties and future royalties until the expiration of the patent in our telecom portfolio."
While I expected the case against ZTE to be in the hundreds of millions, I certainly didn't expect anything in the neighborhood of one billion. So much for Vringo being a one trick pony now right.
Conference Call Highlights
The conference call yesterday gave investors a lot to think about. For those of you that were unable to listen to it, here are some of the highlights from it.
The company has many patent and patent applications currently pending.
Vringo is in active dialogue with some of the world's largest corporations to acquire or partner in an effort to monetize intellectual property assets.
When asked about what the company's plans are when it starts receiving a significant amount of revenue, management stated they will look at all of their options. However, it must be noted that management stated that a dividend to shareholders will likely take place and that they will be pleased to distribute that cash to shareholders.
Vringo has taken new action relating to its telecommunications portfolio and its enforcement actions against ZTE and ASUS. These new actions combined with the company's existing actions have resulted in seven trial dates currently scheduled to occur in 2014.
The ongoing patent reform that is underway in Washington does not look like it will not have much of an impact on Vringo. I will further elaborate on this in the rest of the article.
"Patent Trolls" or Patent Heroes?
A couple of weeks ago, I came across a very thought-provoking article on Forbes. The article titled "Thank Heavens For Those Patent Trolls" talked about the Intellectual Property ("IP") industry and how "patent trolls" serve a need in the marketplace. It made some very interesting points and I highly encourage everyone to look over it if they haven't already done so.
As many of you know, over the last couple of years there has been many issues with regards to patent reform. Today I would like to talk about some of these issues and what this means going forward for Vringo (VRNG).
Innovation Meets Reform
On September 16, 2011, President Barack Obama signed the America Invents Act ("AIA") which was aimed to help American entrepreneurs and businesses bring their inventions to the market sooner, thus creating new businesses and jobs.
"I am pleased to sign the America Invents Act. This much-needed reform will speed up the patent process so that innovators and entrepreneurs can turn a new invention into a business as quickly as possible. Here in America, our creativity has always set us apart, and in order to continue to grow our economy, we need to encourage that spirit wherever we find it." -President Obama
So what exactly did this do? Essentially it made a couple of technical changes to the system with regards to the way patents are granted. However, the changes still left bigger issues on the table and didn't do much to address the problems of patent litigation.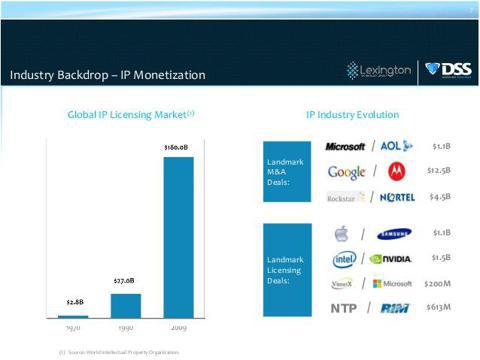 In just the last two years since it was enacted, patent litigation has exploded and has completely flipped the industry around. This is why there has been pressure to make some more changes (The Innovation Act), in order to address the bigger issues that was left unsolved under the AIA.
The Innovation Act
Bob Goodlatte, chairman of the House Judiciary Committee was the person who sponsored the Innovation Act.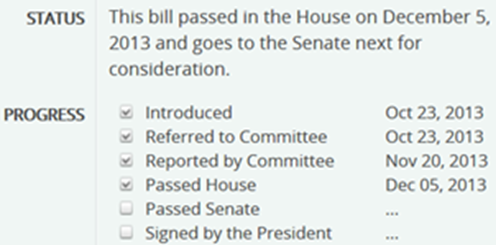 On November 20, 2013, the Act was approved by the Committee by a 33 to 5 margin and was then passed to the US House of Representatives. On December 5, 2013, The House overwhelmingly approved legislation by a 325-91 vote and passed it over to the Senate.
The Innovation Act enjoys the support of some of the biggest companies in the world. Companies such as Google, Apple (NASDAQ:AAPL), IBM (NYSE:IBM) and Microsoft (NASDAQ:MSFT) have been a driving force behind the Bill.
Of course these high-profile companies are not without their large number of patents and patent portfolio's either. According to an article at AppleInsider, patents surged in 2012 as companies across the globe were awarded thousands of patents. Just take a look at the results below.
| | | | | | | |
| --- | --- | --- | --- | --- | --- | --- |
| | Apple | Google | Microsoft | Sony | Samsung | IBM |
| Patents Awarded just in 2012 | 1,135 | 1,151 | 2,613 | 3,032 | 5,081 | 6,478 |
While some of these bigger companies are behind patent reform, they clearly don't mind acquiring thousands of patents along the way to use in a number of ways. Some of these companies have even gone after each other in litigation cases (Samsung (OTC:SSNLF) vs. Apple).
Just a year and a half ago, Google acquired Motorola for $12.5B. Why did it do this? Frankly because it gave Google access to thousands of patents with many more that are currently pending. Surely there is a lot of money at stake for patents and patent portfolio's. Why else would the number of patents being granted and acquired keep rising year after year? In just the last 20 years, the number of patents granted in the United States has almost tripled.
| | | | | | |
| --- | --- | --- | --- | --- | --- |
| Patent Statistics | 1993 | 1998 | 2003 | 2008 | 2013 |
| Number of patents granted in the U.S. | 109,746 | 163,142 | 187,012 | 185,224 | 302,948 |
Venture Capitalists
Not to be left out of the patent conversation, Venture Capitalists made sure their voices were heard as they took part in a letter that was sent to Congress, addressing patent reform. Here is what they had to say.
Dear Congress:

Each year, we invest hundreds of millions of dollars in software and information technology businesses and emerging mobile technologies. Together with other investors, we commit more than $1 billion annually in angel and venture capital, which ensures the continuing growth of young, high-tech companies that employ 1.4 million people. ... We write to urge comprehensive legislation to address the troubling growth and success of the patent troll business model. Young, innovative companies are increasingly threatened and targeted by patent troll lawsuits. ... Successful legislation should make it harder to be a patent troll, and easier for targeted businesses to protect and defend themselves.
So who are these Venture Capitalists? One of them that jumps out to me is billionaire Mark Cuban. Cuban has invested and helped over 70 startup companies. So what other ties does Cuban have? Well if you didn't already know by now, Cuban has been quite the investor in Vringo, having purchased a large stake in the company.
There are two things that we can make from this. Either he has taken the position as part of a hedge, or he is confident in the company, its growth and future endeavors. Since Cuban purchased his first position and then followed it up by adding more shares, it appears that it's the latter of the two.
Here is something to think about. If Cuban was so worried about the impact the Innovation Act would have on Vringo, you would think he would have left by now don't you think? Why else would he stick around if he thought Vringo was in trouble with regards to the changes in patent reform? Instead, Cuban continues to stick it out and looks to be waiting for the big payoff in the end.
Inside The Innovation Act
So just how does the Innovation Act improve the patent system? First of all, there are many requirements that share a very common theme. That is of course to discourage "Patent Trolls" from filing egregious lawsuits and to reward innovation instead of litigation. Here is what is inside the bill:
1) Specificity in patent lawsuits - This requirement would make it harder for plaintiffs to file lawsuits as they would be required to be very specific about how the defendant allegedly infringed the plaintiff's patent.
As you can see below, Vringo has made it very clear about which products are infringing and how Google et al have infringed or continues to infringe the patents in question. Clearly Vringo already adheres to this "new" requirement, which means it won't have much of an impact on the company going forward.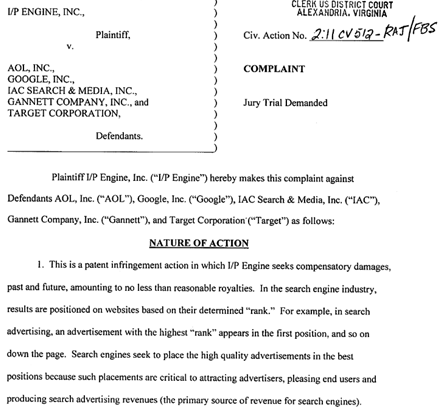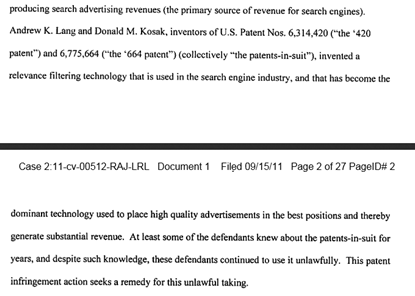 2) Make patent ownership more transparent - In some instances, patent companies can form shell companies to engage in troll-like behavior. In an effort to discourage this, the Innovation Act requires all plaintiffs to name anyone who has a financial interest in the patent being litigated.
So is this going to have any influence on Vringo? No. Vringo already is transparent with its lawsuits and because of that, already adheres to this "new requirement."
3) Delay discovery to keep costs down - One of the reasons why patent lawsuits are so expensive these days is because the defendants must provide thousands of pages of evidence and other documents. The Innovation Act would delay this phase until after the courts have addressed the meaning of patent claims. This will allow lawsuits to be resolved quicker and help the defendants in question to save a lot of money in legal fees.
Some of the lawsuits for Vringo are already well past the discovery phrase. However, with regards to future lawsuits, this is more like a little roadblock that shouldn't have much of an impact going forward.
You have to remember that Vringo files just a couple of lawsuits every year at the most. They are not out trolling around, sending thousands of lawsuits out and waiting to see which companies will take the bait. Instead, they take plenty of time looking over each case to make sure they have a legitimate shot before proceeding forward.
Because the system is a long process, it can take years for IP companies to be paid. Because they do not have deep pockets, they must make sure they spend their money very wisely. Luckily for investors, companies like VirnetX (NYSEMKT:VHC), ParkerVision (NASDAQ:PRKR), Document Security Systems (NYSEMKT:DSS), and Vringo have scored some big wins over some of the top companies in the world (Apple, Google, Microsoft and Qualcomm (NASDAQ:QCOM)).
4) Protecting end users - Another tactic the Bill tries to resolve is end user protection (small companies and shops). These small businesses often become intimidated and cave into paying licenses and other such fees to trolls. The Innovation Act will allow vendors to defend their clients who use or sell their products.
So is this going to have any influence on Vringo? Take a moment and think about the lawsuits Vringo has filed so far. Just off the top of my head I can name ADT, ZTE, Google, ASUS and Microsoft just to name a few.
Are these small companies that are likely going to cave in at the whiff of a lawsuit? Absolutely not! Because Vringo goes after the main vendors already. As you can see, Vringo already adheres to the "new" requirement, which means it won't have any impact on them.
5) Make the losing party pay. This part of the Innovation Act is what I like. Many other countries already use this system, which helps a victorious defendant recover the costs of its fees.
If a company in bad faith tries to hustle another company, it should have some kind of consequence and be made accountable for its actions. This should help settle the good lawsuits from the bad as more accountability shifts to the plaintiff's side.
Even if this requirement was implemented years ago, patent companies like VHC, VRNG, DSS and PRKR would never have been obligated to pay losing party fees because they have been victorious in their suits.
Clearly these companies know what their chances are going into litigation and are confident in what they do. Because of this I don't see this being a concern at all for these companies. After all, the willingness to go to trial is a strong sign that they mean business and are not just there to troll around, playing games and "hoping" for the best. In fact, I'm sure many of them are pleased with this announcement because they would have been financially compensated after taking the big dogs to court and winning.
What Defines A Patent Troll?
Throughout this article the phrase "patent troll" has been widely used. So what exactly is a "patent troll"? For those of you that are still confused or new to this matter, I will further explain this phrase and its concept.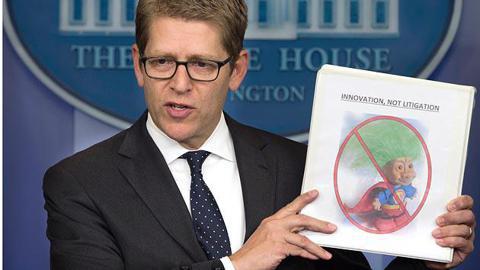 * The White House looks to crack down on patent trolls
Another name for a "patent troll" is a non-practicing entity ("NPE"). An NPE or patent troll is a person or company trying to enforce patent rights against alleged infringers in an attempt to collect payments through licensing fees, etc. NPEs or patent trolls do not manufacture or supply products based upon the patents in question, thus engaging in economic rent-seeking.
God Bless Those Patent Heroes
Of course the actions of one company doesn't reflect the intentions of many others, just like a couple of obnoxious fans at a sporting event doesn't accurately reflect the views of an entire fan base. The same principle applies here.
Now let's suppose for a moment that I gave up my writing career and turned into an inventor. Of course this would never happen, but just bear with me for a moment. After many years of brainstorming I finally put my thoughts into action and came up with a wonderful innovation that will revolutionize the entire world, at least so I think.
Of course this process takes a lot of time, money and resources (not to mention that I've never done this before). So with that, I pitch my idea to some of the biggest and brightest clients in the world. Surely working with them will help speed up the process.
Unfortunately, they laugh and completely dismiss my idea. With nowhere else to go, I sit down and start working it out all on my own. Fast forward a couple of years and I receive my first patent. Yay! After a quick celebration dance, I set out on my next project. However, while doing so, I come across my invention in the marketplace. Surely my invention was taken and passed off as somebody else's work.
So what can I do? Let's say that I'm a mid-to-lower class citizen that doesn't have the financial resources to take on the Goliaths of the world. Should I really just sit back and watch my idea that was stolen from me make billion and trillions of dollars for somebody else? No!
And this is where the patent trolls come to the rescue! Companies such as VHC, VRNG, PRKR and DSS are able to purchase my patent and give me some much needed cash to retire. Other options consist of bringing me along for the ride as we strike a deal that distributes the winnings evenly.
These companies have done this before and have proven that it can be done. Look no further that Vringo's win over Google last week as David Slayed Goliath In Billion-Dollar Victory. Clearly those pesky patent trolls that so many people complain about are actually needed in the marketplace and should be regarded as patent heroes for many across the world.
Without a last resort buyer for inventors, many would be left in the dark as they do not have the financial means to take on the Goliaths of the world. Just ask Ken Lang. Lang invented his patents and now Google is making billions off of his idea. Luckily for him, Vringo came to the rescue and has helped represent him in his cause for justice.
Conclusion
As a writer, I've come across several websites who have taken my work (SA articles), and passed it off "as their own." Some people even told me to "take it as a compliment" and to just move on. I wasn't satisfied with those answers and knew it was a much bigger issue than just that.
Nevertheless, since I was a recent college graduate, I didn't have the financial means at that time to take action, I did what I could and unfortunately had to hope for the best in the end. Should inventors have to hope for the best as well these days? I would certainly hope not!
I couldn't imagine being an inventor of some sort and after years of hard work and research, seeing companies profit from my work. This is why the world should take a stronger look at the patent system and decide how to protect everyone and provide a level playing field for all.
There is nothing more irresponsible then seeing writers, investors and companies calling for reform while labeling all IP companies as "patent trolls" when some of them (VRNG, VHC, DSS & PRKR) actually play a very pivotal role in the marketplace as you can see.
Getting down to the nitty-gritty of it all, I don't see the Innovation Act hurting companies like Vringo, VirnetX, ParkerVision and Document Security Systems at all.
Even though there are many articles out there today that simply throw out the term "patent troll" grouping many companies with it, investors who do their due diligence shouldn't feel threatened with all the noise that is out there.
As always, I'm providing you with my track record and other particular stocks that I recommend. The link provided will show you all of my picks, how they have fared, and where I think they will be going in the near future. I think you will find my track record to be very impressive as well as useful.
Disclaimer: Investors are always reminded that before making any investment, you should do your own proper diligence on any stock mentioned in this article. Have a great day and as always, I look forward to hearing your thoughts or questions that you might have.
Disclosure: I am long VRNG. I wrote this article myself, and it expresses my own opinions. I am not receiving compensation for it (other than from Seeking Alpha). I have no business relationship with any company whose stock is mentioned in this article.