Utilities have a lot to contend with. They can still be good investments.
Executive summary
Electric utilities face ongoing costs for cybersecurity, physical security, environmental compliance, and integrating renewables into their grids, but executives remain upbeat and regulators take a more pragmatic approach.
Conventional sentiment suggests that electric utility stocks will face headwinds as interest rates rise, but the improving economy should boost revenues and profits, more than offsetting higher interest expense.
With short-term interest rates expected to remain low, investors should still see electric utilities as a good (and less volatile) investment in this slow growth economic environment.
With average dividend yields of 4% and expected earnings growth of 4%-6%, electric utilities can deliver returns of 8%-10% in 2014, which is consistent with the expectations of Wall Street equity strategists for the broader market.
__________________________________
On Wednesday, February 12, the Edison Electric Institute gave its annual Wall Street Briefing to analysts and portfolio managers in New York City. EEI CEO Thomas Kuhn said that he remained optimistic about the industry's future, both because of the dedication of the employees of Investor-Owned Utilities (IOUs) and also the growing partnership that the industry is seeking to foster with its customers.
The electric power industry generates $860 billion in revenues or about 2.2% of GDP. IOUs serve more than 70% of America's industries, businesses and consumers and employ more than 500,000 people. The uses of electricity continue to expand into evermore devices - smartphones, smart appliances smart homes and plug-in electric vehicles (PEVs), for example - while new technologies are also changing the way that electricity is generated and delivered - (e.g. the smart grid)
Yet, the cost of electricity has risen far less than many other consumer products. According to the Consumer Price Index, the cost of electricity rose 58% in nominal terms from 1991 to 2012, below the 64% increase in the CPI and well below the increases in the cost of gasoline, health care, transportation, food and natural gas.
Consumers now spend 80% more on electric devices and appliances than they do on electricity. Clearly, cheap electricity has supported the growth and development of these devices and appliances, many of which, Americans now just can't seem to live without.
This is not something that should be taken for granted. While legitimate pressure has been applied to electric utilities to reduce as much as possible the harmful environmental effects of power generation, the cost of environmental initiatives must be weighed against other important objectives, such as keeping electricity safe and affordable and ensuring reliability.
In recent years, a number of challenges and opportunities have arisen that are forcing IOUs to rethink and revise their current operating practices. Some of these challenges include: (1) the impact of storms and hurricanes, such as Superstorm Sandy, (2) the April 2013 attack on the Metcalf substation in Northern California, which cut off electricity service to many parts of the Silicon Valley, (3) rising concerns over the impact of greenhouse gas and other emissions on the environment, (4) the growing risk of cyber attacks and the need to maintain an effective cybersecurity safety net, (5) the growth of distributed, renewable electricity generation resources, such as wind and solar installations and their impact on the management of the grid, and (6) the rise in the use of plug-in electric vehicles (PEV). We'll consider these issues briefly and then follow with a review of and outlook for the utility sector's financial and stock price performance.
Superstorms. Sandy changed everything. The storm caused widespread and long-lasting power outages. In all, 8.5 million people lost power. In some areas, restoration took weeks. Utility workers from around the country journeyed to the region to help in restoring the power. The restoration effort brought together electric utility CEOs and government officials to work through problems to restore service as quickly as possible. This has become a common practice in many areas hit by devastating storms. EEI has collected best practices from Sandy and other storms to develop a "National Response Event Framework" that seeks to tap into the skills, strengths and resources across its membership base to respond to multi-regional emergencies. The goal of this effort is to ensure an equitable allocation of resources and a streamlined, coordinated response in partnership with federal, state and local government officials.
But there is still more to do. Mr. Kuhn said that EEI will try to strengthen this framework by reducing legal and regulatory barriers that could delay future restoration efforts.
Efforts to harden power systems to make them more resilient are also essential to limit the impact of damage from these superstorms. These include strengthening utility poles and trimming trees away from power lines. They may include adopting new technologies, such as microgrids and energy storage. Widespread deployment of smartgrid technologies would also help identify and reroute power around troublespots.
Protection from Attacks. Last week, the WSJ reported that the Metcalf substation in Silicon Valley was attacked in April 2013 by snipers who methodically destroyed 17 transformers in about 19 minutes. Widespread power outages were avoided by rerouting power around the substation and requiring nearby power plants to increase their output until repairs to the substation were complete. This was certainly not the first attack on a substation, but it did raise eyebrows among utility executives and lawmakers. Since then, both have been looking into ways to beef up the security of the electric grid. The threat of cyber attacks on both power generating stations and the grid also looms large in the minds of utility executives. While there are cost effective security solutions available, protecting the electricity infrastructure will probably be expensive.
Environmental Regulation. The harmful effect of elevated greenhouse gas levels has been a global concern for years. Many scientists blame them for recent observed increases in extreme weather conditions, the melting of the polar ice caps and the rise in global water levels. This year, the Europeans, who were at the forefront of global efforts to rein in greenhouse gas emissions, have scaled back their efforts, probably because of budgetary pressures.
In the U.S., legislation to reduce greenhouse gas emissions has stalled in Congress. As a result, President Obama has directed the Environmental Protection Agency to move forward with new rules to regulate greenhouse gas emissions under the Clean Air Act. That directive has been derided by Republicans, most of whom worry that the EPA will move ahead without regard for the potential negative impact of new rules on the economy. EEI reports, however, that so far the EPA appears to be taking a pragmatic approach, listening to the concerns of industry and seeking to achieve incremental improvement, rather than reverse engineering emissions targets. If so, this would be a positive step, even though it will likely not be acceptable to many environmentalists and scientists.
EEI points out that electric utilities have already made significant reductions in emissions over the past 20 years, despite a 40% increase in electricity use. Sulfur dioxide (SO2) and nitrogen oxide emissions (NOX) have been cut by 80% since 1999. As of 2012, carbon dioxide emissions were reduced to about 15% below 1995 levels, in part due to the shift to greater use of natural gas-fired plants.
This is a critical year for environmental regulation. The industry awaits a Supreme Court review of the D.C. Circuit's decision to vacate and remand to the EPA the Cross-State Air Pollution Rule. In the interim, the Clean Air Interstate Rule is being implemented. Both rules seek to cut SO2 and NOX emissions in the eastern U.S. EEI wants to make sure that the EPA considers progress already achieved with the Mercury and Air Toxic Standards (MATS) rule, which seeks to reduce emissions of mercury, SO2, particulates and others and whose final implementation still awaits court approval. EEI expects that MATS will be upheld and its members are preparing to comply with the rule by 2015-2106.
Beyond that, EPA is facing a deadline on a proposed rule for coal ash disposal, which EEI hopes will treat coal ash as non-hazardous and give utilities sufficient time for implementation. It also hopes that the Federal government will establish a non-hazardous regulatory program for coal ash disposal, which will be implemented by the states.
The industry also awaits a final rule for §316(b) under the Clean Water Act, which would regulate the intake flow on cooling water for certain steam-electric facilities. One of the goals of the rule is to protect native (and possibly endangered) marine wildlife. EEI believes that the rule might allow individual states to mandate closed-cycle cooling. The final rule is expected sometime during the 2014 second quarter.
Beyond the pragmatism of current economic constraints, this year's severe winter weather may prompt the Obama administration to lower its sights on greenhouse gas emissions. Stringent emissions requirements have prompted many utilities to plan to close a significant number of their coal-fired plants in the years ahead. EEI has calculated that 68.5 gigawatts (GW) of coal-fired capacity (or about 20% of the 339 GW capacity of the nation's coal-fired fleet) has been scheduled to be retired between 2010 and 2022. Plans currently call for some of those retired units to be replaced or repowered with natural gas generation. On its fourth quarter conference call, AEP CEO Nicholas Akins said that 89% of the coal-fired capacity currently scheduled for retirement was currently operating to meet the increased demand for power during this unusually cold winter season.
One of the primary catalysts for the retirement of those plants is the directive by the EPA for coal-fired plants to adopt carbon and sequestration technologies. However, the industry asserts that these technologies are not yet proven or cost effective. Some members of the Senate, including Mitch McConnell, are ready to go to the mat with the EPA over this issue.
While the electric utility industry is supportive of efforts to reduce greenhouse gas emissions, it also asserts that the nation's electric system must preserve fuel diversity in its power generation fleet to ensure reliability of service. This is important during periods (like this winter) of peak power demand. It can also be important during periods of potential dislocation perhaps caused by commodity shortages that affect the ability of a particular class of power generators to operate a full capacity.
Distributed Generation. Distributed power generating technologies, like wind and solar, are playing a bigger role in the generation mix, in large part due to tax or rate subsidies offered, either at the federal or more importantly, at the state level, which have increased their popularity. In most cases, especially with solar, states have enacted laws requiring utilities to pay for the excess power generated by these systems (known as "net metering') at preferential rates, even though they may be able to generate the same amount of power or buy it on the wholesale market at a lower rate. Those extra costs are typically passed on to other customers.
EEI points to Germany as an example because it has seen retail power costs skyrocket in part due to the very generous subsidies given to those who install solar power systems. Furthermore, the electric utility industry argues that utility-scale solar plants are much more cost effective than small-scale (residential) systems.
Transportation Electrification. Use of plug-in electric vehicles, like the Tesla model S, is growing rapidly. From a standing start in 2010, there are now more than 167,000 PEVs on the road. Nearly 100,000 PEVs were sold in 2013. The number of models available for sale has increased from two in 2010 to an estimated 21 in 2014, with more on the way. Commercial applications include corporate fleets, such as electrified utility vehicles, and ports are increasingly powering ships and equipment with electricity.
Working with Customers. At this year's briefing, EEI highlighted the importance of utilities working with customers. This will be important if both are to achieve their individual objectives. It can also obviously be critical during periods of shortages and disruption.
FINANCIAL PERFORMANCE
The EEI Index of electric utility share prices posted a total return of 13% in 2013, well below the 32.4% return on the S&P 500. The group underperformed the market especially in the second half of the year, probably due to concerns about the effect of Federal Reserve QE tapering and the rise in interest rates.
Despite the underperformance in 2013, utility stocks have had a very good multi-year run, outperforming the broader market averages over the 10-year period ended Dec. 31, 2013 with an average annual compounded return of 9.3%, nearly two full percentage points better than the 7.4% return for the S&P 500. Utility stocks have produced a positive total return in 10 of the past 11 years.
Over the past quarter century, the industry's average credit rating has steadily declined. Today, it remains solidly BBB, but down from an average single-A rating in the 1980s and 1990s. In this year's Barron's Roundtable, in response to Bill Gross's pick of the Reaves Utility Income fund (NYSEMKT:UTG), Mario Gabelli pointed out that "these are not the utilities of old that earned a regulated return on capital." (Mr. Gabelli's firm also manages the Gabelli Global Utility and Income Fund (NYSEMKT:GLU) and the Gabelli Utility Trust (NYSE:GUT)).
Mr. Gabelli was alluding to the long-running trend of utilities to move into unregulated businesses (for most utilities, those businesses include merchant power generation, commodity trading, wholesale and retail power sales and related businesses). EEI points out that unregulated business strategies accounted for 43% of utilities' business mix (we assume revenues) in 2002, but that portion has declined to 27% in 2012.
Much of the shift back to regulated business has occurred since the 2008 financial crisis. Many of those unregulated businesses have faced a very tough operating environment over the past five years. Meanwhile, state regulators have encouraged utilities to ramp up capital spending (in part as a way to boost their states' economies). The combination has shifted the revenue mix in favor of the regulated core business.
Capital spending among electric utilities continues to climb. EEI estimates that total industry spending will reach $95.2 billion in 2013, up from $90.5 billion in 2012. As current utility infrastructure projects are completed, EEI anticipates that capital spending should begin trail off, but if interest rates and commodity remain low, utilities may propose new projects that will keep spending high.
Over the past few years, utilities have stepped up their capital spending on transmission and distribution systems and decreased spending on generation. Current efforts to beef up cybersecurity and protect grid infrastructure, as well as ongoing environmental compliance costs will probably ensure that capital spending remains at above average levels for the next several years, as long as the economic backdrop does not deteriorate.
The shift back toward regulated business combined with the improving economy has helped to boost utilities' financial positions. Credit rating agencies currently maintain a stable or positive outlook on 93% of investor-owned utilities.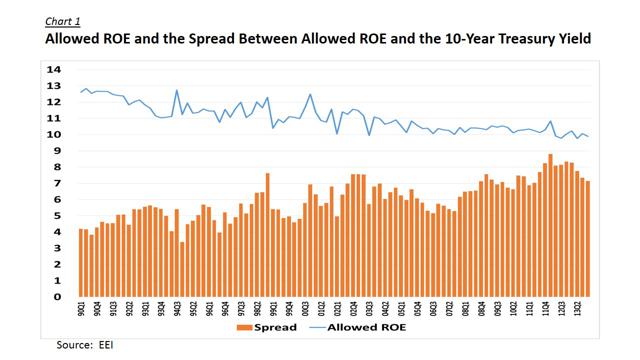 Chart 1 plots the trend in the return on equity (ROE) allowed by state regulatory commissions as well as the spread between the allowed ROE and the 10-year Treasury yield. These figures are based on averages of actual rate cases settled between the electric utilities and their state regulators on a quarterly basis. Over the past 24 years, the number of rates cases has ranged from 1 to 22 each quarter. Since 2000, the average number of rate cases has been just under 10 per quarter.
The chart shows that for nearly a quarter century, the allowed ROE has declined steadily from above 12% to around 10%. Much of the decline in the allowed ROE can be attributed to the decline in interest rates. The spread between average allowed ROEs and the yield on the 10-year Treasury has increased from about 4% in 1990 to about 7% currently. Despite the steady increase over time, there has been volatility around that trend, with spreads sometimes declining over multi-year periods, due mostly to rising interest rates. Most recently, the spread has fallen for the past four quarters and could continue to fall, if interest rates resume their upward climb. We would expect that any sustained increase in interest rates will eventually lead to a corresponding increase in allowed ROEs, unless economic conditions deteriorate severely.
Impact of Higher Interest Rates. The spread between allowed ROEs and 10-year Treasury yields is important, but perhaps not the most important relationship from the investor's point of view. Clearly, the common conception has been that utility stocks do not perform well in a rising interest rate environment. Many investors view utility stocks as a fixed income alternative, because of their above average dividend yields (currently just below 4% on average). When interest rates rise, other fixed income alternatives (with less perceived risk) become more attractive, so the shift out of utility stocks into other fixed income investments puts pressure on utility share prices and valuation multiples.
Even so, changes in investor preferences are not the only factor that drives utility stock performance in a period of rising interests. Of course, financial performance also affects stock price performance. If utilities are able to realize growth in revenues and earnings sufficient to offset the negative impact of rising interest rates, their stock prices can still move higher.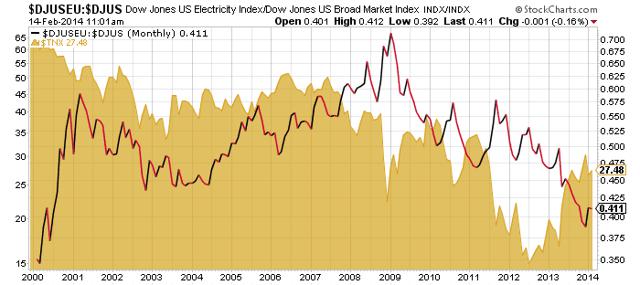 The chart above, courtesy of StockCharts.com, plots the relative performance of the Dow Jones U.S. Electric Utility Index against the Dow Jones US Total Market Index from 2000 to 2014. A rising line indicates that the electric utilities are outperforming the broader market. Behind the relative performance line, the 10-year Treasury yield is plotted in gold. The chart shows that from 2003 to 2007, electric utility stocks outperformed the broader market, despite steady (but modest) increases in the 10-year Treasury yield. (During this period, short-term interest rates were rising at an even faster clip, as the Federal Reserve moved to withdraw monetary stimulus by raising its Fed Funds target by 25 basis points at each FOMC meeting.) To be sure, other factors, such as an improving economy and rising energy commodity prices, were likely the most important drivers behind the relatively strong performance of the electric utility sector; but their performance during this period demonstrates that electric utility stocks can post positive and even above market returns in a rising interest rate environment.
Before concluding that electric utility shares can outperform in the current environment, it makes sense to look at the potential impact of rising interest rates on electric utilities' financial performance.
Higher interest rates will raise interest expense and pressure profits, but the impact for most electric utilities will probably not be immediate. In the 2013 third quarter, interest expense represented 6.2% of total electric utility industry revenues, 27.9% of operating income and 36.3% of pre-tax profits, according our calculations from EEI data. However, 88.5% of utility debt at Sept. 30, 2013 was long-term (i.e. with a maturity of one year or more) and most of that was very likely to be fixed rate. Higher interest rates will therefore pinch electric utility profits more over time, as maturing debt issues are replaced. Still, since some of their debt was issued before 2008, when average bond yields were higher, the new rates may not be higher than at least some of the maturing issues.
By our rough estimates, based upon the EEI aggregate data, the average interest rate for electric utilities was just over 5%. So a 100 basis point increase in the average rate would reduce pretax profits by just under 7%, all other things being equal. That is meaningful, but that 7% reduction will be cycled in over time.
From our perspective, a pick-up in cost inflation, (e.g. wages and other operating costs), unless accompanied by a commensurate increase in revenues, would have a bigger potential negative impact on utility profits. Increases in interest rates are often associated with (or driven by) increases in inflation, but with interest rates currently at exceptionally low levels due to central bank easy money policies, it is likely that the normalization of interest rates will not be accompanied by much of a pick-up in inflation (at least for now).
The negative impact of rising interest rates could very well be offset by increases in sales volumes (i.e. kilowatt hours sold), across retail, commercial and industrial customer segments, due to the improving economy and (perhaps) rising personal incomes. In that case, electric utility profits could still move higher, even with rising interest rates. So the current consensus of 4%-6% average earnings growth, combined with an average 4% dividend yield, can produce returns of 8%-10%, as long as industry average P/E multiples do not decline.
At the end of 2013, the 10 equity strategists polled by Barron's had an average year-end target price for the S&P 500 of 1977, which translates into an expected price return of 7% and a total return (with dividends) of around 9%, using the 2013 year-end closing level as the starting point. Consequently, according to our analysis, utility stocks should perform in line with expectations for the broader market, as long as P/E multiples do not decline.
Some strategists point out utility P/E multiples, currently around 15.4 times forward earnings are slightly above the sector average since 1995. But better earnings growth prospects combined with attractive dividend yields help to justify the premium.
This outlook for the economy, the broader market and the electric utility sector assumes that all will be able to "thread the needle" and avoid potential downside risks that could result in materially weaker performance. This is obviously a Goldilocks scenario, with modest growth assumptions; but it is nevertheless consistent with the current consensus. Most economists anticipate a slight improvement in U.S. economic growth (to 2.5%-3.0% for GDP), modestly higher interest rates and tame inflation. Utility stocks fit in well in this scenario.
It is important to note, however, that our analysis represents expectations for the "average" company within the electric utility sector. Those utilities that operate in regions that still face economic challenges or that have above average leverage and dividend payout ratios, could still have a relatively tough year in 2014.
On the other hand, there will be electric utilities that outperform their peers. We think three potential winners are American Electric Power (NYSE:AEP), Public Service Enterprise Group (NYSE:PEG) and Southern Company (NYSE:SO). It should be noted, however, that all three stocks have had strong runs lately and have approached overbought levels, from a technical point of view.
AEP and PEG have faced pressure in recent years in part because of their relatively heavy reliance on coal-fired generation (either in their regulated utilities or within merchant power businesses). Higher natural gas prices combined with a potential easing of environmental pressure to slow the retirement of coal-fired plants could give both AEP and PEG a boost. To some degree, therefore, these are contrarian bets.
On the other hand, SO, which trades right around the industry average P/E multiple, operates in the southeastern U.S., a region that has relatively good economic growth prospects. Its focus on new construction (including new nuclear and integrated gasification combined cycle plants) could eventually help boost its performance (despite cost overruns at the Kemper IGCC facility) and give it future operating advantages.
Disclosure: I have no positions in any stocks mentioned, and no plans to initiate any positions within the next 72 hours. I wrote this article myself, and it expresses my own opinions. I am not receiving compensation for it (other than from Seeking Alpha). I have no business relationship with any company whose stock is mentioned in this article.
Additional disclosure: PEG is currently a long position in the Income Builder newsletter model portfolio.