By David Russell
Allergan (NYSE:AGN) attempted to rally against a short-term downtrend, prompting one trader to bet against the stock Friday.
optionMONSTER's tracking systems detected the sale of 2,100 May 65 calls for $0.85 and the purchase of an equal number of May 70 calls for $0.15, producing a credit of $0.70. Volume was more than twice open interest in both strikes.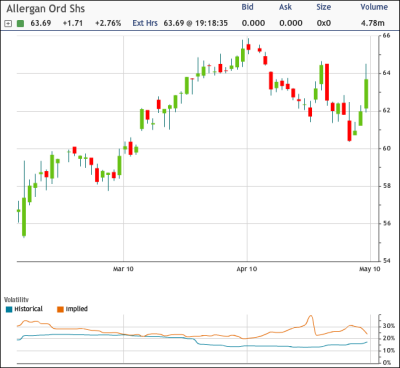 AGN rose 2.76 percent to $63.69 on Friday after reporting better-than-expected sales and earnings and forecasting slightly bullish results for the next quarter. The maker of Botox has been drifting lower since hitting a two-year high at the end of March, and it entered the session down about 5 percent for the month.
The so-called bearish call spread is designed to profit from the downward momentum, letting the investor keep the credit if AGN remains below $65 through expiration. He or she then bought the upside calls to limit their maximum potential loss at $5 if the stock moves against them.
The trade appeared after the shares pulled back from over $64, confirming a resistance line between the April 1 and April 20 peaks.
The transaction pushed overall options volume in AGN to eight times greater than average.
(Chart courtesy of tradeMONSTER)