Chlorine, caustic soda, maleic anhydride, potassium hydroxide, titanium dioxide, hydrochloric acid…
No, this isn't the prop list for a Breaking Bad episode.
These are some of the substances made by the chemical industry, a subgroup of the basic materials sector.
We may not be familiar with the chemicals and materials that these companies produce, but their compounds, foams, adhesives, coatings, sealants and plastics make their way into various consumer goods we buy on a daily basis.
And although these companies churn out noxious chemicals, their dividend yields have been anything but poisonous to portfolios.
The following list shows several chemicals producers that have market caps greater than $2 billion and dividend yields greater than 2%.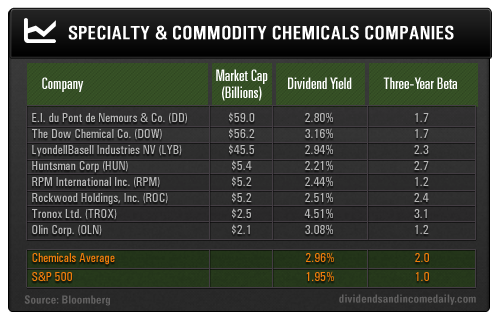 Indeed, since these chemical stocks are paying above-average dividends of 2.96% (compared to 1.95% for the S&P 500), investors may be holding on tight.
By doing so, however, they're ignoring the underlying risks.
And these risks could, well… burn your dividend income portfolio if you're not careful.
Volatility Can Be Deadly
You see, these stocks carry higher risk, or beta.
If you're unfamiliar with the term, beta is a measure of market risk, also known as systematic risk. It measures the magnitude of returns of an individual stock relative to the returns for the broader stock market.
This is important because if our portfolios are overloaded with high-beta stocks, then our returns will tend to be more volatile.
You'll notice that the stocks in the table above have an average three-year beta of 2, or twice that of the S&P 500.
Now, to see exactly how high beta can generate roller coaster-like returns, check out how chemical stocks performed back in 2011…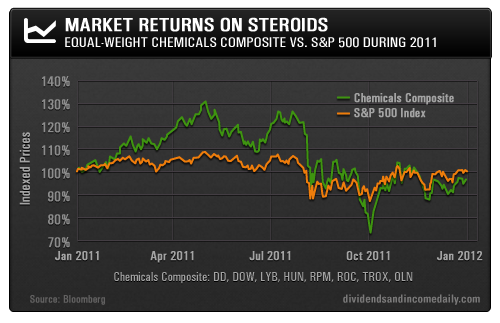 The equal-weighted Chemicals Composite was up 30% at one point in early 2011. Then, as volatility increased and the market declined, these stocks got absolutely crushed.
That 30% gain turned into a 25% loss in around five months. Whoa!
These stocks can quickly turn toxic, wiping out several quarters', or even years', worth of dividends in a short period of time.
Why the Volatility?
These stocks are volatile because the chemical industry is highly competitive as well as cyclical. Since basic materials and chemicals are used in various other industries, such as manufacturing and construction, these companies are sensitive to U.S. and global economic activity.
Because of this cyclicality, Dow Chemical (DOW) and DuPont (DD) have been shifting their product mixes away from commoditized industrial chemicals by carving out and spinning off businesses.
This will help reduce volatility in their revenue streams, but they'll face entrenched competition from the likes of Monsanto (NYSE:MON) and Mosaic (NYSE:MOS), as they focus on more specialized areas - such as agricultural chemicals and seeds.
For more proof that the industrial chemicals industry is a tough business, consider that Huntsman (NYSE:HUN) has only achieved a 1.3% average annual profit margin over the past 10 years.
Remember, we like companies that can produce high profit margins and high free cash flow so that they can raise their dividends.
Bottom line: The best time to buy high-beta stocks is after a period of extreme volatility. Otherwise, our dividends and income portfolios are liable to suffer chemical burns.
Disclosure: I have no positions in any stocks mentioned, and no plans to initiate any positions within the next 72 hours. I wrote this article myself, and it expresses my own opinions. I am not receiving compensation for it. I have no business relationship with any company whose stock is mentioned in this article.
Additional disclosure: Dividends & Income Daily is a team of financial researchers. This article was written by our Editor-in-Chief, Alan Gula, CFA. We did not receive compensation for this article, and we have no business relationship with any company whose stock is mentioned in this article.