Every major U.S. market index either gained ground or held even this week. Only the Dow Jones Industrial Average (DJIA) and Dow Jones Transportation Average (DJTA) remained even.
BPI Indexes: All major indexes are under the control of the offensive team (X's are dominate) with exception of the NASDAQ. Two weeks ago all seven indexes were dominated by the defensive (O's) as the market retraced prior gains. These past two weeks we observed the reverse trend. Of particular importance is the movement of the NYSE, our most important index, as the number of bullish stocks increased by 3%. The NASDAQ 100 is once more over-bought as it moved back across the 70% line. An index is considered to be overvalued when more than 70% of the stocks within the index are bullish. An oversold or undervalued index is when fewer than 30% of the stocks within the index are bullish. That was the situation back in 2008 and early 2009.
While the broad market is bullish, there is still room for further advances as many of the major markets are not overbought.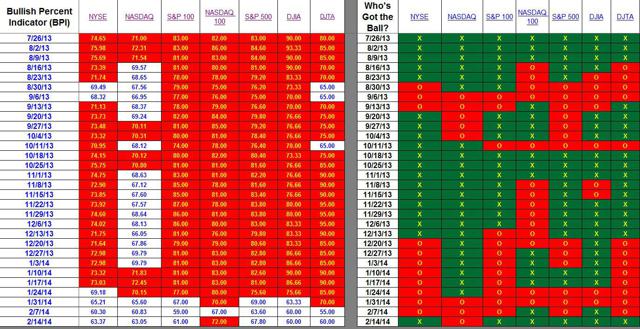 BPI Sectors: Every sector, with exception of Staples, either held even or showed an increase in the number of bullish stocks this week. We now have an equal number of sectors under the control of the offensive team as those managed by the defensive. However, the trend is definitely up as this market is once more showing considerable strength.
The better sectors are those positioned below the overbought zone (70% or higher), but under control of the offense. Discretionary and Energy are two examples.
Both the major indexes and sectors indicate some caution is in order, but there is definitely room for growth to the upside.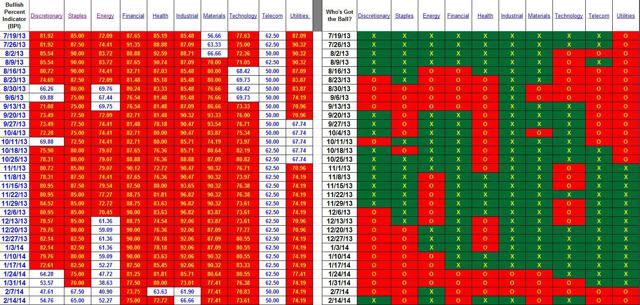 Disclosure: I have no positions in any stocks mentioned, and no plans to initiate any positions within the next 72 hours. I wrote this article myself, and it expresses my own opinions. I am not receiving compensation for it (other than from Seeking Alpha). I have no business relationship with any company whose stock is mentioned in this article.