Those who follow Vanguard Natural Resources (NYSE:VNR) likely already know that the partnership has announced and closed on its largest single acquisition to date. Early this month Vanguard closed on a $581 million plan to acquire 14,000 net acres of high-margin, dry gas producing land in the Jonah and Pinedale fields of Wyoming. The basics of the deal are as follows:
A 10% average working interest on 87,000 gross acres.
113.4 million cubic feet equivalent of production per day,
Of which 80% is dry, natural gas, 4% is oil and 16% is natural gas liquids.
The seller, Anadarko, a major independent oil and gas producer, sold this acreage to invest in US shale plays and in the Gulf of Mexico.
Based on the current price of about $4.50 Henry Hub natural gas, this deal has a fantastic payoff time of just 3.5 years by revenue. When factoring in operating costs, the payback is still a very good 4.4 years based on Vanguard's current margins.
In addition, and perhaps most significantly, the Pinedale and Jonah acreages are only 43% proved developed, leaving 970 drilling locations and what Vanguard believes to be ten years of production growth. This is significant because Vanguard, until now, has sought to maximize free cash flow by minimizing capital expenditure.
This article will look at Vanguard's recent acquisition, its significance and how this acquisition may change Vanguard's business model. In addition, this article will look at some of Vanguard's previous acquisitions which I believe will boost the partnership's income if natural gas prices remain high. Finally, and as always, this article will compare Vanguard to its upstream MLP peers with regard to valuation.
Putting the Acquisition Into Perspective
The Jonah-Pinedale acquisition is Vanguard's largest to date by far. In fact, production from this acreage will represent 41% of the partnership's total going forward. On a pro-forma basis, Vanguard is now primarily a Rocky Mountain gas producer: 57% of the partnership's pro forma production now comes from either Wyoming or Colorado. Another Rockies acquisition, done in 2012 with Bill Barrett corp., gave Vanguard a foothold in the Wind River basin of Wyoming and the Piceance Basin in Colorado. That acquisition included significant additional drilling inventory if gas prices rise. Combined, these two acquisitions make Vanguard a very substantial producer in the Rockies.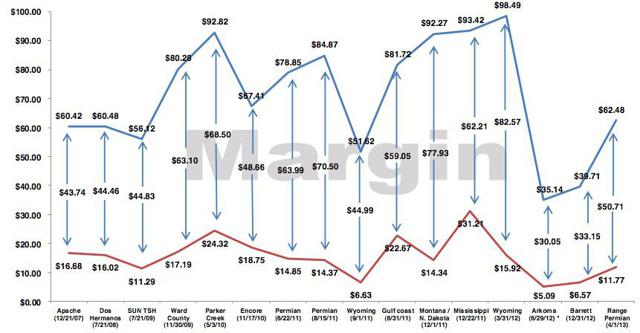 Courtesy of VNR Investor Relations
Why this region? The short answer is, margins. As of 2012, Wyoming provided the highest margins of the partnership's portfolio, as the above chart shows. The Jonah-Pinedale acquisition also marks a big change in strategy for Vanguard in that it will have to spend substantial capital, but will be rewarded with organic production growth from the Jonah and Pinedale fields. Some may be concerned to see Vanguard jump into a strategy which it does not have much experience in, but management hinted that the change was done out of necessity: Other bidders seemed to have edged Vanguard out of other acquisitions on promises to more vigorously develop properties.
In any case, Vanguard's strategic shift could mean an end to the partnership's reign of having the lowest ratio of capital expenditure to cash flow within the upstream MLP space. If so, that's fine, because in exchange for that title Vanguard unitholders will get multiple years of organic production growth from these two fields.
What's Next?
Vanguard should now be close to its "target" debt/EBITDA ratio of between two and three times. We should expect to wait awhile before Vanguard pursues another transaction. However, this acquisition will by no means be the last one.
As multiple upstream MLPs have already indicated, this industry is in a time of very high acquisition activity. The reason for this is that the bigger oil and gas corporations are spending to develop onshore shale properties. These companies are financing much of this through the sale of mature, onshore US assets. As a result, the market is now flooded with supply of this high-margin acreage at a time coinciding with historically low borrowing costs. These two factors have come together to create this upstream MLP acquisition frenzy.
Therefore, we should expect Vanguard to continue acquiring and to jump back into the acquisition market at some point. If history is any guide, Vanguard will likely pickup more gassy acreage which other producers are more than happy to dispose of for a very reasonable price. Vanguard's acquisition strategy is a contrarian one: The partnership prefers cheaper dry gas acquisitions when other MLPs continue to chase oily assets.
Capital Spending and Distribution Coverage
Although we know neither Vanguard's 2014 capital expenditure plans nor its expected dividend coverage ratio for this year, here is what I believe we can expect; a higher capital budget to allow for more drilling in the Rockies and, in turn, lower distribution coverage in the early part of this year. Drilling costs money to do, and therefore I believe that Vanguard's budget this year will be a bit tighter. Vanguard will also likely take on more debt to fund its drilling program, but the increased production will add to the bottom line in years to come.
Distribution coverage will be another interesting tidbit to watch for when Vanguard gives its annual guidance. Distributable cash flow is on track to be 1.05 times distributions in 2013. I expect Vanguard to have a lower ratio in the early part of this year and a higher ratio later on, as the drilling comes into effect.
Big Picture
Although this acquisition marks a change in Vanguard's business plan, much still remains the same. Vanguard still hedges the majority of its production for multiple years out.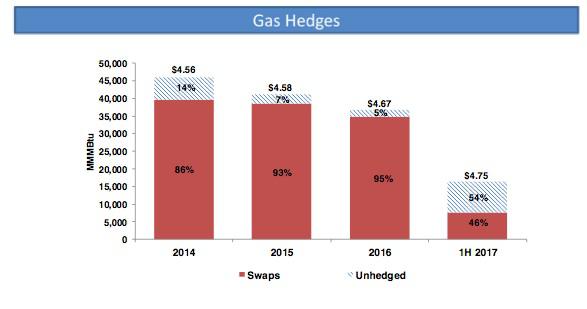 As we can see, Vanguard has hedged the majority of its gas until 2017. Vanguard's hedges are either swaps or collars which carry minimal cost and limit both upside and downside. This means that while dry gas prices have gone up recently, unfortunately Vanguard has not yet seen much benefit. But if dry gas prices stay high indefinitely, Vanguard may yet get a boost.
Vanguard is primarily a dry gas company. Among upstream MLPs, only two of the big names are weighted to dry gas: Vanguard and Memorial Production Partners (NASDAQ:MEMP). The big difference between Vanguard and Memorial is that Memorial has a parent company while Vanguard is fully independent. This means that Memorial's acquisitions are usually limited to parental drop downs but that it faces less competition in the bidding process, while Vanguard must compete for bids but is free to acquire anything. If you want dry gas exposure, I believe that either choice is excellent.
Valuation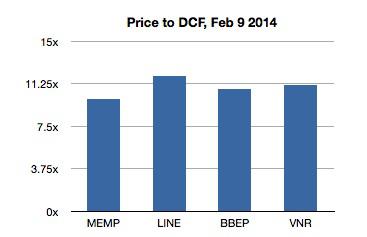 Price to DCF based on 2013 guidance for each respective partnership.
Among upstream MLPs, Vanguard is actually among the most expensive. While 11.2 times distributable cash flow may seem pretty reasonable, there are cheaper options out there.
So does Vanguard deserve to trade at a premium to every name besides Linn Energy? Right now I believe that gas-focused Memorial Production Partners has the better value proposition. While Vanguard does now have the growth and drilling inventory which Memorial does not, Memorial has slightly better margins and trades at a much lower valuation. Memorial's dividend also sits at a lofty 10.3%, yet Vanguard's yield is only 8.3%.
Conclusion
Vanguard's big acquisition changes its business model from a cash flow maximizing partnership to one that will drill to increase production, and, ultimately increase distributions. The partnership now has a good runway of production growth ahead of it. However, there are better valuations in the upstream MLP space at this time.
Disclosure: I am long VNR. I wrote this article myself, and it expresses my own opinions. I am not receiving compensation for it (other than from Seeking Alpha). I have no business relationship with any company whose stock is mentioned in this article.
Additional disclosure: I am long VNR for a family account.