January may have been a tough month for equities, but it looks like the bull market is back in February and on its way to new highs. The S&P 500 has gained 4.5% since Feb. 3rd, climbing from 1741.89 to 1819.26 in just 7 trading days. The popular volatility index, the VIX, has fallen from 21.44 to 14.30 over the same time period - a decrease of 33%.
Volumes have been high over the past couple of weeks with all the trading activity and have created some value opportunities for investors. Increased insider activity signals to value investors that a stock could outperform. While directors of a company may sell shares for a number of reasons, there's only one reason why they would buy - they expect to make a profit. No one knows a company better than management, and insider buying is a strong sign that a stock is ready to breakout.
The following three stocks have all had recent insider buying activity and trade at less than 13 times earnings - Hercules Offshore (NASDAQ:HERO), Freeport-McMoRan (NYSE:FCX), and Murphy Oil (NYSE:MUR).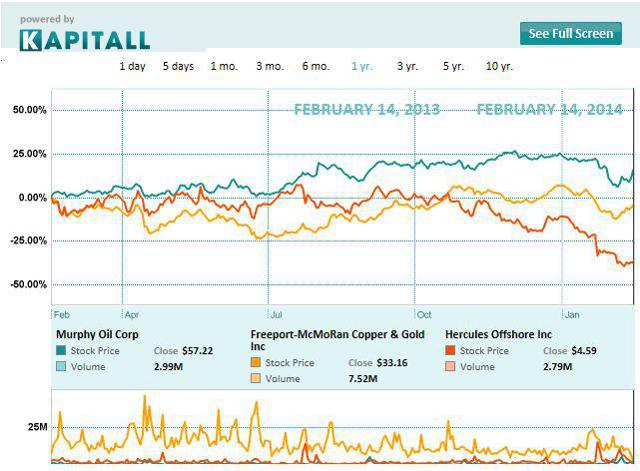 To get more information on these stocks click here.
Hercules Offshore, a $722 million shallow-water driller, possesses the third largest jack-up fleet in the world and mainly operates in the Gulf of Mexico. The stock trades at just 9 times earnings and 21% less than its book value of $5.77 per share. Its earnings growth is impressive, turning a loss of $0.45 a share in 2012 to $0.20 in 2013. Guidance from management places earnings for 2014 at $0.75, an increase of 275%. Quarterly revenue growth year-over-year is over 40%, but the stock has traded poorly so far this year - down 30%. On Feb. 10th, a director bought 25,000 shares at $4.52 increasing the number of share he held to 220,000 - an investment worth roughly $1 million.
To read more about mining stocks, click here.
Commodities have fallen hard in the past year, and copper and gold mining companies like Freeport-McMoRan have been beaten down to attractive valuations. Positive recent trends in copper prices and an uptick in gold, which is closing in on $1300, show possible upside profit potential. Freeport-McMoRan looks cheap at 12.75 times earnings with EPS growth over the next 5 years expected to be around 28%, which gives it a PEG ratio of just 0.46. Investors get some downside protection with the 3.75% dividend yield. In addition, there has been a flurry of executed options by insiders in the last month worth around 376,000 shares representing a total value of over $12.5 million.
Click here for three precious metals miners to watch.
Murphy Oil, a $10 billion oil and gas exploration and production company, missed earnings for the 4th quarter reporting $0.96 per share versus the analysts' consensus of $1.21. It may have provided a buying opportunity for value investors, however; the stock trades at 12 times earnings and comes with a dividend yield of about 2.2%. Furthermore, a director bought 30,000 shares valued at about $1.7 million in the past week.
Disclosure: I have no positions in any stocks mentioned, and no plans to initiate any positions within the next 72 hours.
Business relationship disclosure: Kapitall is a team of analysts. This article was written by Daniel Cross, one of our writers. We did not receive compensation for this article (other than from Seeking Alpha), and we have no business relationship with any company whose stock is mentioned in this article.