It appears that the recently released 3D printing mutual fund (MUTF:TDPIX) is not the only fund that houses a pool of stocks in a trending industry.
On October 22nd 2013, the Robo-Stox Global Robotics and Automation Index ETF (NASDAQ:ROBO) made its debut on the Nasdaq Stock Exchange. It is known to be the first known mutual fund dedicated to robotics and automation firms. Launched by ETF platform Exchange Traded Concepts, the Robo-Stox Global Robotics and Automation Index ETF debuted with assets of $2.5 million dollars and an expense ratio of 0.95%. The fund contains 78 stocks. Or the first day of trading, the stock closed at $25.32.
Nearly five months later, the ETF has achieved 75 million dollars in assets under management. This is indicative of Wall Street's increased interest in the sector. Based on the fund's performance since its inception, it is clear that the fund has greater volatility to the S&P 500 and the Dow Jones. The fund took a deeper fall than the key indices with the market correction in January. This can be seen on the chart below.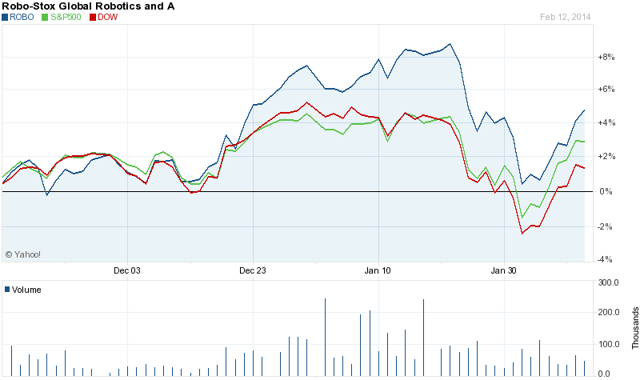 As of 2/13/14, the fund has increased by 5.29% since its inception. Given the industry represented in this fund, the increased volatility is no surprise.
The following chart shows the sector weighting of ROBO. The market sensitive sectors consist of the communications, energy and industrials sectors. The market defensive sectors consist of the consumer defensive, healthcare and utilities factors. The cyclical sector consists of the consumer cyclical sectors. As you can see, the ETF is overwhelmingly weighted towards sectors that are sensitive to the market.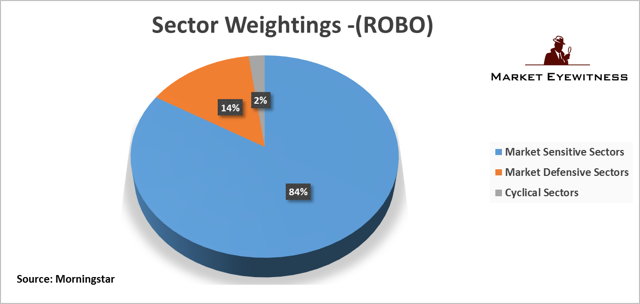 As this next chart shows, the Robo-Stox Global Robotics and Automation Index ETF broke sharply from its Morningstar benchmark and category average when it came to the percentage of stocks via market capitalization.
As you can see, the fund put a greater share of weight in mid-cap, small-cap and micro-cap stocks. Thus, it is not surprising that the fund will have greater sensitivity to market correction or bull runs.
(Source: Morningstar)
| | | | |
| --- | --- | --- | --- |
| Size | % of Portfolio | Benchmark | Category Average |
| Giant | 12.02 | 56.05 | 46.73 |
| Large | 17.80 | 21.14 | 13.74 |
| Medium | 40.85 | 17.44 | 25.91 |
| Small | 13.39 | 5.24 | 10.90 |
| Micro | 15.94 | 0.13 | 2.73 |
LEADERS OF ROBO-STOX GLOBAL ROBOTICS AND AUTOMATION INDEX ETF
There are quite a few holdings that have spearheaded this ETF's performance so far in 2014: One of those holdings was iRobot Corporation (NASDAQ:IRBT). For the year, iRobot's shares have increased more than 25% as of 2/13/2014. In a previous piece, I had stated that iRobot Corporation was poised to surpass its original price target of $39. Currently, the stock price stands at 43.68 at the start of trading on 2/14/14. iRobot's investors gave the firm's stock an extra boost after a solid report regarding the company's patent portfolio. iRobot was recognized for having one of the top patent portfolios in the electronics and instruments industry. iRobot has over 400 patents worldwide. Their patents have had a significant impact on technology that is established across the industry.
Mazor Robotics Ltd (OTCPK:MZRTF) has been the most successful equity in the Robo-Stox Global Robotics and Automation Index portfolio in 2014 with a 25.71 YTD return. Mazor Robotics LTD has transformed the manner in which spine surgery is performed on a procedural basis. Wall Street analysts have rated this stock as a Strong Buy overall.
Another successful holding for this robotics ETF is Accuray Inc. (NASDAQ:ARAY). Accuray Inc.'s shares have increased by over 15% YTD. Accuray Inc. is a radiation oncology firm which develops trailblazing treatment solutions. These solutions help to improve the quality of life for cancer patients.
LAGGARDS OF ROBO-STOX GLOBAL ROBOTICS AND AUTOMATION INDEX ETF
In the words of WWE Superstar Wade Barrett, I'm afraid I have some bad news. The bad news is that the laggards of this ETF are equities from the 3D Printing Industry. Those equities are ExOne (NASDAQ:XONE) and 3D Systems Corporation (NYSE:DDD) So far, ExOne's shares have declined by over 26% while 3D Systems Corporations have been down by nearly 24%.
3D Systems Corporation cut its 2014 outlook in order to focus its spending on R&D as well as marketing expenses. Also, ExOne cut its outlook due to a delay in the completed sales of its 3D printers. Short Interest for both 3D Systems Corporation and ExOne Co have increased by 8.1% and 19.3% respectively.
BOTTOM LINE:
I feel that investors should steer clear of ROBO for now as the ETF is too risky to invest in at the present moment. Certainly, ROBO is poised to take advantage of the trending robotics, automation and 3D printing industries in the long term. However, I feel that a market correction is imminent in the coming months. I feel that the fund has too much exposure to market sensitive industries. I feel that ROBO's long-term goal should seek to invest in equities in the large-cap and/or blue-chip category that are looking to make inroads within these aforementioned industries.
Disclosure: I have no positions in any stocks mentioned, and no plans to initiate any positions within the next 72 hours. I wrote this article myself, and it expresses my own opinions. I am not receiving compensation for it (other than from Seeking Alpha). I have no business relationship with any company whose stock is mentioned in this article.