Last week Twitter, Inc. (NYSE:TWTR) announced fourth quarter results which were shockingly bad. The company reported a net loss of $511 million for the last quarter, therefore full-year loss was $645 million. Even worse, Twitter averaged 241 million monthly users in the last quarter of the year, up just 3.8% on the previous quarter. That represented a serious slowdown compared with a growth rate of 10% seen at the beginning of 2013. On the day of the release of the earnings report, shares fell 24%, and the following day, they rebounded from the low level. For sure, the rebound signaled the existence of optimistic investors. In this article, I will try to explain why I disagree with them in general terms.
As it is well known, Twitter has never made money. However, the stock price suggests the presence of investors who believe that Twitter will make some money in the future. And now Twitter is traded at $56 which means that the company is valued at billions of dollars even if it has never generated income.
Here is the summary income statement of Twitter.

(Source: Marketwatch)
Twitter's quest to capture ad revenue drove up operating costs. The company just reported research and development (R&D) cost of $394 million, which was up 170% from a year earlier. I will explain why Twitter spent so much on R&D. But first, let me show you the sales to cost of goods sold ratio and sales to R&D expenses ratio. I think these are helpful tools to measure the operational efficiency, which I find important for a technology company.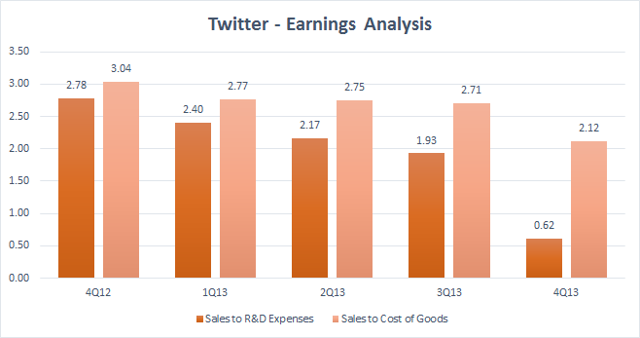 (Source: Marketwatch)
Needless to say, these basic ratios show that Twitter has not financially gone well despite the remarkable growth in sales.
Twitter shelled out $594 million on R&D in 2013. That was equal to nearly 90% of its revenue in the same period. Peer comparison could be very helpful to show that Twitter's R&D costs were far more than most of its rivals. This year Facebook (FB) and LinkedIn (LNKD) saw R&D expenses of 18% and 25% of their revenues, respectively. Another point is that both Facebook and LinkedIn were profitable in 2013, unlike Twitter. Alternatively, Google (GOOG) spent 13% of its revenues on R&D while working on self-driving cars, Google Glass etc.
Another question emerges here. What will Twitter gain by spending so much on R&D? We are given very little detail, but I guess most of expenses were for improving products and services. I think this is all about Twitter's business model. As you know, Twitter makes money by publishing ads on user timeline. At this stage, timeline views become very important.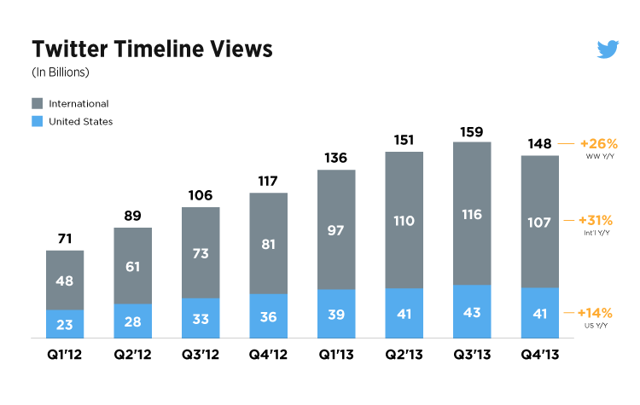 (Source: Twitter)
The efficiency of the timeline is also highly questionable. If you are a Twitter user, then you should have known that the tweets are moving very fast on the timeline. This causes users to be less attracted by the ads. I think this may be one of the reasons why Twitter spent so much on improving its products so far.
Consequently, rising concerns around its profitability may lead share prices down. Nobody can deny that Twitter radically changed the way we communicate, but it has not been a profitable enterprise so far, and it looks like it will remain the same in the near future.
Disclosure: I have no positions in any stocks mentioned, and no plans to initiate any positions within the next 72 hours. I wrote this article myself, and it expresses my own opinions. I am not receiving compensation for it (other than from Seeking Alpha). I have no business relationship with any company whose stock is mentioned in this article.