On August 22, 2013, Tesla Motors (NASDAQ:TSLA) inaugurated its first European assembly plant in Tilburg, Netherlands "to enable efficient, timely and cost effective operations throughout Europe." Just a week later, it unveiled its initial European Supercharger network, installing six stations across Norway that now allow Model S drivers to travel between cities along highways throughout the country. On September 10, 2013, the revolutionary start-up auto company presented its first supercharger in Germany at the International Automobile Exhibition in Frankfurt while announcing plans to expand its network to other parts of Europe. In addition, only a few days ago it officially opened four stations in Germany, two in the Netherlands, one in Switzerland, and one in Austria. Lastly, by the end of March 2014, it plans to cover 50 percent of the German population which lives within 320km of a supercharger, and by the end of the year, it would reach 100 percent of these residents. All in all, it would have then completed a set-up to extend its coverage as far as more than one third of the potential European market (See Table 1).
Table 1
New Passenger Car Registrations
(Share of Germany, Austria, Norway, Netherlands and Switzerland in the European Market)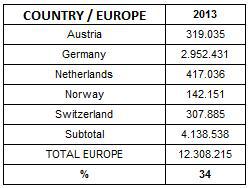 Source: European Automobile Manufacturer´s Association [ACEA].
In what follows, I show just how feasible it might be for Tesla to actually sell its Model S cars in the largest portion of this market, namely Germany. This is indeed most significant considering that this country constitutes more than 71% of the market composed by the five European countries mentioned above and almost one fourth of the entire European market. Incidentally, Elon Musk, Tesla`s CEO already anticipated in October last year his plans to sell by 2015 a total of 10,000 Model S cars in the German market.
At this juncture, perhaps we should start by asking ourselves just how credible this presumption might be. As in many countries in the world, electric vehicles (EVs) in Germany are a rather recent phenomenon. In Table 2 we can see a complete detail of Germany's EVs in the period 2010-2013. To begin with, these numbers reveal that there is a clear positive trend in the number of EV registrations over the period under investigation which clearly shows that electrification has begun taking roots in the German auto industry. In effect, over the time frame in question, EVs totaled 10,595. That's more or less the number of electric cars a year that Tesla intends to sell by 2015. Note also that in 2013, EVs constituted more than half the cars in the whole period and almost doubled the quantity of EVs registered in the previous year, which denotes that electric vehicle penetration in the German market intensified last year.
Does this mean that we can take the attainment of Tesla's sales milestone in Germany for granted? Not necessarily. Why? Well, because except for the Porsche Panamera, of which only 12 cars were registered in 2013 and Tesla's Roadster that was discontinued in 2013, all the other EVs were not strictly comparable (either in terms of price or characteristics) with Tesla's Model S. This is consistent with what Tesla's Vice President of Corporate and Business Development argued a few weeks back: "We don´t compete with EVs".
Table 2
Electric Vehicles in Germany
2010-2013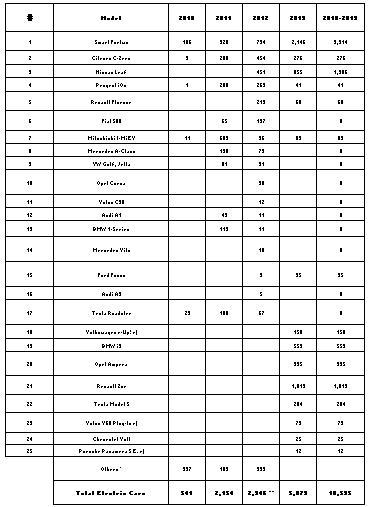 Sources: en.wikipedia.org/wiki/Electric_car_use_b..., for 2010.
www.best-selling-cars.com/germany/2012-f...- electric-car-models/, for 2011-2012.
www.ev-sales.blogspot.ca/search/label/Germany, for 2013.
* Figures for 2010-2012 were estimated from total and individual numbers.
** Original number was 2,956 but wasn´t consistent with the individual figures
*** Excludes Twizy figures.
True most of those more than 10,000 electric car owners in Germany would probably like to acquire a Model S from Tesla, but only some of them will likely be able to do so. Budget constraints will force most of them to stick to their less advanced and more affordable electric cars.
This last point leads us immediately to wonder just where the largest part of Tesla's competitors might be. I already tried to answer this question (albeit in the U.S. context) in a July 2013 article by looking at a portion of the luxury hybrid electric vehicle segment as follows:
Lastly, we need to look into my third contention, namely that Tesla's Model S has become a real threat for Toyota's (NYSE:TM) luxury hybrids (Lexus), hence forcing them to go lithium. As shown in Table 7, between 2012 and 2013 Tesla's Model S is likely to reflect a sales increase of 18.900 cars, whereas the sales increase of all Lexus hybrids combined will only be 1.751 cars. Consequently, Tesla's performance may be another reason why Toyota is being pushed to adopt Li-ion batteries, in this case, for its luxury hybrids.
In retrospect, as we already know, Toyota responded to the lithium issue I raised at the time by announcing last November that it will launch in 2015 its first fuel cell vehicles precisely to compete with Tesla and substitute for lithium. But that is a different story. Let´s then just leave this matter for now and return to Germany.
Unfortunately, no 2013 statistics for the luxury hybrid electric vehicle segment in that country are available as yet. Hence in Table 3, I've gathered data for the period 2011-2012 only. Even though these figures reflect a clear positive trend, they also show a rather negligible potential for luxury hybrids. In effect, only 653 and 2,137 luxury hybrid electric vehicles of similar price and characteristics to Tesla's Model S were registered in 2011 and 2012, respectively.
As limited as they might be, these numbers shouldn´t worry Tesla, the reason being that there isn't really a "hybrid culture" in Europe, in general and in Germany, in particular. Nonetheless, they also direct our attention to other possible sources of demand or competition for Tesla's Model S.
Table 3
Luxury Hybrid Electric Vehicles in Germany
2011-2012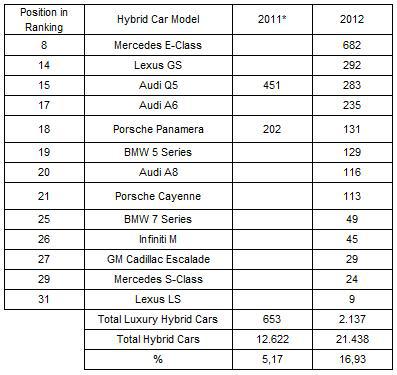 Source: Kraftfahrt-Bundesamt (NYSEARCA:KBA)- Federal Motor Transport Authority.
* 2011 figures include top ten only.
This brings us back to further comments made by the Tesla executive I referred to above in relation to the revolutionary car maker competition, namely that at least three luxury models, all of them powered only by gasoline, would be Tesla's main competitors: BMW 5 Series, Mercedes-Benz E-Class and Mercedes-Benz S-Class.
In Table 4, data on the three luxury large cars most sold in 2013 in Germany are presented. Although these numbers are much more promising, they constitute only 8% of total top 30 models and 4% of all gasoline cars in Germany. What is somewhat surprising is that two of these models reflect a negative percent variation with respect to 2012. I have noticed a similar kind of result for half of the 30 top gasoline models and for all cars in Germany, which makes me wonder whether Tesla's penetration in the German market may be tougher than expected. One thing that seems to be obvious though is that at the present time there´s indeed a market for the 10,000 Model S cars that Tesla plans to sell by 2015, which demonstrates once again that Tesla's business strategy is on the right track. The foregoing analysis was focused on the Model S, but could be very well extended to discuss the other two forthcoming models of Tesla, namely the X and the E ones.
Table 4
Tesla's competitors in Germany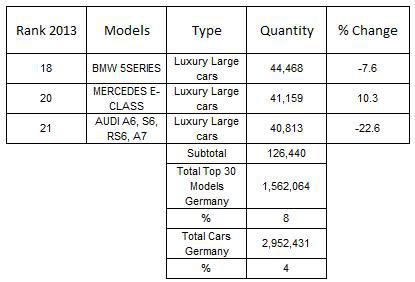 Source: www.best-selling-cars.com/germany/2013-f.../.
Lastly, in Figure 1 we can see the evolution of Tesla and its main competitors' shares in the U.S. stock market over the last 12 months. Needless to say, Tesla outperformed all of them by a huge margin, which provides more support to my original contention that innovation does indeed pay off in the stock market. In this connection, it should be quite clear by now who should fear Tesla the most nowadays.
Figure 1
Tesla and its Main Competitors Compared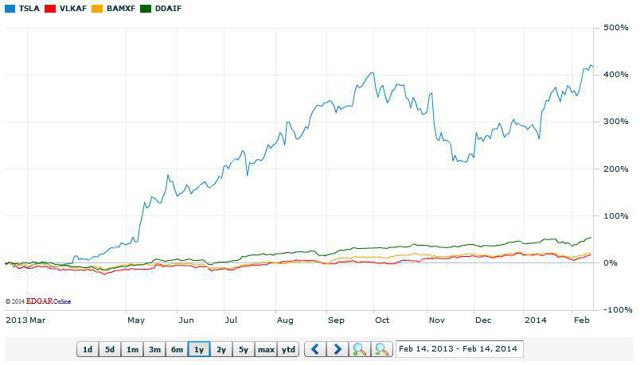 Source: Nasdaq.com.
Disclosure: I have no positions in any stocks mentioned, and no plans to initiate any positions within the next 72 hours. I wrote this article myself, and it expresses my own opinions. I am not receiving compensation for it (other than from Seeking Alpha). I have no business relationship with any company whose stock is mentioned in this article.