I am bullish on Peabody Energy (NYSE:BTU), and believe the stock remains a good investment option for long-term investors. My bullish stance on the company is mainly based on its dominant thermal coal market exposure in the U.S., and exposure to emerging markets, including India, and China. The company is likely to benefit from increased coal-fired electricity generation in the U.S. Also, the company will benefit from demand growth in emerging markets, which will be catered to through the company's Australian operations. Moreover, the company has a strong balance sheet, lower costs and large operational base, which makes it better positioned relative to its competitors.
Financial Performance
The company registered mixed financial results for 4Q2013. The company reported breakeven earnings for 4Q2013, up from $(1.12) as compared to the corresponding period last year, beating consensus estimates of $(0.05). Better than expected EPS for the quarter was mainly a result of cost control efforts; the company was successful in achieving $340 million in cost savings in 2013. EBITDA for the recent fourth quarter came out to be $201 million, below consensus estimates of $230 million. EBITDA for the recent quarter was adversely affected by higher than expected Australian costs, as a result of labor action and the delays at North Goonyella.
The company reported revenues of $1.74 billion for 4Q2013, down from $2.02 billion in 4Q2012. Also, annual revenues slipped to $7.01 billion for full year 2013, down from $8.08 billion in 2012; revenues were adversely affected by weak coal prices. In the ongoing tough business environment and given the weakness in coal prices, the company was able to increase its sales volume, according to the recent financial performance; sales volume increased by 2% to 64.6 million tons and 1% to 251.7 million tons in 4Q2013 and full year 2013, respectively.
Outlook
Despite satisfactory financial performance for the recent fourth quarter, the guidance for 1Q2014 remained slightly weak. The company is targeting EBITDA of $170-$230 million for 1Q2014, as compared to consensus estimates of $258 million. The company expects EPS for 1Q2014 to be in a range of $(0.10)-$0.14, as compared to consensus estimates of $(0.04).
For the full year 2014, the company expects to sell 245-265 million tons of coal, as compared to consensus estimates of 250 million tons and 251.7 million tons in 2013. The company has been relying on cost control measures to support its bottom line results and is expecting the cost of U.S. operations to be down 1%-3% year-on-year in 2014; in 2013, the company was able to achieve cost savings of $340 million. Due to contract reopening, mainly in the Midwest, BTU is expecting U.S. revenues to be down 5%-8% year-on-year in 2014.
The company did not announce met coal production cuts for 2014, which I believe remains a disappointment and will keep met coal prices weak. The company is expecting met coal productions of 16-17 million tons in 2014, up from actual met coal productions of 15.9 million in 2013. I was expecting BTU to scale back its met coal production, as met coal markets remain oversupplied, which did not happen. I believe oversupplied met coal markets and weak met coal prices will remain an overhang on the stock price in 2014. Met coal spot price has dropped below $125/ton, in comparison to 1Q2014 met coal benchmark price of $142/ton. The company's thermal coal business seems to be more stable as compared to the met coal business, as 85%-90% of the company's domestic thermal volumes are committed and priced.
A recent increase in natural gas prices will portend well for BTU and the coal industry, as coal-fired electricity generation will increase. Also, a limited surplus in PRB will benefit thermal coal markets, as the company expects only 5%-10% of the volume will be brought back into production with ease, as a result of higher thermal coal demand due to higher natural gas prices.
Balance Sheet and Liquidity
The company has been doing well in improving its credit outlook and strengthening its balance sheet in the ongoing tough business conditions. The company has been making efforts to lower its debt and extend debt maturities. In the last year, 2013, the company reduced its debt by $200 million, partially using the non-core asset sales proceeds of $130 million; in the last two years, BTU has repaid $600 million of its outstanding debt. I believe the company will continue selling its non-core assets to repay debt and strengthen its credit outlook. Also, to preserve cash and address the rational production in the coming years, the company intends to reduce its capital spending; it plans to incur capital spending of $275-$325 million in 2014, as compared to $330 million in 2013. The following table shows BTU's debt maturity profile.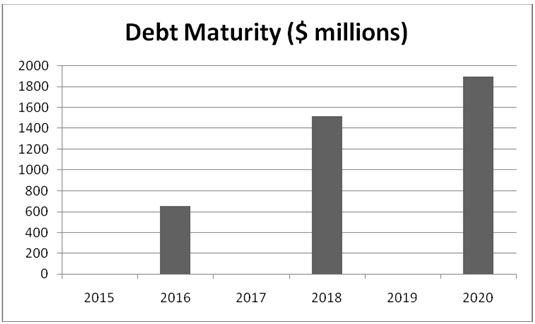 Source: Company Reports
Conclusion
BTU is well positioned in the industry to benefit from a rebound in coal markets, as the company has lower costs, geographically diversified operations and relatively healthy credit outlook as compared to its competitors. I believe coal markets, especially thermal coal markets, will improve due to rising natural gas prices and a recovery in economic activity. However, in the short term, weakness in met coal markets is likely to prevail, due to demand and supply imbalances.
Disclosure: I have no positions in any stocks mentioned, and no plans to initiate any positions within the next 72 hours. I wrote this article myself, and it expresses my own opinions. I am not receiving compensation for it (other than from Seeking Alpha). I have no business relationship with any company whose stock is mentioned in this article.