The following is a white paper by three industry experts making the case that the network airlines that provide essential access to global markets are in danger of slowly liquidating if they are not allowed to merge. Mergers provide a market-driven restructuring solution that effectively allows the network airlines to compete with the emerging low-cost carrier business model.
By Vaughn Cordle, CFA, Paul Mifsud and Carlos Bonilla
The US airline industry can only support three large network airlines.
The announcement of a United (UAUA) -Continental Airlines (NYSE:CAL) merger renews interest in the legal, financial and political issues surrounding consolidation in the US airline industry. Perspectives on these issues among the many industry stakeholders — consumers, communities, investors, suppliers, labor, competitors and politicians — vary, but it is clear that the corporate and governmental policies applied to these subjects affect not only these stakeholders, but also the national economy and the trillion-dollar travel and tourism industry that relies so heavily on a healthy, reliable air transportation network.
The purpose of this white paper, and those to follow, is to make the case for market restructuring of the US legacy airlines and the industry in general through consolidation and network restructuring. In the US, such consolidation provides an important network foundation that — with the right corporate, labor and political leadership — sets the path to sustained growth and US leadership in the development of the emerging 21st-century global air transport networks. Without this leadership and without further consolidation, we expect there will be at least one, and perhaps two, more failures among the network airlines, as well as several low-cost-airline failures.
It is important to recognize that the airline industry is composed of a variety of business models that satisfy distinctly different, though often overlapping, transportation needs. For simplicity's sake we distinguish among network, low-cost and regional carriers.
AA (NASDAQ:AMR), UA, DL (NYSE:DAL), CO and US (LCC) are the major US network airlines. Using a broad mix of aircraft types, they gather passengers from small and large airports, domestic and international, and distribute passengers through hubs strategically located around the country. This model enables network airlines to accept passenger flows from other carriers' networks, so commercial relationships with regional carriers and international network carriers efficiently extend the network carriers' reach.
The network airline model provides a vast number of communities, their business travelers, and visitors with global access to the world's markets. However, these network efficiencies come at the price: Complexity, legacy labor policies, outdated infrastructures, and poorly considered government policies (domestic and foreign) have resulted in lost efficiencies and higher costs for the network carriers.
Southwest (NYSE:LUV), JetBlue (NASDAQ:JBLU), AirTran (AAI), Frontier and Spirit (NYSE:SPR) are examples of low-cost carriers (LCCs). The low-cost model also operates from hubs (called "focus cities" by some), but LCCs tend to operate limited types of aircraft, to feature point-to-point services, and to operate only between high-density domestic and cross-border airport markets.
Simplicity, newer fleets, and a younger labor force that began work in a low-cost environment, as well as quick turnaround times for their aircraft, provide efficiencies that result in low fares. However, this model does not lend itself to serving low-density or small communities.
Moreover, the extension of this model internationally, beyond a few cross-border routes with Canada, Mexico, and a few Latin American destinations, has yet to be proven, although Southwest's large domestic market share makes it the most likely candidate to initiate long-haul international operations. We expect it to do so within the next five years.
Regional airlines such as SkyWest (NASDAQ:SKYW), Expresset (XJT), Pinnacle (PNCL), and Republic (RJET) (the last a hybrid airline that also operates Frontier as a branded business) are "fixed-fee for departure" airlines that use a modified LCC model and operate smaller aircraft suitable for low-density airports. They connect at the hubs of network partner airlines pursuant to contract conditions that are subject to the often strict limitations of the scope clauses in the collective bargaining agreements of the network carriers. These carriers are specifically structured to link the smallest communities that receive air service with the network hubs.
All that said, in any discussion involving airline consolidation, there are a number of issues that should be put into perspective:
· DOJ policies related to their analysis of market concentration, product definition and potential market power in the air transport industry were first developed in the years just after deregulation in 1978 and have not been modified since. Simply stated, the policies are dated and stuck in the past.
· The years immediately following deregulation saw the proliferation of U.S. network carriers, most of which derived over 80% of their revenues from domestic air transportation. Combined, they provided a similar proportion of all U.S. domestic available seat miles (ASMs).
· Today, there are only five major U.S. network carriers and 28 LCC and regional airlines in the U.S., so there has been a considerable alteration in the composition of domestic competition. This has resulted in destructive price competition.
· The U.S. network carriers' share of the domestic market (excluding regional ASMs) has been shrinking annually In 2009, Southwest, the largest LCC, continuing its faster relative growth trends, provided 14.6% of total U.S. ASMs, while DL provided 16.1% after the NW merger in late 2008 [Figure 1].
· UA and CO together provided 17.7% of the domestic ASMs in 2009. However, we ultimately expect to see a 5-10% reduction in combined capacity post-merger, which will reduce their market share and improve efficiencies. This outcome results because one of the major purposes of airline mergers is making routes more rational. For example, the pre-merger domestic shares of DL and NW, were 10.1% and 6.3%, respectively in 2008, but combined they had a 16.1% share in 2009.
· Given what we consider an appropriate amount of domestic ASMs produced post-merger, a AA/US combination would be approximately 19.6%, which is somewhat larger than UA (+CO), DL(+NW), and Southwest.
Figure 1: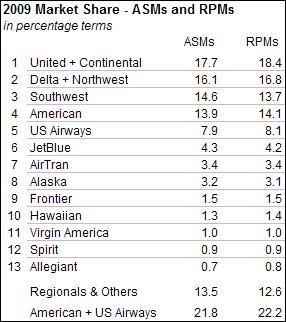 Our analysis of the trends over the last decade suggests that, without a new strategic direction and significant changes in the industry's structure, AA and US will continue on the slow liquidation path to failure. Corporate, labor and government policies that ignore these trends risk reshaping the competitive landscape and America's access to the global air transport network far more adversely for stakeholders than the current consolidation trend that naturally led to mergers between UA, CO, DL, and NW.
Bad industry fundamentals: The prisoner's dilemma
In game theory terms, the industry's problem represents the classic "prisoner's dilemma" because firm value, airline economics and passenger preferences provide strong incentives to cheat (by over producing to gain disproportionate market share and lower relative costs). These incentives are so great that the ability of the individual airline to profitably maintain seat production levels that optimally balance supply/demand is severely limited. The result is, collectively, the entire industry is laden with excess capacity. Excess capacity is at the heart of the industry's inability to earn its cost of capital.
This is a confusing issue because, when one looks at uncomfortably high passenger load factors, the concept of excess capacity doesn't ring true. However, when both price and supply elasticity are thoroughly examined, the airlines' excess capacity can be measured and defined in economic, finance, and even strategic terms to show its role in the industry's financial struggles in cold, hard numbers. We have developed models that produce such numbers.
We ran the numbers for every airline from 1977 through 2009 and calculated how much excess capacity was in the system and each region. Then we calculated the economic spread (in Economic Value Added terms) returns for the industry during each business cycle and for each airline. What we found was that, for the decade ending in 2009, the industry produced an average of 7% excess capacity, and this factor alone led to $70 billion in net losses (in 2009 $), or negative 5.7% in revenue. The elasticity of demand analysis concluded that the industry underpriced the product by 11% over the 10 years ending 2009.
The only way the industry could have priced the product above its true economic cost would have been to reduce the 7% excess capacity by raising revenue to the required level. Of course, this was not possible because every airline had to grow market share in order to lower relative unit costs and expand valuation multiples. Growth results in lower relative costs because new employees are brought in at first-year pay and maintenance costs are lower when equipment is new. "Grow in order to lower relative costs" is a rational strategy for management at the individual-airline level but results in destructive price competition at the industry level.
So the fundamental industry problem is that what appears to be perfectly rational for the individual airline is irrational at the industry level because it negatively impacts industry structure and market concentration in such a way that the individual airline cannot earn its cost of capital. Hence, bad industry fundamentals result in an industry unable to attract and maintain shareholder support.
These bad industry fundamentals will not change without consolidation one way or another. For CO and UA, the best option is to merge because the alternative is to fail, and the same holds true for US and AA. Failure is not a good option for labor and other stakeholders, especially for the shareholders and for small communities, which can only be served if there are profitable and large network airlines. Network airlines must be able to afford to fly the thinly populated short haul flights utilizing small regional jets if small communities are to continue to receive air transportation service. The low-cost airline model is not designed to service these small communities.
Our analysis suggests that the US market can support a maximum of only three major network carriers.
Although we are forecasting profits for the U.S. majors in 2010 and 2011, these profits are inadequate to address the airline industry's continuing problem of excess capacity and destructive price competition that leads to inadequate earnings, especially in the domestic market. The projected levels of earnings do not address poor balance-sheet and earnings fundamentals such as equity, capital investment, and growth. Without improvement in the industry fundamentals, the airlines will remain unable to satisfy consumer expectations and investor and labor requirements, all of which must be defined in sufficient and certain value terms.
Our financial models indicate that industry revenue must increase by 15-20% to offset over $20 billion in higher costs that are estimated to be in the pipeline. Although charging higher fares and ancillary fees would reduce demand and result in 10-12% of excess capacity that should be removed, this is not likely to happen without additional mergers. If the industry is not allowed to consolidate in the most rational manner, the result will be a continuation of the slow liquidation and the inevitable failure of US and AA, the two remaining network airlines in need of restructuring. The most likely outcome would be an AA bankruptcy and outright liquidation of US.
While aviation is traditionally a cyclical industry, the current business cycle is different because the large network airlines have never been so weak or so over-leveraged. Capital expenditures have been inadequate for too long. Even if consolidation proceeds, the remaining legacy airlines must retain many years of earnings before they have a healthy capital structure.
We estimate that network airlines have a $50 billion [book] equity deficit on the balance sheet. Growth and proper investment in equipment and human capital is not possible until this deficit has been addressed via retained earnings. And adequate retained earnings are not possible unless the market structure changes to increase market concentration. Succinctly stated, the industry has too many airlines and this does not allow the profitability required to properly invest in the business and satisfy key stakeholders.
Disclosure: No positions