Introduction
Despite the recent Norovirus outbreak on the Explorer of the Seas, Royal Caribbean Cruises Ltd. (NYSE:RCL) is still a strong company with solid growth potential and a cheap valuation. As the cruising industry continues to grow in today's recovering economy, I believe that Royal Caribbean has the necessary factors to capture the largest share of the growing and largely untapped market for cruises. Royal Caribbean's ability to produce groundbreaking and innovative new ships while its cruise lines garner the highest levels of customer satisfaction place the company in the strong position of being both an industry leader and a consumer favorite. It is time to hop on board with Royal Caribbean and take advantage of its growth opportunities while its stock is still cheap.
Q4 Earnings Release Snapshot
Royal Caribbean has posted overall positive results for the fourth quarter.
Revenue increase met expectations and rose almost 3% to $1.85 billion. This increase can be attributed to an increase in onboard spending and late bookings.
EPS more than doubled to $0.23, surpassing analyst estimates of $0.18.
Royal Caribbean expects an EPS of $3.20-$3.40 for 2014. This estimate is above analyst estimates of $3.17.
Royal Caribbean has beaten quarterly earnings estimates for the fourth time in a row.
Cruising Industry Growth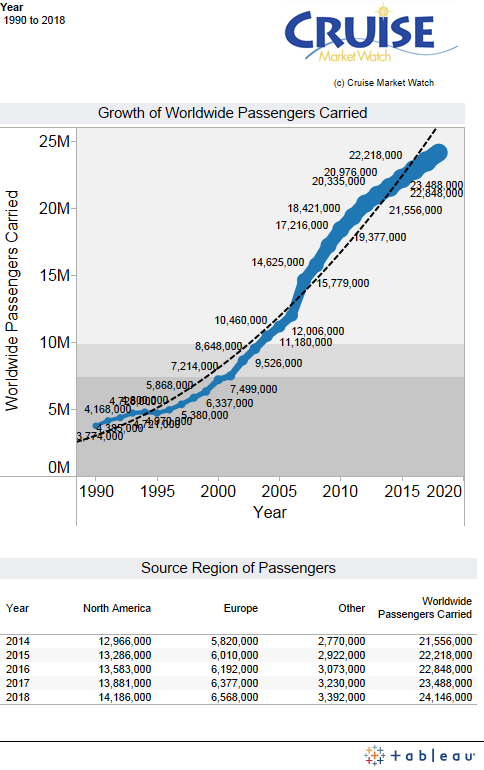 As shown in the graph above, the cruising industry has experienced steady growth in previous years. Over 60% of passengers come from North America; it is the primary market that Royal Caribbean's largest cruise lines service. As consumer spending increases in today's recovering economy, the number of cruise passengers is expected to increase as demand continues to grow. To meet the growing demand, 16 new ships carrying a total of 19,500 passengers will be setting sail for the first time this year, adding to the total capacity of over 434,000 passengers. Despite all of the growth of the cruising industry and the popularity of cruising among North Americans, only 24% of the U.S. population has ever taken a cruise. A large untapped market still remains, and I believe that Royal Caribbean is currently in the best position to take advantage of these future opportunities ahead.
Innovative New Ships
Ever since the release of the Oasis-class megaships, Royal Caribbean has become a leader in innovation in the cruising industry. This trend will only continue in the coming years. At the end of this year, the much anticipated Quantum of the Seas will make its maiden voyage. The Quantum will contain many new features from a sky-diving simulator to virtual balconies. After the Quantum, Royal Caribbean will release the Quantum's sister ship, the Anthem of the Seas, in 2015 along with a new Oasis-Class and Quantum-Class vessel in 2016. The Oasis-class ships and the upcoming Quantum of the Seas have become very popular and have generated a lot of hype. Today, it seems as though Royal Caribbean International's brand has been popularized and defined by those vessels. Royal Caribbean International has also renovated its fleet with upgrades from the Oasis-class ships. Newer, bigger, and better ships can draw in new customers, and renovations to older boats keep customers coming back for years to come.
Royal Caribbean's innovation doesn't end with its largest cruise line holding, Royal Caribbean International. Celebrity Cruises' (Royal Caribbean's second largest cruise line) five Solstice-Class ships brought something new to the table with the Lawn Club, the first ever field of real glass on a cruise ship. The Solstice-class ships also improved upon older ships by adding several new specialty restaurants, spa-class suites, and a plethora of other modern upgrades. As with Royal Caribbean's megaships, the popular Solstice-class ships became the ships that Celebrity is most associated with. The brand became even stronger after Celebrity outfitted its older ships with many of the new features. With all of the innovations and improvements, it is no surprise that Celebrity Cruises quickly became a favorite among the cruise lines in the upscale cruise market.
High Customer Satisfaction
According to this article, Royal Caribbean's cruise lines have the highest satisfaction ratings in each category versus all of the cruise lines owned by publicly traded cruise line companies.
| | | | |
| --- | --- | --- | --- |
| Cruise Line Type | Royal Caribbean | Carnival | Norwegian |
| Bargain-Priced | Royal Caribbean International (81%) | Carnival Cruises (74%) | Norwegian Cruise Line (70%) |
| Upscale | Celebrity Cruises (81%) | Holland America Line (75%), Princess Cruises (77%) | N/a |
| Luxury | Azamara Club Cruises (88%) | Seabourn Cruise Line (84%) | N/a |
These numbers are an obvious sign that Royal Caribbean's cruise lines have been producing a high-quality and demanded product. High customer satisfaction is very helpful for two reasons. The natural tendency for the consumer to recommend favorite products to others can only increase demand for Royal Caribbean's products. Better yet, every cruise line has a loyalty program designed to create loyal customers. With all of the attractive benefits of the rewards programs, satisfied customers are likely to be loyal repeat cruisers to a cruise line after an excellent cruise. Royal Caribbean's new innovations and renovations will draw people to its brand, and the satisfaction percentages show that their enjoyable vacation will most likely turn them into a loyal customer.
Comparative Valuation
| | | | |
| --- | --- | --- | --- |
| | Royal Caribbean | Carnival | Norwegian |
| P/E (TTM) | 24.21 | 29.54 | 117.23 |
| P/E (Forward) | 15.68 | 23.40 | 26.90 |
| Annual Earnings Growth (5-year estimate) | 16.63% | 14.22% | 30.05% |
| PEG (1-year Forward) | 0.94 | 1.65 | 0.90 |
Currently, Royal Caribbean Cruises Ltd. shows a moderate level of earnings growth and is the most cheaply valued out of the cruise stocks. Royal Caribbean has a strong history of beating earnings estimates, so it is likely that Royal Caribbean could experience a greater level of growth in the coming years than what the current estimates show. In addition, Royal Caribbean pays a $1.00 (current yield: 1.92%) dividend.
Norwegian Cruise Line Holdings (NASDAQ:NCLH) shows the highest growth potential and the highest growth potential for the price. However, although Norwegian's earnings are strong, the company suffers from monstrous debt and other issues which I address in my previous article.
Carnival Corporation (NYSE:CCL) is the most expensive company and is predicted to have the lowest earnings growth. Carnival also pays a $1.00 (current yield: 2.49%) dividend.
Norovirus Outbreaks and Other Risks
Norovirus has a chance of making an unwelcome appearance on any traveler's cruise vacation. Although the disease is a rare occurrence, whenever it does strike, it can ruin one's vacation. Unfortunately for the passengers on the Explorer of the Seas last month, the disease infected more than 600 passengers and crew onboard. This outbreak has raised health and sanitation concerns onboard cruise ships and made the public weary of taking a cruise. As a result, Royal Caribbean (as well as other cruise lines) has lowered fare prices in order to entice potential customers.
A one-time incident that causes a potential loss of revenue is not a significant matter. However, this incident brings to light the fact that cruise disasters and mishaps have a strong negative effect on demand across the entire industry. Whenever fires break out, ships become stranded at sea, or a mysterious death occurs onboard, just to name a few, the public questions the safety and the risks of taking a cruise vacation. All of these incidents have caused headaches for cruise line companies and stifles the growth of the industry. More significant incidents like the sinking of the Costa Concordia have damaged the industry's reputation and revenues for years. All of these crises are rare occurrences and have not had significantly negative lasting effects thus far. However, whenever these crises do occur, they can seriously damage the short-term outlook and cause sharp swings in stock prices.
Conclusion
Royal Caribbean is a great company with a cheap stock and solid future growth potential. Many of its cruise lines have records of innovation and high customer satisfaction allows Royal Caribbean to continue being a leader in the cruising industry. I believe that Royal Caribbean is the best investment out of the three cruise line companies. At current prices, I would buy this stock.
Disclosure: I have no positions in any stocks mentioned, and no plans to initiate any positions within the next 72 hours. I wrote this article myself, and it expresses my own opinions. I am not receiving compensation for it. I have no business relationship with any company whose stock is mentioned in this article.