As a follow-up to an article last April when trading at $5.75 a share, BGC Partners (NASDAQ:BGCP) has started to deploy its horde of cash with continuing expansion into the commercial real estate sector. From the most recent transcript:
As of Dec 2013, BGCP had cash of $795 million and is expecting receipt of $530 million in NASDAQ OMX stock (NADQ).
While some of the NADQ stock will vest over the next 15 years based on performance of assets sold to NADQ by BGCP, these two assets could be worth $1.305 billion. The current share price of BGCP creates a fully diluted market capitalization of $2.500 billion.
With fully diluted 358 million shares outstanding, including the conversions of 40 million shares from a senior convertible note, the cash is valued at $2.22 per share and NADQ stock to be received at $1.50 per share, and combined are worth $3.72. At a current price of $7.00, the balance of BGCP is being valued at $3.28 a share.
The balance of BGCP is best described from their website:
BGC Partners, Inc. is a leading global brokerage company primarily servicing the wholesale financial and real estate markets. Products include fixed income securities, interest rate swaps, foreign exchange, equities, equity derivatives, credit derivatives, commercial real estate, commodities, futures, and structured products. BGC also provides a wide range of services, including trade execution, broker-dealer services, clearing, processing, information, and other back-office services to a broad range of financial and non-financial institutions. Through its BGC Trader, and BGC Market Data brands, BGC offers financial technology solutions, market data, and analytics related to select financial instruments and markets. Through the Newmark Grubb Knight Frank brand, the company offers a wide range of services including leasing and corporate advisory, investment sales and financial services, consulting, project and development management, and property and facilities management. BGC's customers include many of the world's largest banks, broker-dealers, investment banks, trading firms, hedge funds, governments, corporations, property owners, real estate developers, and investment firms.
In Jun 2013, BGCP sold its eSpeed trading platform to NADQ, taking payment as $750 million in cash and the balance in stock worth about $485 million as of the announcement last year. While eSpeed was a substantial portion of the financial service segment, overall post-tax distributable earnings for the year declined by only 15%, and pre-tax distributable earnings was about flat.
From their year-end investor presentation: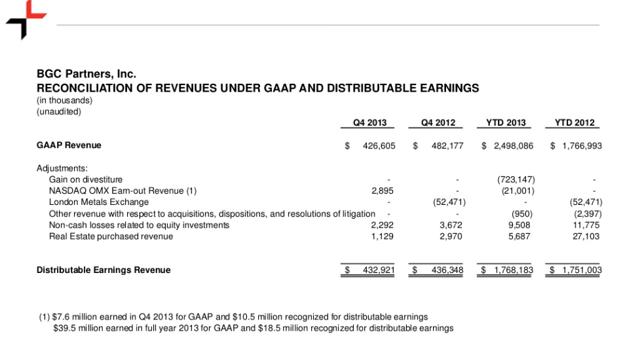 For the 4th quarter, real estate services accounted for 41% of revenues while financial services generated 57% of revenues. Of the financial services segment, credit and currency transactions accounted for 40% of revenues. Real estate has been beefed up through an acquisition spree of commercial brokers. In 2012, their real estate arm, Newmark Grubb Knight Frank, added the assets of Grubb & Ellis. Last month, the firm announced the purchase of Northern California broker Cornish & Carey, based in San Francisco. BGCP real estate segment operates 320 offices and has 12,300 employees on five continents.
More information on the real estate segment can be found at their website.
In addition to the real estate broker purchase, BGC also announced the acquisition of HEAT Energy Group. HEAT will be merged into existing energy trading in the financial services segment. From the press release:
HEAT Energy Group ("HEAT"), an independent over-the-counter energy brokerage company focused on the regional term power markets and natural gas swaps. This transaction complements BGC's growing energy practice in North America. HEAT specializes in electricity and power broking in the PJM Interconnection and the Mid-Continent Area Power Pool regions and has offices in New York, New Jersey and Florida. The acquisition is expected to close later this quarter and is subject to various closing conditions.
The expansion of their real estate footprint should stabilize earnings over the course of the year. Also from their transcript:
Because our two businesses essentially reverse each other's seasonality, we are unique amongst our real estate and financial service peers and that we expect BGC to have strong fourth and first quarters going forward.
This seasonality of income offset will aid in reducing the lumpiness of earnings by quarter, and should provide a better platform for rising distributions. Their distribution policy is stated on their website:
BGC Partners intends to pay not less than 75% of its post-tax distributable earnings per fully diluted share as cash dividends to all common stockholders. The company also intends to use the balance of its quarterly post-tax distributable earnings, after distributions to all partnership units and dividend payments to common stockholders, to buy back shares and/or partnership units.
For 2013, the distribution paid was $0.12 a quarter, and was announced as unchanged for 1st quarter 2014. At $0.48 a year, the current yield is close to 6.85%.
Investors need to appreciate their minority position in equity ownership of fully diluted shares of BGCP. Below is a graphic outlining the various economic ownership of the company from their presentation: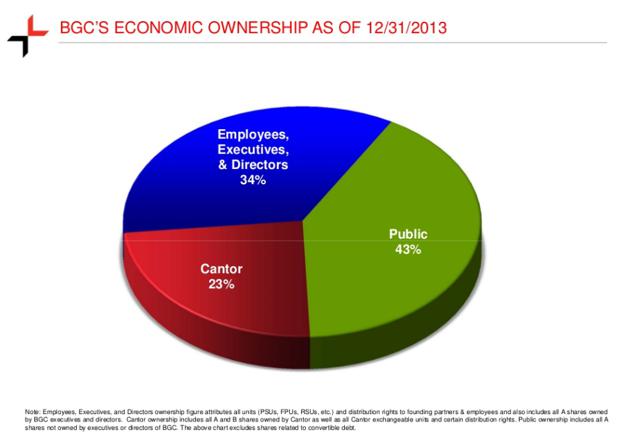 As with some of the smaller financial services firm peers, BGCP uses its shares as an important executive compensation mechanism. As shown above, employees own 34% of outstanding fully diluted shares, privately held Cantor Fitzgerald owns 23% and public shareholders the balance at 43%. Cantor Fitzgerald originally spun off BGCP assets in 2004 while retaining its 23% interest. Public investors need to be aware of the possibility for management to enrich themselves in ways that may not be in the best interest of publicly held shareholders. This would include buying back shares with operating cash flow to recycle them to management to prevent share dilution.
Below is a question and answer between the Raymond James analyst and management addressing this compensation approach taken from the most recent transcript:
Patrick O'Shaughnessy - Raymond James

Okay, got you. That's helpful. And actually one last one from me and maybe this is for Graham, with your diluted share count guidance for the first quarter of 2014. What are your share repurchase assumptions within that guidance?

Graham Sadler - CFO

Yes and that's just a small part of it right and what we're predicting is that -- so we're looking at just under 5 million for Q1 and then sort of going forward from that we're striving to reduce that issuance, with our compensation unit. And then but of course we may issue units in respect to no accretive acquisitions and new hires. So that may cause it to bump up.

Patrick O'Shaughnessy - Raymond James

Okay. But kind of taking acquisitions aside, just kind of on the organic basis would you foresee -- like some companies say we're going to use our repurchases to offset dilution from share-based compensation. Is that a philosophy that you would subscribe too or do you still kind of think that the share base is going to grow or maybe you will be opportunistic with repurchases but you are not specifically going to try to offset that dilution?

Howard Lutnick - Chairman and CEO

We are considering that, we certainly have the financial resources to do that and we are not announcing that on this call, but I would not take that off the table.
More on their latest earnings results can be found in their earnings announcement here (pdf):
Fastgraph.com offers a great graphic of the wild ride for shareholders over the past years.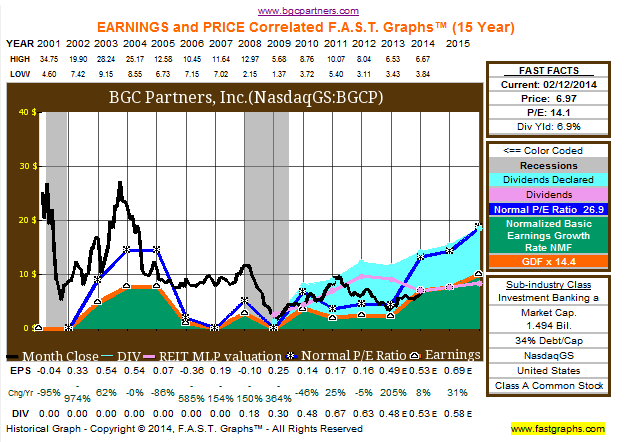 However, based on projected earnings and distribution growth, it seems there could be better days ahead with an annual returns approaching 20%, with about 44% of those returns coming from growing cash dividends.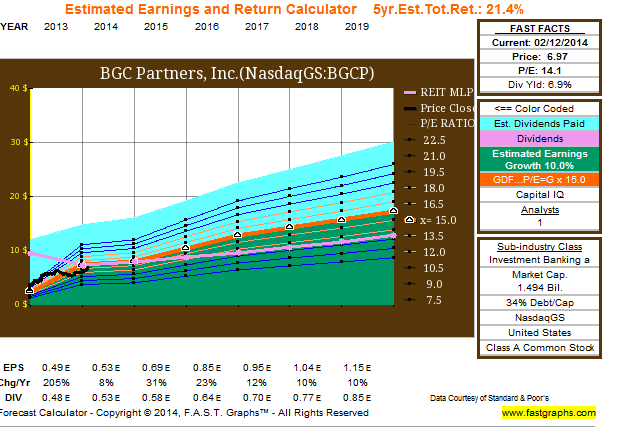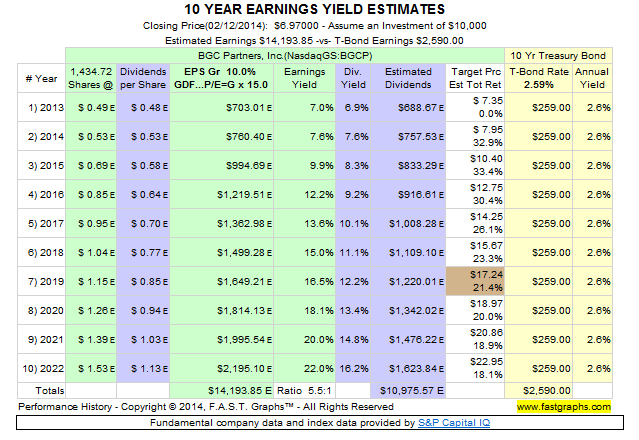 The expansion of BGCP real estate footprint does not preclude the possibility of a financial services acquisition along the way. If management is looking for revenue streams evenly divided between financial services and real estate, additional investments in this segment should be also expected, similar to the bolt-on HEAT acquisition.
While an investment in BGCP should be considered as speculative, patient investors could see both rising share prices and rising income from their investment over time, even at today's higher valuation. Share prices have climbed recently with the latest good earnings announcement, and share prices may seem fully valued. However, even after a 21% share price increase and an 8.3% income yield since last April, BGCP should be on your radar screen.
Author's Note: Please review important disclaimer in author's profile.
Disclosure: I have no positions in any stocks mentioned, and no plans to initiate any positions within the next 72 hours. I wrote this article myself, and it expresses my own opinions. I am not receiving compensation for it (other than from Seeking Alpha). I have no business relationship with any company whose stock is mentioned in this article.