Consumers are snowed in, and there's one clear winner when that happens - Netflix (NASDAQ:NFLX).
Weather Affecting The Economy
It seems we're hearing Armageddon-like weather terms this year that haven't surfaced in decades. Potentially crippling winter storm. Negative 40 wind chill. And of course, the polar vortex. The scary thing is, the weather data is backing it up.
Back in early autumn of 2013, most indicators pointed towards a moderate winter with less-than-average snowfall. According to Accuweather, by mid-December snowfall in some parts of the country had already surpassed the total aggregate snowfall for the entire winter a year earlier. On December 13, 2013, for instance, Philadelphia had already received 10.8 inches of snow for the season. In the previous winter, the city had received a total of 8.3 inches. That measure was long before the "polar vortex" and subsequent storms hit. Mid-way through February, Philadelphia is expected to receive up to 14 inches this week alone. There's a significant divergence in expectations and what's actually happening, and that's where the incremental business is being driven for NFLX.
We all know what snow and frigid temperatures mean for business in general, and it's not good. Just five weeks ago, during the first major weather-related shutdown, Meijer, Inc. CEO Hank Meijer talked at length on CNBC about the challenging business conditions brought on by the harsh weather. Meijer said:
We absolutely feel it. And it goes both ways. People are worried about a storm, they're stocking up. And that's great for business. But then sometimes the shelves get low and it's hard to get new trucks in. On balance it's been good and we're really pleased with our delivery schedules, but it's a challenge to operate stores under such conditions.
Not to mention, the reason Meijer was speaking on CNBC was because his company was contacted by the Indianapolis Colts to purchase thousands of playoff tickets to avert a television blackout. Consumers - huge football fans - couldn't make it to the game because of the weather. Hundreds of thousands of flights have been cancelled this winter. Schools are closing for days at a time from Atlanta, GA to Buffalo, NY and out to Denver, CO. Businesses are closing as well.
How NFLX Benefits
There's a counter argument that applies for NFLX, and its why they're succeeding at adopting new users at an increasing rate. Think like a consumer for a second. What do kids do on snow days? What do families do when they're faced with sub-zero temperatures? They fire up the hot chocolate and huddle up in front of the television. What do they watch? That answer is quickly becoming anything that's available on NFLX. The on-demand, at-your-fingertips model that NFLX pioneered is exploding. The streaming content industry is growing at an alarming rate for the linear television content producers, and NFLX is at the forefront. Ultimately, if you're snowed in, you're binge-watching on NFLX for the day.
Seasonality of NFLX Business
Netflix has a seasonal business model for subscriber growth, as noted in their 10-K:
Our member growth exhibits a seasonal pattern that reflects variations when consumers buy Internet-connected devices and when they tend to increase their viewing. Our domestic member growth is generally greatest in our fourth and first quarters (October through March), slowing in our second quarter (April through June) and then accelerating in our third quarter (July through September).
While the increase in internet-connected device purchases is heavily driven by holiday sales, the reason consumers increase their actual viewing time is largely less transparent and harder to quantify. Still, it's safe to say that one significant reason is weather.
As a basis for this thesis, I examined the most recent marketing campaign that NFLX launched leading into the 2013 holiday season. The campaign is based around a few core themes which are readily available in the one minute ad - family, holidays, winter weather. In their quarterly presentation to investors, the company noted of the ad: "The ad is simple and timely and positions Netflix as a part of the holiday/family experience."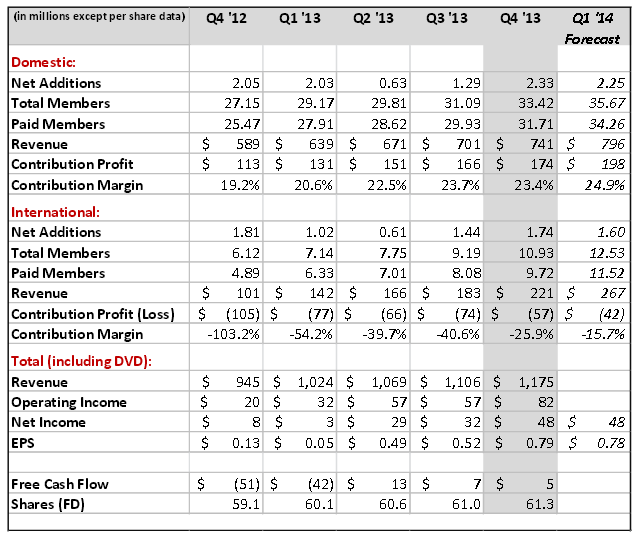 Source: NFLX Q4 2013 Investor Presentation
Take a look at the table above. It's clear to see the seasonal nature of the business. Net domestic additions in Q4 2013 were 3.7x that of Q2 2013. It's important, then, that we base any analysis on a relative Q/Q comparison. Digging further, the performance of actual net subscriber growth relative to the estimated growth, when compared against relative weather and precipitation statistics, can start to unwrap the increase in viewing statistics (and subsequent new subscriber additions) that Netflix experiences.
NFLX Outperformance Tied To Colder-Than-Expected Weather
Take another look at the table above. In Q4 2013, the street estimates for subscriber growth were at an average of net 2mm, while the actual number came in at 2.33mm. That's a surprise upside of 16.5%. While it is largely agreed upon that the retail sector was negatively impacted by harsh weather conditions, and sales of internet-connected devices actually underperformed expectations, NFLX experienced a vast outperformance compared with expectations. The Wall Street Journal cited that device-related holiday retail sales were up just 2.3% y/y. NFLX acknowledges those two main variables (device sales and increased viewing) with regard to the seasonality of their business. While device sales only increased 2.3%, new subscriber growth increased 13.7%. This divergence speaks to the significant impact weather actually has on their core business growth.
Good news for NFLX. Compared with expectations, the weather in Q1 2014 has been drastically worse (lowest average temperatures seen in decades, highest rates of snowfall over vast expanses of the country). The weather has been uncharacteristically cold/snowy in parts of the country that aren't used to it. Look for this divergence from the norm to significantly affect NFLX numbers in Q1 2014.
NFLX Increasing Profitability with Subscriber Growth
It's important to note that NFLX is experiencing increasing contribution margin levels, and they're well on the way to achieving the goal of 30%. Whether this welcome increase is attributed to economies of scale or increasing internal efficiencies, it's clear that the more subscribers the company adds, the more profitable it becomes on a per-subscriber basis. From Q4 2012 to Q4 2013, the company increased its contribution margin nearly 22% - from 19.2% to 23.4%. Since the company broke out into the streaming segment in Q4 2011, CM has nearly doubled. Forecasts anticipate 24.9% in Q1 2014 on net additions of 2.25. If the thesis analyzed in this article holds true, net additions will outperform by another 15% (given increasingly poor conditions, school and business shutdowns, record low temperatures, and record snowfall and precipitation) to nearly 2.6mm for the quarter. NFLX forecast CM growth of 400 basis points per year through 2015, where at 30% the growth in profitability will begin to level off.
The Value Proposition Stands Stronger Than Ever
NFLX offers a valuable product at a comparatively affordable price. The streaming model is far less expensive than the traditional, linear television model (buying a cable or satellite package). Because streaming options have gained so much traction in the past two years - significant increases in existing content and newfound focus on original content - the overall marketplace has grown tremendously. From a competitive standpoint, NFLX fits in perfectly - they're priced competitively against main competitors like HBO (with the HBO GO feature), Redbox, and Amazon (NASDAQ:AMZN) Prime (less convenient because of the one-time larger-ticket purchase price). So NFLX finds itself in a rapidly growing segment with a formidable model of differentiation and value-added. The weather, then, becomes a catalyst for the organic, sustained growth that is already occurring.
This isn't intended to be an article that comments on the valuation of NFLX. I've read countless pieces giving great arguments why the stock is trading too high and others providing great analysis on why the stock is headed higher. Truthfully, I'm not sure where the stock is headed short-term. With a long-term horizon, the company continues to set itself apart (and above) its competition. They're spending more than half of their revenue on content creation and acquisition and another 10-12% on marketing, and in doing so they're seeing continually accelerating user adoption and low attrition rates. They're adding value to the consumer in ways that other companies currently can't. To me, that spells out a promising future.
More good news for NFLX is that attrition rate is being held in check. If that carries forward, new subscriber growth generated from harsh weather conditions will not fall off once weather conditions return to normal. This will be one of the most important tests for the company going forward. As NFLX reaches a higher mass of subscribers, the focus will shift from new subscriber growth to customer retention and exploration of new verticals and the much-talked-about tiered pricing structure.
Stay tuned on NFLX. And it's cold out, so go watch a few episodes.
Disclosure: I have no positions in any stocks mentioned, and no plans to initiate any positions within the next 72 hours. I wrote this article myself, and it expresses my own opinions. I am not receiving compensation for it (other than from Seeking Alpha). I have no business relationship with any company whose stock is mentioned in this article.