Editors' Note: This article covers a stock trading at less than $1 per share and/or with less than a $100 million market cap. Please be aware of the risks associated with these stocks.
Introduction
First and foremost, I would like to emphasize that I am grateful to Seeking Alpha. I strongly believe that all investors and/or potential investors must have an SA account and join this unique financial platform immediately. Not only does this platform offer a priceless insight into thousands of publicly traded companies, but also it has been playing an instrumental and prominent role in shareholder activism. I sincerely thank SA staff and the editorial team for allowing me to use this top notch platform and communicate my investment analysis to a large audience. And I am 200% sure that Seeking Alpha will continue to expand its reach by leaps and bounds over the coming years.
The first part of this series about Tuscany International Drilling (OTC:TIDZQ) is here. All Tuscany's shareholders should check it out before reading the second part.
The Axiall Study Case
Georgia Gulf was Axiall's predecessor. Axiall Corporation (NYSE:AXLL) is another study case that should be added to the Part 1 of this series. I did not know this case which was brought to my attention by a common shareholder yesterday.
Georgia Gulf refinanced its debt during the summer of 2009 as shown here, although the global financial crisis was plaguing the stock markets back then. The company also made a reverse split 25-1.
Please check out Axiall's chart below to see how the stock jumped from ~$7.7 to $37 (on a reverse split basis) in August 2009, shortly after the refinancing was completed: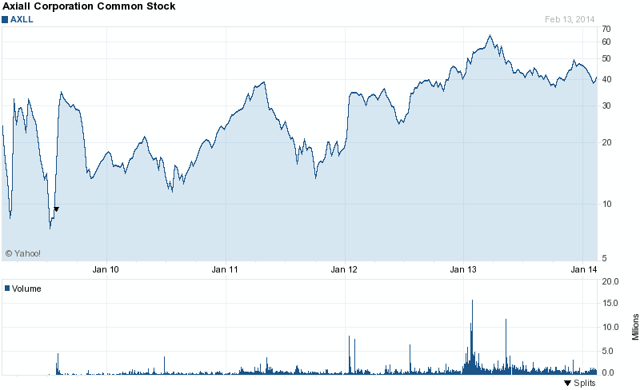 Some smart lenders did not let Axiall go broke in 2009, although the financial crisis was looming large back then. As a result, both the lenders and the common shareholders reaped tremendous rewards in a very short period of time. Axiall is now a company with ~$3 billion market cap.
Tuscany followed a different path and decided to sail in treacherous waters where the lenders will party at the common shareholders' expense. Greed has never been a good advisor.
A Weird Coincidence
In late January 2014, just one week before Tuscany's bankruptcy, Credit Suisse issued this note: "Oilfield services' LatAm growth to struggle this year". I quote the content of that brief report:
1) Latin America contributes a significant part to U.S.-based oil services and equipment companies, which will struggle to achieve growth in the region during 2014 as a slowdown in Mexico and Brazil will be worse than expected.
2) Halliburton (NYSE:HAL) is in one of the most difficult positions because of its relatively high exposure to Mexico and Brazil, and its relatively low exposure to other Latin American markets will prevent it from mobilizing operations to more robust areas.
3) Schlumberger (NYSE:SLB) and Weatherford (NYSE:WFT) have relatively high exposure to the two countries, but have the possibility of offsetting losses by moving business to other LatAm countries.
4) The firm says Baker Hughes (BHI) has the lowest exposure, with only 4% of its revenue from Mexico and Brazil.
I am sure that many of Tuscany's shareholders are surprised by reading this report. I am sure that they will connect the dots. I am sure they will think that Tuscany's bankruptcy just one week after that gloomy report looks suspicious. Is it a mere coincidence? I can not answer this question. I just know that Credit Suisse is Tuscany's main lender.
However, this is what those analysts from Credit Suisse have not included in that brief report:
1) Latin America consists of 20 countries.
2) Tuscany does not operate in Mexico. Tuscany operates in Colombia, Ecuador and Brazil.
3) In fact, Tuscany's primary operating area is Colombia, where the oil industry grows by leaps and bounds during the years and is currently an engine of the economy, accounting for 25% of state income.
4) In this group of 20 countries, there are several countries that are ramping up their oil and gas drilling programs, as shown in the next paragraphs.
Long story short: "What happens in Mexico and Brazil in terms of the growth of the oilfield services sector, stays in Mexico and Brazil".
Drilling Activity in South America
The demands for rigs in South America will be growing over the coming years. And if you think that the major players of the sector will rush to fill the gap, you are grossly mistaken. There are several such "gaps" that must be filled around the world in 2014. For instance, industry sources in the Gulf said in October 2013 at least 160 rigs are currently deployed in Saudi Arabia territory and that the world's top oil exporter plans to raise its rig count to 210 by the end of 2014. This is a gap of 50 rigs that must be filled in just one year only in Saudi Arabia.
Let's have a quick and indicative look now at some South American countries and how the E&P companies ramp up their drilling programs there. I want to point out that this is only a small sample of the ongoing oil and gas exploration boom that is currently taking place in South America:
1) Colombia: Colombia's oil production exceeded 1 million bopd on average in 2013, Energy and Mines Minister Amylkar Acosta said recently. Colombia's production for 2012 was an average of 944,000 bopd.
A) In December 2013, the National Hydrocarbons Agency (ANH) of Colombia said it plans to auction 22 million hectares for oil exploration and production for $2.6 billion in 2014. The auctions by ANH will begin in February 2014, and the oil exploration and production areas will have assignments by the end of July 2014.
B) In December 2013, the state-owned oil company Ecopetrol (NYSE:EC) and Talisman Energy (NYSE:TLM) said they had discovered an estimated 1.3 billion barrels of oil in southeastern Colombia and that about a tenth of it was likely to be recoverable. Ecopetrol owns a 55% stake in the Akacias area, while Talisman owns 45%.
According to Talisman's CEO: "This is a significant discovery that I think will be beneficial to both our companies. There are significant reserves that can be booked at the proven level but also at the resource level."
According to Ecopetrol's CEO: "Akacias is one of the biggest exploration successes in recent years in Colombia, and clearly shows the potential of heavy crudes in the Llanos Orientales area, the focus of Ecopetrol's exploration campaign."
To give you an idea of this find, Ecopetrol and Talisman hope to reach output of 25,000 bopd by 2015, up from around 5,500 bopd now, and 50,000 bopd by 2020. This is an almost 400% production growth in just 2 years, and they will obviously need a lot of rigs to reach this production target.
C) In December 2013, Ecopetrol made another significant discovery. Ecopetrol said it had discovered crude in the Cano Sur Este block, which it owns in full, with proven reserves of 22.4 million barrels.
D) In December 2013, Ecopetrol said it intends to expand oil investment by 11% to $10.6 billion in 2014.
E) In December 2013, Pacific Rubiales (OTC:PEGFF), the biggest independent energy producer in Colombia and one of Tuscany's customers, announced that CapEx for 2014 will total $2.5 billion, an increase of approximately 25% over estimated 2013 expenditures, mainly reflecting increased development drilling and exploration. Pacific Rubiales is targeting average net production of approximately 148 to 162 Mboepd, an increase of 15 to 25% over 2013 production levels.
F) Parex Resources (OTC:PARXF), another Tuscany's customers, announced recently that it achieved record production of 18,000 bopd for December 2013.
G) In December 2013, Gran Tierra (NYSEMKT:GTE), another Tuscany customer, announced that it is expecting 2014 production to average between 30,000 and 31,000 boepd which is approximately 40% higher than the average production of 2013. Gran Tierra gets 90% of its total production from Colombia which is Tuscany's main operating country.
H) Amerisur Resources (OTC:ASUXF) is also ramping up its 2014 drilling program in Colombia, after the recent big discovery of Platanillo. In 2014, Amerisur will also drill its first well in Paraguay where it holds 100% in five blocks, extending over 6.4 million hectares.
I) GeoPark (GPK.L) has already interests in 27 exploration, development and production blocks in Colombia, Chile, Brazil and Argentina and will expand its activities in South America in 2014.
To give you an idea about Geopark, the company carried out a total 35-45 well drilling program with a work program investment of $200-230 million in 2013. GeoPark's drilling and work program for 2014 includes capital expenditure of approximately $220-250 million.
K) Exxon Mobil (NYSE:XOM), Shell (NYSE:RDS.A) and ConocoPhillips (NYSE:COP) are still at the early stages of their shale oil exploration programs, as shown in my article here. These three majors will drill more than 10 wells in the Middle Magdalena Basin in 2014, and this is just the beginning.
2) Ecuador: In October 2013, Ecuador approved Amazon oil drilling. State oil company Petroamazonas will be in charge of extraction in blocks 43 and 31, which are estimated to hold 800 million barrels of crude and projected to yield 225,000 bopd eventually.
In November 2013, the government received bids for four of 16 oil blocks that it estimates could hold a total of 1.5 billion barrels of crude. Spain's Repsol and China's Andes Petroleum made offers for three blocks in the area, while Petroamazonas, with Chile's Enap and Belorusneft of Belarus, will begin developing a fourth block. A new auction for the blocks which did not receive offers is planned for 2014.
It is clear that the growth potential in Ecuador is huge, and it is not surprising that Petroamazonas will need 40 workover rigs soon, as shown in the first part of this series.
3) Brazil: The Brazilian market is currently soft primarily due to the fact that Petrobras directs most of its funds to its offshore pre-salt properties, but there are still some significant programs for 2014 and later. For instance:
A) In 2013, Petrobras announced that it has approved three large investment projects to recover oil and gas output at mature onshore fields in the northeastern state of Bahia. The projects involve expanding Petrobras' installations in the region, drilling 26 new wells and making 227 upgrades to existing wells.
The company plans to spend around $1.5 billion in investments and operational costs in Bahia between 2013 and 2017. Its goal is to maintain the state's oil and natural gas production stable at around 50,000 barrels and 8.3 million cubic meters per day, respectively.
B) Gran Tierra Energy currently produces only 700 bopd from onshore Brazil, and it holds interests in seven blocks in the onshore Recôncavo Basin. The Brazil capital spending program for 2014 is $30 million, and the company is going to increase its spending over the next years, according to the corporate presentation.
C) According to the latest news, OGX is emerging from bankruptcy. Although most of OGX's operations are offshore, the new entity will also need some rigs to continue its oil and gas operations onshore.
By the way, even in OGX with the outrageously high debt ratios, the creditors did not take everything from the common shareholders. The creditors will hold 90% of the shares, while the common shareholders will keep the remaining 10%.
4) Peru: Peru is emerging as another hot spot after Ecuador, and the good news are coming from several companies, as shown below:
A) In late 2013, PetroChina (NYSE:PTR) expanded big in Peru by acquiring onshore assets for $2.6 billion from Petrobras (NYSE:PBR). For Petrobras, the deal is part of a divestment drive to allow it to focus on developing its offshore fields in Brazil.
B) In 2013, Argentine energy company Pluspetrol announced that it will invest $480 million in exploring and developing new reserves in Peru's biggest natural gas block (Camisea).
Proven natural gas reserves in block 88 are the fields' biggest and, combined with block 56, they amount to 13.1 trillion cubic feet, Pluspetrol said.
According to the latest news, the giant Camisea project's progress and current plans for the Camisea expansion include drilling 20 wells in Block 88, which is owned by a consortium, made up of Spain's Repsol-YPF, Argentina's Pluspetrol and Tecpetrol, U.S.-based Hunt Oil, South Korea's SK Energy and Algeria's Sonatrach.
C) Gran Tierra Energy holds 5.8 million underexplored gross acres in Peru, and has the intent to establish an exploration program that is capable of substantial growth for years to come, above and beyond the recent success at the Bretaña field. The top 4 prospects that Gran Tierra will drill in coming years, beginning in 2015, have a gross unrisked mean prospective resource potential of over 1.6 billion barrels of oil.
D) Pacific Rubiales announced very encouraging results from its Peruvian onshore properties one week ago. For 2014, CapEx in Peru are expected to be approximately $180 million although most of these funds will be directed to the company's offshore Block Z-1.
5) Argentina: Argentina is endowed with world-class conventional and unconventional plays of oil and gas. The US Energy Information Administration's (NYSEMKT:EIA) June 2013 report states that Argentina has some of the world's biggest and best-quality reserves of shale hydrocarbons, ranking Argentina behind only the US and China with its 802 Tcf of technically recoverable gas resources and fourth behind Russia, the US, and China in shale oil with an estimated 27 Bbbl.
In the third quarter of the year alone, YPF (NYSE:YPF) has drilled more than 20 wells at Vaca Muerta, with 19 more currently under development, illustrating how the state-controlled company is boosting activity in this promising area.
The dispute between Repsol and the Argentine government is also behind us. Repsol and Argentina reached a preliminary deal in November 2013 for the Spanish oil major to get paid for the 51% stake in Argentina's YPF that the Argentine government seized in 2012.
Meanwhile, several big deals and investments have been announced recently in this South American country, as shown below:
A) In late 2013, Chevron (NYSE:CVX) received final approval from Argentina's southwestern province of Neuquen to develop the Vaca Muerta formation, which holds the world's second-largest deposit of recoverable shale gas.
The venture (Chevron-YPF) will drill 115 wells expecting output of 11 million barrels of oil in the first year. After the first stage ends, Chevron will have an option to continue the accord, which encompasses as much as $16 billion in spending, until 2048.
From the second to 35th year, the venture would drill 1,562 wells to produce 782 million barrels at a rate of 23.7 million of barrels a year on an investment of $15.4 billion.
B) In 2013, ExxonMobil announced that it will invest $250 million effective 2014 to explore Argentina's unconventional Vaca Muerta shale.
C) In December 2013, Shell joined the club and announced that it will triple its shale investments in Argentina effective 2014.
According to Shell Argentina's CEO, Shell Argentina will increase its shale capital expenditures to about $500 million in 2014 from $170 million in 2013. Shell Argentina mainly refines crude in Argentina but it will boost test drilling in Vaca Muerta. Argentina will need $300 billion to develop Vaca Muerta in a six-year period that would make the country oil sufficient starting in 2020 and will keep producing for as many as 40 years.
D) In January 2014, Germany's Wintershall, the oil and gas arm of chemicals group BASF, finalized an agreement to search for oil in Argentina's Vaca Muerta. Wintershall and the oil and gas company of the province of Neuquen, Gas y Petroleo de Neuquen, plan to invest $3.35 billion and drill 120 wells over the next 10 years in an area of 97 square kilometres. Both partners hold 50% in the joint venture, and Wintershall will operate the search while Gas y Petroleo de Neuquen remains the owner of the exploration and exploitation permit.
E) In October 2013, local Argentinian-Chinese group Bridas announced an investment of $500 million to explore for shale oil in the Vaca Muerta. Bridas owns a 40% stake in Pan American Energy, which is majority owned (60%) by BP (NYSE:BP) and is the second-largest hydrocarbons producer in Argentina. Bridas is an oil company owned by the Bulgheroni brothers, ranked by Forbes as the richest men in Argentina. In March 2010 the Chinese firm CNOOC (NYSE:CEO) bought half of Bridas' assets for $3.1 billion.
F) In September 2013, YPF and Dow Chemical (NYSE:DOW) agreed to invest $188 million to jointly develop shale gas from the Vaca Muerta formation. Dow will provide $120 million over a year while YPF will invest $68 million to develop 16 shale gas wells.
G) In December 2013, Mexico's state owned Pemex confirmed its interest in joining YPF to develop the Vaca Muerta shale. Pemex board member Fluvio Ruiz Alarcón said that Pemex was on track for a formal agreement with YPF.
H) In November 2013, YPF signed an agreement with TOTAL (NYSE:TOT) to exploit Vaca Muerta. According to YPF, the deal as it stands right now would have the Argentinians doing the perforations, and then the French would operate the wells.
I) Just a few weeks ago, YPF said that a deal with Malaysia's state oil company Petronas related to the development of Vaca Muerta was at an advanced stage.
K) In late 2013, Petrobras Argentina (NYSE:PZE) announced that it discovered unconventional petroleum in Vaca Muerta formation, as shown here. According to Petrobras Argentina: "It is not yet possible to estimate the reserves associated with this discovery, which will require additional studies and drilling".
L) Very promising results came out from Crown Point Energy (OTCPK:CWVLF) a few days ago. The stock has jumped 70% since last week, because it announced a potential Vaca Muerta oil discovery on the Cerro de los Leones Concession in the Neuquén Basin. This is Crown Point's chart: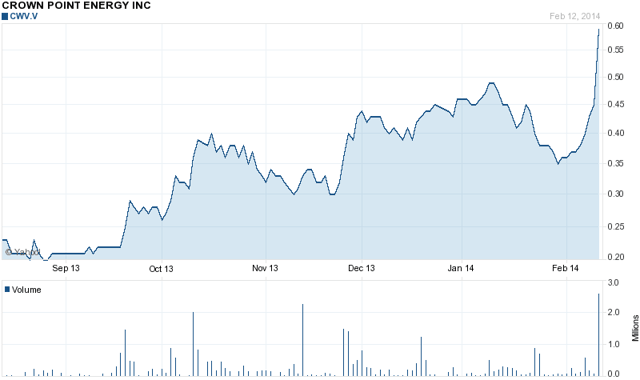 Crown Point believes that this drilling result is confirmation of the conventional and unconventional potential of the Vaca Muerta formation on Crown Point's 314,000 acres (100% WI) in the Neuquen Basin.
These promising results also lay the ground for a potential JV between Crown Point and a major E&P company that will join the "Vaca Muerta club" and spend significant amounts of money to drill Crown Point's properties. As of today, Crown Point is a junior producer without sufficient liquidity to drill its Argentine assets.
6) Paraguay: Paraguay is the most unexplored country in South America. Yet Paraguay is currently importing all of its oil, as it does not have any domestic production. Some industry sources have compared Paraguay to Colombia of a decade ago.
However, things are about to change soon. According to Bloomberg, President Energy (PPC.L) starts its drilling program in 2014, targeting 1 Billion barrels. Schlumberger will drill the first well for President Energy in May 2014.
7) Chile: Although Chile is the most mountainous country in South America, there is a significant amount of money to be spent for oil and gas exploration over the coming months:
A) After its recent discovery in Tierra del Fuego, Geopark will invest $100 million in this region. GeoPark drilled and completed the Chercan 1 well that flowed at a rate of approximately 4.0 million standard cubic feet per day of gas and 35 bopd. The Chercan 1 well is the first of approximately 21 exploratory wells to be drilled on the Flamenco, Campanario and Isla Norte Blocks in Tierra del Fuego as part of an $100 million investment program by GeoPark during the first exploration period.
B) In H2 2013, ENAP produced its first non-conventional natural gas through hydraulic fracturing in Tierra del Fuego. By the end of 2014, ENAP will invest $100 million in exploration and production in this area, which is the greatest amount in 15 years, in a bid to beat production shortfall in the region.
C) Methanex (NASDAQ:MEOH) is one of the biggest energy players in Chile with an active drilling program for 2014 and a market cap of $6 billion. Since 1998, Methanex has invested more than $1.3 billion in its Chilean production facilities located in Cabo Negro, near the city of Punta Arenas in the heart of Southern Chile's petroleum and gas producing region.
8) Bolivia: According to the latest news, President Evo Morales' government offered to reimburse 100% of the cost of successful exploratory drilling in Bolivia by private oil and natural gas companies. Foreign energy firms in Bolivia include Spain's Repsol, Argentina's Pluspetrol, Brazil's Petrobras, French oil major Total and British Gas.
In September 2013, Total announced that it will develop the Incahuasi gas-condensate field in Bolivia's Subandean region, with output expected to start in 2016, and will drill several more exploratory and appraisal wells on the Ipati and Aquio blocks to prove further potential of that field. Total took the final investment decision after drilling the ICS-2 exploratory well with a successful outcome.
9) Venezuela: The impact of years of neglect and mismanagement has been a 20% drop in production: In 2000, oil production in Venezuela, which has the world's largest crude oil reserves at nearly 300 billion barrels of oil, was about 3.16 million bopd. That number has fallen to 2.47 million bopd just 11 years later. By contrast, the U.S., with vastly smaller reserves, now produces more crude oil than Venezuela. Analyst estimates of what Venezuela could produce, if its assets were properly managed, range from 6 to 9 million bopd.
The flaws in Venezuela's economic model have gradually resulted in an economy which is increasingly reliant upon imports of many goods. This fact will bring the country's whole economy to its knees soon. This is why, experts see changes ahead even for Venezuela which has grown increasingly unsettled following Nicolas Maduro's election.
According to David Voght, managing director of consulting firm IPD Latin America: "The society is polarized, the electorate is divided, and Maduro must deal with heavy inflation, his legitimacy, a bad leadership team, growing criminal activity, and a divided military. Yet some multinational oil companies that left during Chavez's presidency are considering coming back because Venezuela's 297 billion bbl of crude makes its resources bigger than Saudi Arabia's. National oil company Petroleos de Venezuela SA's production is increasing, but only with foreign companies' help".
He added: "In the Orinoco belt, there are several large projects with outside companies. Yet PDVSA is having to import about 100,000 b/d of gasoline and other light products to dilute the heavy crude for export. It's still very subject to governmental whims. PDVSA probably won't achieve its goals because there aren't enough human resources in it. It is moving, however."
This is why, Cathedral Energy Services (OTC:CETEF), a Canadian company from the oilfield services sector, chose Venezuela to expand internationally. Cathedral has currently operations in the US and Canada, and wants to be an early mover in Venezuela which is the company's first international target.
Cathedral is going to capitalize on Venezuelan opportunities effective 2014 through a joint venture with Petroleos de Venezuela, the state-owned oil and gas corporation. Cathedral owns 40% of Vencana Servicios Petroleros.
Argentina's Pluspetrol is another foreign company that landed in Venezuela recently. Harvest Natural Resources (NYSE:HNR) has been looking for ways to reduce its debt for months now. Pluspetrol stepped in and acquired Harvest's Venezuelan subsidiary (Petrodelta) a couple of months ago, paying $400 million. Harvest owns a 40% interest in Petrodelta that controls approximately 247,113 gross acres and currently produces 43,000 bopd. Nearly 90% of that acreage is undeveloped, providing Pluspetrol with a significant multi-year development upside that features multiple stacked pay zones and low technical risk.
Argentina's Rigs Shortage Is Here To Stay
Apart from Colombia, Ecuador, and Peru where the oil and gas exploration is booming, Argentina is another country where Tuscany can deploy its idle Brazilian rigs. In Argentina, there is currently a significant rig shortage although the aforementioned big deals between YPF and the world's largest energy producers are still in early stages.
According to Apco's Oil and Gas (NASDAQ:APAGF) latest NR: "Year-to-date, we are behind on our drilling activities planned for 2013. Due to increased industry drilling activity in Argentina, we have experienced significant delays to obtain equipment to drill planned wells in our Coirón Amargo, Tierra del Fuego and Sur Río Deseado properties. We expect to build momentum in those areas in the fourth quarter of 2013. The lack of available drilling equipment has hampered our progress to stem normal production declines from our mature properties so far this year."
Here is another recent report that proves Argentina's lack of drilling rigs suited to shale oil and gas applications. According to Baker Hughes, in October 2013 the number of rigs operating in the US was 1,742, while in Argentina only 83 rigs in total were in action. Of those, only 20 were dedicated to shale, and it is expected that only 10 more rigs could be added by the end of 2014.
It is apparent that the current gap between the number of rigs operating in the US and Argentina is tremendous, and is going to rise further, once the Vaca Muerta projects begin to materialize over the coming months. And this increasing need for rigs in Argentina will last over the coming years, because a rig is not manufactured overnight. The construction of a drilling rig takes more than one year and requires a lot of money.
Papua New Guinea Is Another Perfect Market For Tuscany's Heli-Rigs
Tuscany owns two modern heli-rigs. Apart from the Amazon area in South America, Papua New Guinea (PNG) is another perfect place where Tuscany can deploy its heli-rigs by making a competitive offer to the local oil and gas producers (Exxon, Total, Oil Search, Interoil etc.). Simmons Drilling (privately held) and High Arctic Energy Services (OTC:HGHAF) have been operating in PNG for long, and both companies have been consistently growing their PNG operations.
According to High Arctic, the company's UT in PNG is currently 100%. High Arctic currently has two heli-rigs in PNG which are contracted until 2016! Did you read this? UT is 100% until 2016.
High Arctic operates in Canada and PNG where it continues to evaluate growth opportunities in order to offset its problems in the weak Canadian market. When I contacted High Arctic's CFO last week, he told me that:
1) He acknowledged that InterOil's expanded drilling program creates opportunity in PNG for the expansion of drilling services.
2) He was aware of the fact that Tuscany's heli-rigs were up for sale. He also added that High Arctic will continue to evaluate all opportunities to determine where it can generate the best returns on investment.
I stored that feedback from the CFO who confirmed the significant growth potential in PNG, and I can provide all the details to the Bankruptcy Court, in case the Court wants me to do so.
The LNG plant of Exxon Mobil is only one of the reasons for the increasing demand in heli-rigs in PNG. Interoil's (NYSE:IOC) new drilling program for 2014 is another one.
Interoil is a major player in PNG with a market cap of $2.5 billion. According to Interoil's latest NR of January 2014, Interoil has just begun a new round of drilling as part of its exploration activities across almost 4 million acres in PNG. The company plans to drill up to eight wells in the next 12-15 months. The drilling of each well is expected to take about three months. Currently, 1100 people are working in the field on the seismic program and preparation for drilling operations. The commencement of drilling operations will employ an additional 300 people.
A third reason for the upcoming increasing demand in heli-rigs in PNG is Heritage Oil (HOIL.L). Heritage Oil expanded in Papua New Guinea in late 2013, and will drill at least 2 wells in 2014.
There are additional Australian and European companies that plan to drill in PNG in 2014, but I will not expand further on that front. As mentioned above, I want to provide only an indicative sample of the significant growth opportunities that currently exist for Tuscany's rigs.
Drilling Activity In The US and Canada
Meanwhile, there is a fierce competition in the oilfield services sector in North America during the last couple of years that undermines the pricing power of the domestic players, eroding their operating margins. This is why several oilfield companies seek to expand to emerging international markets with significant growth potential, strong pricing and favorable demand-supply dynamics. This expansion to the international markets is the key factor for their future growth.
Let's check out a small sample of companies that face these challenges and the dismal outlook across North America:
1) Schlumberger issued a warning a few months ago stating that the North American drilling activity and rig count in 2013 was lighter than expected. The company's CEO also added that: "We continue to see negative pricing pressure in many product lines in Q1 2013, with active participation from our principal competitors, reinforcing the somewhat unclear outlook for the North America land market at this stage."
According to its Q4 2013 report, Schlumberger beat fourth-quarter profit views on strong growth in international drilling. Revenue climbed 6.6% to $11.91 billion, thanks to strength in the Middle East and Asia, where sales climbed 18% year-over-year and helped offset a poor performance in North America, where weak natural gas prices have slowed drilling activity.
And Schlumberger does not see any light at the end of the tunnel for the North American market in 2014, as shown here. Schlumberger notes that the North American land market is still experiencing weak pricing, with further downward pressure as higher priced contracts are rolling over to new lower-price resets.
2) Precision Drilling Corporation (NYSE:PDS) has been severely hurt by lower North American activity. Several factors keep impacting the company's activity in North America. The primary ones are the depressed natural gas price that limits gas-directed drilling activity, the oil transportation bottlenecks resulting in regional oil price discounts, and the seasonal Canadian drilling market due to the spring break up.
In Q1 2013, Precision's CEO noted that subdued activity levels continue to disappoint many in the industry. The company's drilling rig utilization was down in both Canada and the U.S., partially offset by growth in its international contract drilling business. According to Kevin Neveu, Precision's CEO, the plummet in gas directed drilling activity in the United States, which began in late 2011 and continued in 2013 has put pressure on industry utilization and dayrates.
Nothing changed substantially when the company announced its results for the nine months of 2013. According to the CEO: "Precision's third quarter results reflect overall softness in customer demand and weak demand for Canadian completion and production services. In the United States, the decrease in dayrates for the third quarter was due to rig mix as we experienced lower turnkey activity and a higher proportion of rigs working in the spot market. According to industry sources, as of October 18, 2013, the U.S. active land drilling rig count was down about 6% from the same point last year and the Canadian active land drilling rig count was up 9% over the prior year. Despite the active industry rig count softness, demand for Tier 1 assets continues to be strong, benefiting those drilling contractors with a high percentage of Tier 1 assets".
3) The weak oilfield market in North America took its toll on Nabors Industries (NYSE:NBR) too. Nabors, which owns the world's largest onshore rig fleet, reported a 32% drop in profit in Q1 2013 owing to the worst slowdown in U.S. gas-directed drilling in nearly a decade and a half. Nabors admitted that the near term remains challenging because primarily the North American contract renewal and spot rates remain under pressure across all classes of rigs and all regions.
According to the latest report from Nabors, the outlook remains gloomy in North America. I quote: "In North America, Canada drilling results recovered from the seasonally weak second quarter, but remained substantially below the 2012 third quarter. Wetter weather inhibited activity in the early portion of the quarter, and lower overall industry activity and the attendant weaker margins exerted additional downward pressure. Although the fourth quarter should show improvement, results are still expected to lag the same period last year.
In Production Services, the seasonal rebound in Canada was partially offset by a more competitive U.S. market, particularly in West and South Texas. This led to flat pricing and lower volumes, which was most acute in trucking and 24-hour rig work. The fourth quarter will likely see lower results, with the characteristic shorter daylight work hours and numerous holidays reducing available work days.
In Completion Services, the substantial sequential improvement in stimulation profitability was significantly offset by losses in Canada stimulation and the U.S. coiled tubing operations. The unprofitable coiled tubing equipment is being mothballed, while the Canada pumping assets are being relocated to more strategic locations in the U.S. This operation has also shut down several unprofitable support locations and continues to rationalize all elements of its cost structure. Excess industry capacity, combined with ongoing productivity increases, is limiting any upside for the foreseeable future".
4) Superior Energy Services (NYSE:SPN) was not optimistic for its U.S.-based operations in H1 2013. In Q1 2013 report, the company's CEO commented: "We maintained our prior guidance as the visibility regarding variables driving the range of potential outcomes - specifically the timing and intensity of utilization and rig activity in the U.S. land market areas - is still unknown."
According to Superior's latest report, David Dunlap, President and CEO, commented: "As previously announced, the persistent flat horizontal rig count in the U.S. land markets has created a market environment characterized by oversupply and increased competition for several completions and production-related services. As a result, our U.S. land revenue declined about 1% from the second quarter and gross profit margins for several service lines were lower than the second quarter. We expect margin pressure to continue through the fourth quarter in the U.S. land market areas. In addition, we anticipate typical, end-of-year seasonal factors will impact U.S. land and Gulf of Mexico activity".
5) According to the latest report from Forbes Energy Services (NASDAQ:FES), the North American oilfield services market remains a highly competitive and oversupplied market that impacts pricing and utilization.
6) RPC (NYSE:RES) has been facing the weakness of the U.S. market for months now, as shown here. President and CEO Richard Hubbell has said that competition remains fierce despite lower U.S. rig counts and is forcing the company to lower its rates.
RPC's CEO does not look optimistic for the North American market, as shown here. I quote: "However, continued competitive pricing and the transition from our remaining contractual work to the spot market served to depress our operating margin compared to the prior quarter and prior year. The current conditions in the U.S. domestic market continue to be characterized by a large number of service companies competing for long-duration, service-intensive completion work. The efficient nature of these projects can also exacerbate the equipment oversupply situation in our industry, which negatively impacted us during the quarter as well."
7) Tesco Corporation (NASDAQ:TESO) is another company that enjoys the benefits of its international exposure despite the domestic challenges. In Q1 2013, Tesco acknowledged the challenges created by lower North America rig activity, while the company's tubular services business increased primarily in the Asia Pacific region and Latin America.
According to the company's reports of 2013, the Top Drive business has been negatively impacted by the slowdown in North America, and Tesco's strategy is to shift its focus to international markets, especially to Russia, the Middle East, and Latin America. This strategy plans to partially offset the decline it experiences in North America.
This is the latest update from Tesco's CEO: "Given current drilling activity levels in North America, we are pleased with our results for the third quarter of 2013. With strengthening activity in our international business units, our Tubular Services business enjoyed the highest quarterly revenue in the Company's history and exceeded 1,000 automated jobs in the quarter for the first time in the Company's history, closing the quarter with 1,063 jobs performed. Although our Top Drive business has continued to be negatively impacted by the decreased active rig count in North America, our Top Drive strategy to shift to international markets, especially to Russia and Latin America, has partially offset the decline we experienced in North America."
8) According to the latest report from Trinidad Drilling (OTCPK:TDGCF), the weakness in North America persists. I quote: "In the third quarter and year-to-date 2013, Trinidad recorded stable dayrates across its land drilling operations despite a strongly competitive market and weaker industry demand when compared to the same period last year. Adjusted EBITDA lowered from the prior periods largely due to lower activity in both the Canadian and US and international operations.
In Canada, operating days were lower in the third quarter due largely to weaker customer demand. In the US, the industry active rig count stabilized at just under 1,700 rigs over the first nine months of 2013, 202 rigs lower than the same period last year. Activity levels for Trinidad's US and international operations were lower in the current quarter and year to date in 2013 when compared to 2012. Looking forward into 2014, conditions in North America are expected to remain stable."
I must clarify here that Trinidad's commentary about its international operations refers to Mexico. But Tuscany International Drilling does not operate in Mexico.
9) According to the latest report from CanElson Drilling (OTC:CDLRF), the North American market remains subdued. I quote: "During the third quarter of 2013, CanElson was able to maintain consolidated activity levels, even though Canadian and US drilling services markets experienced continued subdued markets due to weather delays and overall market slowness. The North American land drilling rig markets are currently characterized by relatively flat land drilling rig counts as customers continue to be prudent with their capital programs."
10) The latest report from Basic Energy Services (NYSE:BAS) speaks volumes: "As we had anticipated, our third quarter operating environment was very similar to our second quarter. Pricing remains competitive across all our service lines and the busier oil markets remain overcrowded with equipment.
Despite the challenging environment, we maintained sequentially flat revenue levels. Our completion and remedial segment, where revenue declined 4% sequentially, continues to be impacted by pricing discounts and inconsistent frac calendars in the pressure pumping service line. Our management team has been charged with aggressively managing costs, including general and administrative costs and we have been able to maintain margins over the past two quarters despite competitive pressures across most of our operating areas.
As we mentioned in our latest monthly operations update, we expect our fourth quarter revenue to be down 6% to 7% sequentially, due to the normal seasonal slowdown, including less daylight hours. Due to the reduction in activity levels and continued competitive pricing, we expect that segment margins will come down accordingly from third quarter levels."
The Recent Acquisitions From The Oilfield Services Sector
Let's dive now into some details of the deals from the oilfield services sector that took place during the last two years:
1) In September 2013, PHX Energy Services (OTC:PHXHF) acquired RMS Systems from the Toronto Venture Exchange, at a premium of 112% to the weighted average trading price of RMS Shares on the TSXV for the 20 trading days immediately preceding the date hereof. That translated into a $40 million market cap for RMS which indicated a PBV= 5 times (as of RMS latest quarterly report).
RMS was not a profitable company. RMS had negative EBITDA, continuing losses, only $8 million stockholder equity (as of September 2013) and operations only in the weak Canadian market.
2) In 2013, Western Energy Services (OTC:WEEEF) paid approximately PBV=2 times and acquired IROC Energy Services, another Canadian company traded at the Toronto Venture Exchange. IROC had operations only in the weak Canadian market.
3) In 2012, URS Corporation (NYSE:URS) paid approximately PBV=3 times and acquired Canadian-based Flint Energy Services with operations only in the weak North American market.
4) In late 2012, FMC Technologies (NYSE:FTI) paid approximately PBV=2 times and acquired Pure Energy Services, another Canadian company with a Toronto listing and operations only in the weak Canadian market.
5) In 2012, National Oilwell Varco (NYSE:NOV) paid PBV=1.8 times and acquired CE Franklin (CFK), another Canadian company with operations only in the weak North American market.
6) In 2012, "Do All Industries," a privately held company from Saskatchewan, made an offer to acquire Canadian-based Hyduke Energy Services (OTC:HYKCF) at approximately PBV=1.1 times. Hyduke rejected the offer as it wanted a higher price.
7) In 2012, Superior Energy Services acquired Complete Production Services (NYSE:CPX) which had operations only in the weak North American market. Superior paid $32.9 per share for the 79.3 million outstanding shares of Complete, which translates into PBV= 2.5 times, as shown here.
8) A few weeks ago, Canelson Drilling acquired Highkelly Drilling (privately held) which had operations only in the weak Canadian market. CanElson paid $34.5 million for all of the issued and outstanding shares of Highkelly. As part of the transaction, CanElson assumed net debt of $6.9 million for a total purchase price of $41.5 million.
I do not know Highkelly's stockholder equity because the company is privately held. However, I urge any reader who can access Highkelly's balance sheet (as of Sep 2013) to add the company's stockholder equity at the comments' section. I strongly believe that Highkelly's buyout took place at PBV=1x or higher.
9) In September 2013, Calfrac Well Services (OTCPK:CFWFF) acquired privately held Mission Well Services paying $147 million, as shown here. I do not know Mission's stockholder equity because the company is privately held. However, I urge any reader who can access Mission's balance sheet (as of Sep 2013) to add the company's stockholder equity at the comments' section. I strongly believe that Mission's buyout took place at PBV=1x or higher.
The Acquisition of Mercator Minerals
Mercator Minerals (OTC:MLKKF) is a Canadian company which is not engaged in the oilfield services sector. Mercator produces copper and molybdenum. The copper and moly sector has been suffering from a continuing and significant decline of the copper and molybdenum prices, as shown here and here.
Furthermore, the outlook for this sector is horrible, as shown here. Several companies, including Thompson Creek (TC), will close their mines if the molybdenum price falls more, as shown here.
Obviously, Mercator's sector has nothing to do with Tuscany's growing oilfield services sector in South America. And it is not surprising that most copper and molybdenum producers have seen their stocks plunge during the last 12 months. Meanwhile, the companies of the oilfield sector have seen their stocks hit new highs during the last 12 months, thanks to the booming oil and gas activity worldwide.
Let's check out now some additional negatives:
1) Mercator had $120 million net debt including the working capital deficiency (as of September 2013).
2) Mercator did not have any pending HRT-like case that could potentially add significant cash and reduce the net debt further.
3) Mercator had negative EBITDA and operating cash flow (as of September 2013), resulting in negative Net Debt to EBITDA and Net Debt to CF ratios.
4) Mercator can not transport its assets to another region with better copper and molybdenum prices.
Despite all these negatives, Mercator was acquired at C$0.10 per share a few weeks ago. This translates into a market cap of $30 million and PBV=0.55 times.
Tuscany's Potential Suitors From The Oilfield Services Sector
Many Tuscany's shareholders have already asked me to incorporate in this article Tuscany's potential suitors, as a guide for their due diligence. As such, Tuscany's potential suitors from the US and Canadian stock exchanges are below.
I have not included any privately held peers and peers from the European, Australian or Asian stock exchanges (i.e. Maverick Drilling, Titan Energy Services etc.). I have not also included any peers that are serving the mining industry. And I have not included any E&P companies, although many of them have their own drilling divisions to reduce their operating costs, like Magnum Hunter (MHR), Indonesia's giant Pertamina (Pertamina Drilling Service Indonesia), and Paramount Resources (OTCPK:PRMRF), to name a few.
Most of the following peers have already significant oil and gas operations internationally:
1) Schlumberger, Baker Hughes, Halliburton, Weatherford, Superior Energy Services, National Oilwell Varco, Nabors, C&J Energy Services (CJES), Helmerich and Payne (NYSE:HP), Patterson-UTI Energy (NASDAQ:PTEN), Parket Drilling (NYSE:PKD), Pioneer Energy Services (NYSE:PES), Key Energy Services (NYSE:KEG), Basic Energy Services and Forbes Energy Services are US-based companies.
2) Trinidad Drilling, Western Energy Services , High Arctic Energy Services, Xtreme Drilling (OTC:XTMCF), Precision Drilling, Akita Drilling (OTC:AKTAF), CanElson Drilling, Cathedral Energy Services, Canadian Energy Services and Technology (OTCQX:CESDF), Savanna Energy Services (OTC:SVGYF), Total Energy Services (OTC:TOTZF), Ensign Energy Services (OTCPK:ESVIF), PHX Energy Services, Clafrac Well Services, Trican Well Service (OTCPK:TOLWF), Canyon Services Group (OTC:CYSVF), Essential Energy Services (OTCPK:EEYUF) and Secure Energy Services (OTC:SECYF) are Canadian-based companies.
Paramount Resources And Highkelly Drilling Help Us Do The Math
1) As mentioned above, there are several E&P companies that own a rig fleet to reduce their operating costs. One of them is Paramount Resources from the main Toronto board (ticker: POU) with a current market cap of $4.3 billion. Paramount has a drilling subsidiary (Fox Drilling) that owns five rigs.
It must be pointed out that Paramount's rigs are not heli-portable. The helicopter portability is a unique feature that adds several million dollars to the value of a rig.
As shown at Paramount's presentation, these 5 non heli-portable rigs are currently valued at $85 million. In other words, the current average value per rig is $17 million.
Meanwhile, Tuscany's current fleet (pro forma the deal with Maurel that bought the old African rigs with the high operating costs) consists of 24 rigs and 2 heli-portable rigs.
Even if we discount Tuscany's non heli-portable rigs by an overly rich 25% per piece (on average), the assets (24 non heli-portable rigs and 2 heli-portable rigs) far outweigh the debt of $202 million. Please bear also in mind that this amount of debt excludes the company's existing cash, restricted cash and the proceeds from HRT.
2) As linked above, CanElson acquired Highkelly Drilling a few weeks ago. Highkelly owns and operates two AC electric triple drilling rigs. It must also be noted that these rigs are made in China by an affiliate of Highkelly. The Highkelly affiliate was not part of the acquisition.
CanElson paid $41.5 million for these two rigs. This translates into $20.75 million per rig.
Meanwhile, Tuscany's rigs are not made in China, but they have been manufactured in the US and Canada by Loadcraft Industries, Care Industries, Oklahoma Rig Fabricators, and National Oilwell to name a few.
Two Oilfield Services Companies That Have Gone Broke Since 2009
All Tuscany's shareholders must also study the following two cases very carefully. The differences between these two companies and Tuscany are huge. In fact, we talk for apples and oranges:
1) Stallion Oilfield Services went broke in H2 2009. Here are the reasons for this bankruptcy:
A) Stallion Oilfield Services had operations only in the US, where the substantial deterioration in the oil and gas markets (i.e. the steep slide of the natural gas price) was followed by the rapid softening of the economy and tightening of the US financial markets in the second half of 2008. These factors resulted in the collapse of the US credit markets and the access to credit became impossible for Stallion.
B) The outlook for H2 2009 and 2010 was also dismal due to the financial crisis.
C) As shown here and here, Stallion had $515 million debt which was 150% bigger than Tuscany's. Furthermore, Stallion's adjusted EBITDA for the six months of 2009 was $37.3 million and was in a downward trend for the remainder of 2009.
As a result, Stallion had a Debt to EBITDA ratio (annualized) at 7 times in June 2009. Due to the downward trend, this Net Debt to EBITDA ratio (annualized) exceeded 7 times by the end of 2009, without any light at the end of the tunnel.
It is clear that none of the aforementioned reasons applies to Tuscany.
2) Green Field Energy Services went broke in late 2013. Here are the reasons of this bankruptcy:
A) Green Field had operations only in the US market which is currently a weak market even for the big players of the sector (i.e. Schlumberger, Precision Drilling, Baken Hughes etc.), as shown in the paragraphs above.
B) Green Field had more than $400 million in outstanding debt, as shown here and here. Green Field had $255.9 million in bond debt, an $80 million credit facility owed to Shell and $98.6 milion in trade deficit, at the time of bankruptcy. This totals almost $440 million in debt, which is 120% higher than Tuscany's.
C) Green Field had operating CF at $30.8 million for the first six months of 2013, as shown here. This translates into a Debt to Operating CF ratio (annualized) at 7.14 times (as of June 2013). Due to the increased competition in the US for 2014, this ratio would only get worse.
It is clear that none of the aforementioned points applies to Tuscany. As a reminder, Tuscany currently has $202 million long term debt (the company has not provided its cash as of today), and $13 million quarterly operating CF (pro forma Maurel deal) from continuing operations (as of Q3 2013) with UT at ~63%. This amount of debt excludes any proceeds from HRT lawsuit which can be significant, as shown in the first Part of this article linked above.
My Takeaway
As I noted in the first part of this series, I feel I have been defrauded. How can Tuscany's mgmt team become so grossly incompetent and file for bankruptcy? How can Tuscany go from a rebounding company with improving cash flows and utilization rates to filing Chapter 11? Why has the mgmt team been so bullish since H2 2013? Were they misleading the common shareholders? I can not really answer any of these questions. Under no circumstances have they been a common stockholder advocate.
I also wonder about three things:
1) Will Tuscany's mgmt team deploy the company's rigs in South America during Q1 2014 and later? Or will they ignore the opportunities and intentionally leave the rigs idle, in order to artificially depress Tuscany's EBITDA and CF until the lenders grab these rigs?
2) How much money will Tuscany's mgmt team borrow from the DIP facility?
3) Do Tuscany's insiders have a plan to inflate Tuscany's debt as much as possible until the company's assets are sold, in order to reduce the value for the common shareholders?
I can not answer any of these questions. However, Tuscany's shareholders must be seriously concerned about these three points above and the common shareholders' Counsel has to include them in his report.
And just because everything happens for a reason, I want to sum it up to help you see the big picture and make your own conclusions:
1) In late January 2014, Credit Suisse released a gloomy report about the oilfield services sector. The bank generalized the situation about Latin America by judging only the situation in two countries, Mexico and Brazil. Both Mexico and Brazil are soft markets currently. However, Tuscany operates only in one of them (Brazil).
2) Tuscany filed for bankruptcy just a few days after Credit Suisse's gloomy and overly subjective report.
3) Credit Suisse is Tuscany's main lender.
4) Drilling activity in Tuscany's core markets (Colombia, Ecuador) is growing rapidly and the outlook is also very promising.
5) Tuscany's idle Brazilian rigs can be transported to neighboring Argentina, Peru, Colombia, Ecuador or in Papua New Guinea where several major players initiate big drilling programs in 2014.
6) Drilling activity in North America is weak and sluggish with bleak outlook that makes many companies of the sector look for international expansion.
7) The deals of the oilfield sector during the last two years as shown above, prove that the acquirers pay at least PBV=1x to acquire other companies, even when the takeover targets operate in the weak North American market.
8) Tuscany's peers above that have gone broke since 2009, had much higher Net Debt to EBITDA and/or Net Debt to CF ratios than Tuscany's. Furthermore, Tuscany's peers had operations in the weak North American market and did not have any operations in countries with significant growth potential.
"Something is rotten in the state of Denmark", and I will repeat it again: "In The US and Canadian Justice Departments We Trust".
Disclosure: I am long TIDZQ. I wrote this article myself, and it expresses my own opinions. I am not receiving compensation for it (other than from Seeking Alpha). I have no business relationship with any company whose stock is mentioned in this article.