"It was the best of times, it was the worst of times, it was the age of wisdom, it was the age of foolishness, it was the epoch of belief, it was the epoch of incredulity, it was the season of Light, it was the season of Darkness, it was the spring of hope, it was the winter of despair, we had everything before us, we had nothing before us, we were all going direct to Heaven, we were all going direct the other way…"

- Charles Dickens, A Tale of Two Cities
Despite concerns regarding the tenuous fiscal position of the US government, conflicts in the Middle East and Asia, and sluggish economic growth, stock investors thrived in 2013, particularly those invested in US stocks, which returned 32% for the year as measured by the S&P 500. Stock markets in developed countries outside the US also performed well, rounding out the year +23% as measured by the MSCI EAFE. For other components of a diversified portfolio, 2013 was not as fruitful, with cash (0%), bonds (-2%), emerging market stocks (-2%), and commodities (-10%) weighing on overall performance.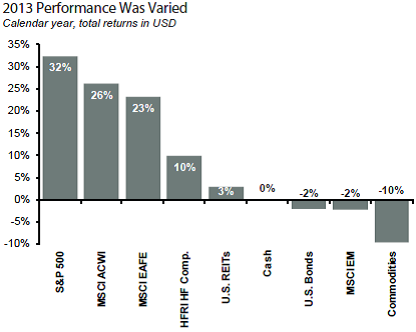 Source: J.P. Morgan Asset Management Weekly Market Recap January 6, 2014
Accordingly, a properly diversified portfolio lagged widely publicized US stock indexes like the S&P 500 by a wide margin in 2013, causing many investors to question their asset allocation. Fortunately, an analysis of Yale Professor Robert Shiller's CAPE Ratio indicates that there may be better times ahead for diversified investment portfolios.
The conventional Price-to-Earnings Ratio ("P/E Ratio"), when applied to broad market indexes like the S&P 500, gauges investor sentiment by determining how many dollars investors are willing to pay for each dollar of earnings generated by the underlying companies; price divided by earnings. Extreme highs may be indicative of the unsustainability or "irrational exuberance" of the late 1990s whereas extreme lows may represent the buying opportunity of a lifetime. The Cyclically Adjusted Price-to-Earnings Ratio ("CAPE Ratio") is an outgrowth of the conventional P/E Ratio. CAPE is calculated by smoothing the earnings component, the denominator in the equation, by taking an average of the previous 10 years' earnings and adjusting for inflation.
As of December 31, 2013, Shiller's CAPE Ratio rose above 25 (source), more than one standard deviation higher than the 100-year average of 16.45. While the CAPE Ratio should not be used as a market timing mechanism to drive short-term investment decisions, it can help investors to establish reasonable expectations about future returns. Analysis of CAPE data from 1926 through 2012 reveals that the average annual real return (inflation-adjusted) realized by the S&P 500 over the 10 years following periods in which the CAPE exceeded 25.1 is just 0.5% (source), compared to the longer run average of about 6% (source).
Does this mean investors should abandon stock investments altogether or more specifically, investments in US stocks? No. While the US stock market is the second most "expensive" stock market in the world by CAPE (source: Mebane Faber, The Idea Farm), the same diversified portfolio that lagged the S&P 500 last year will include exposures to stock markets outside the US to buoy performance in the event the US market turns downward. Moreover, an argument can be made that US stocks can continue their historic run for a while longer, simply because investors in the US have little choice but to invest in stocks as cash continues to provide near zero return and conventional bonds are not faring much better.
US investors have a number of exchange traded products to choose from in order to express CAPE-based investment ideas. Domestically, the Barclays Shiller CAPE ETN employs something of a rotation strategy, equally weighting amongst the 4 S&P 500 sectors deemed most attractive on a momentum and relative value basis. However, the CAPE ETN continues to struggle to attract investors, with less than $20 million in assets and an average spread of 5 bps on top of its 45 bps expense ratio (source). Therefore, some investors may prefer to mimic the "sector rotation" employed by the CAPE ETN on their own, using the more liquid sector specific ETFs offered by SPDR and other larger sponsors.
Perhaps a more efficient and globally diversified approach is to use ETFs covering broader non-US indexes such the MSCI EAFE, MSCI Emerging Markets, and MSCI Frontier Markets (see here), all of which appear more attractive than the S&P 500 on a CAPE basis. Some investors may go so far as to utilize country specific ETFs based on the "CAPE rankings" portrayed in the chart below. All of this being said, there is no perfect solution (that we know of) to express the conclusions of CAPE analysis in portfolios to derive excess returns, but we can minimally use this information to measure our expectations for future real returns.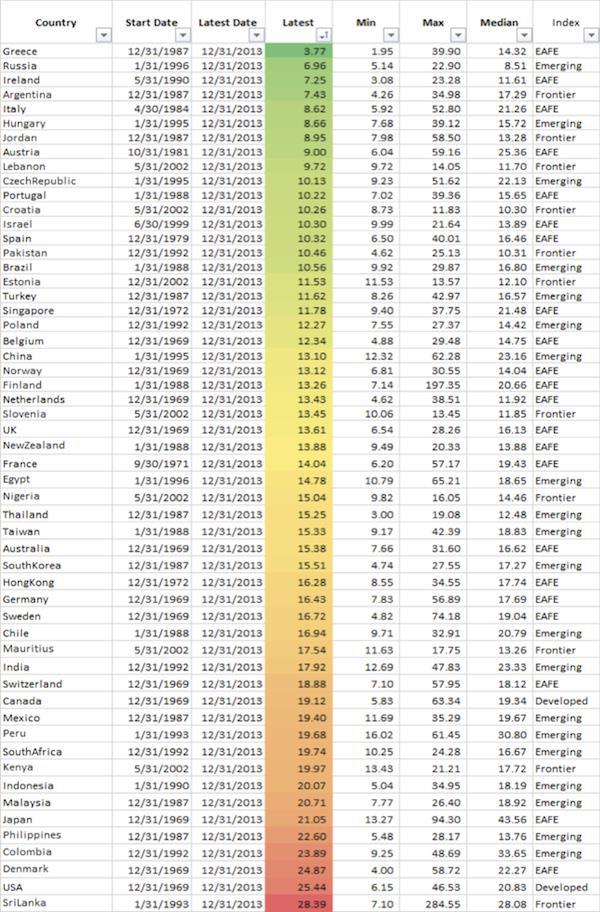 Source: Mebane Faber, The Idea Farm
Disclaimer: The ETF Authority is a team comprised of two independent financial professionals, Kevin Prendergast and Nathan Rutz. This article was jointly written by Kevin and Nathan. We did not receive compensation for this article (other than from Seeking Alpha), and we have no business relationship with any company whose stock or fund is mentioned in this article. Kevin and Nathan may offer securities through ValMark Securities, Inc. 130 Springside Dr, #300 Akron, Oh 44333 (330-576-1234), Member FINRA/SIPC.
The opinions expressed in this article are those of the authors, not ValMark Securities, Inc., and are subject to change at any time without notice. This article is not intended to be a recommendation to invest. The securities discussed in this article may not be suitable for all investors. Please consider your personal risk tolerance and investment objectives carefully before considering any investment and consult your tax, legal, and financial professionals.
Please email us at discovery@teamefg.com with any questions, comments, or corrections.
Disclosure: I have no positions in any stocks mentioned, and no plans to initiate any positions within the next 72 hours. I wrote this article myself, and it expresses my own opinions. I am not receiving compensation for it (other than from Seeking Alpha). I have no business relationship with any company whose stock is mentioned in this article.