Executive summary:
Fiat's management and technology rescued Chrysler in 2009.
While recovering, Chrysler reported 46 consecutive month sales gains.
A successful merger with obvious synergies.
Using P/E ratio, a valuation of $18 per share implies 80% upside within a year.
_________________________________
Fiat Auto S.p.A. (OTCPK:FIATY), which already held 58.5 percent of Chrysler, has now full ownership of the company, and has created a global carmaker with enhanced potential.
On February 10, 2014, the Italian manufacturer has bought a 41.5 percent stake from United Auto Workers retiree health-care trust. In fact, Chrysler Group LL announced the closing of its previously announced offering of secured senior debt securities, raising approximately $3.0 billion in net proceeds; and senior secured term loan facilities, raising approximately $2.0 billion in net proceeds. Chrysler Group applied the proceeds of the debt offering to prepay all amounts outstanding of approximately $5.0 billion to the VEBA Trust.
The company has picked a name for the merged company: Fiat Chrysler Automobiles. For now, only Fiat is currently listed in the United States, in the over-the-counter (OTC) market. As the merger is expected to be closed well before the end of the year, Fiat (already integrating Chrysler) is aiming to list in New York within the year.
This significant outcome will enhance the adequate development of the two companies that have great potential, and which interconnect quite well.
However, it's essential to take a brief look at the evolution of the whole process. Back in 1998, Daimler-Benz and Chrysler wanted to strengthen their position during economically difficult times. The dream to become the third biggest car producer of the world, behind General Motors and Ford, has lead both to jump to a cross-ocean merger. It has proved to be a huge failure when it was announced the sale of 80.1% of the Chrysler Group to Cerberus Capital Management for $7.4 billion on May 2007. This amount was only a fraction of its value in the past, and things would continue to get worse. In fact, the government was forced to pump billions of dollars into Chrysler in 2008 and 2009 before it filed for Chapter 11 bankruptcy reorganization on April 30, 2009.
In the following months, the end of the company was in sight several times until eventually President Obama decided that Chrysler should be saved, as Steven Rattner related in his book Overhaul. The government agreed to invest 6 billion dollars, and to pass 20% of Chrysler along with operating control to Fiat, in exchange for Fiat's technology and management expertise.
Sergio Marchionne, Fiat's CEO, smartly identified where he could most upgrade Chrysler's cars and trucks with the fewest resources and set Chrysler on the path of sales growth for 46 consecutive months.
Ultimately, it had been all about management!
In fact, Chrysler has been put in the right direction, and some 300,000 jobs were saved thanks to Marchionne and Fiat.
The full takeover agreement is very positive because this merger meets all possible goals to such an operation: technological, market, and financial synergies will lead Fiat Chrysler to be probably
the sixth largest car company in the world.
Unlike the United States, Europe persists to struggle to truly overcome the economic crisis, and Fiat's sales naturally felt the effects. The company continues to have high technology and great models, but its sales didn't match those of Chrysler. Its international market offsets this situation, and even in the U.S. its sales increased 29% in 2013.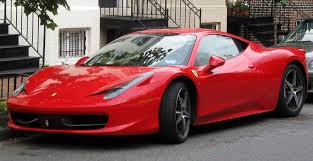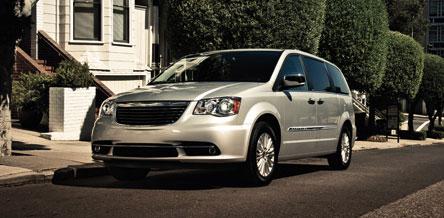 December sales reflected the 45th consecutive month of year-over-year sales gains and the strongest annual sales since 2007.
Fiat and Chrysler have solid sales all over the world, but the U.S. market is one of the most important to this new company. While Fiat sales are growing strongly in the States, it's interesting to analyze the old "Big Five" market share for each quarter of 2013, and January 2014 (table below).
| | | | | | |
| --- | --- | --- | --- | --- | --- |
| U.S. Market Share 2013 (%) | First Quarter | Second Quarter | Third Quarter | Fourth Quarter | January 2014 |
| General Motors | 17.50 | 19 | 16.30 | 16.90 | 16.90 |
| Ford | 16.10 | 16.80 | 16.10 | 15.90 | 15.30 |
| Toyota | 14 | 14.10 | 14.50 | 14.40 | 14.60 |
| Chrysler | 11.60 | 11 | 12.20 | 11.80 | 12.10 |
| Honda | 9.20 | 9.60 | 9.40 | 9.80 | 8.90 |
On the other hand, Fiat has outstanding brands like Ferrari and Maserati which are a assets of high potential. Even a brand like Alfa Romeo will have now the chance to show an adequate development pointing to large earnings in the future. This is important at a time when Chrysler is being more profitable than Fiat.
On January 29, 2014, Fiat Chrysler reported financial results for the period ended December 31, 2013. Revenues of $120 billion were up 3% in nominal terms, but grew 7% at constant exchange rates. Net profit was $2.69 billion ($1.24 billion for 2012). Excluding unusual items and the positive deferred tax impact, net profit was $1.30 billion ($1.57 billion for 2012). On the same basis, Fiat ex-Chrysler reported a net loss of $1.26 billion ($1.08 billion in 2012).
The Group indicates the following guidance for 2014: revenues of about $128 billion, trading profit in the $5 to $5.5 billion range, net income in the $0.8 to $1.1 billion range, with EPS to improve from $0.10 (ex-unusuals) to $0.61-$0.82.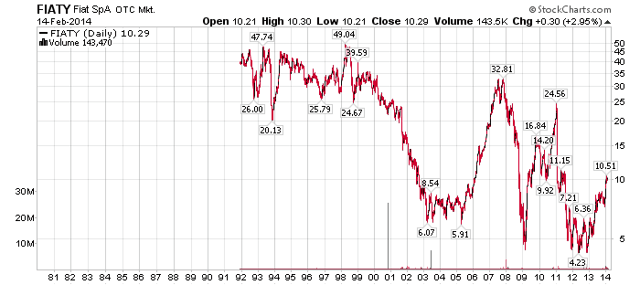 Charts courtesy of StockCharts.com
The chart above shows the high volatility of Fiat shares throughout time. It must be noted that these share prices relate to an inadequate market like the OTC market. Moreover, the past behavior of the Fiat stock will not have much to do with its future. Either way, it is an important reference that can contain valuable indications. It is worth mentioning the tops indicated in the chart. They have reached high values followed by brutal corrections, and a significant weakness in 2012. It should also be noticed a sustained increase since the beginning of 2013.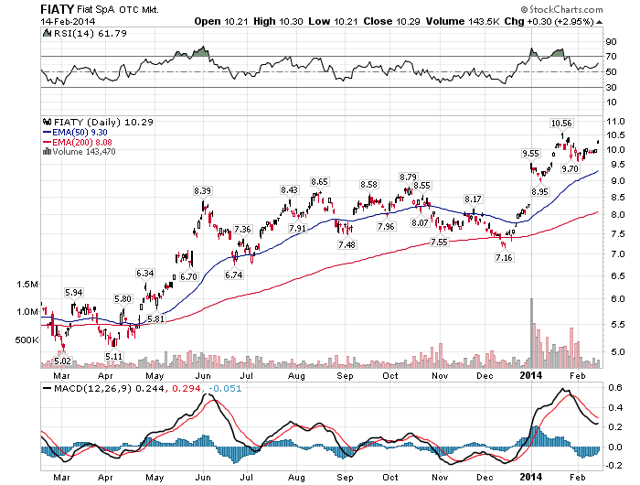 In the second chart, which represents the last 12 months, it can be seen rising prices in a sustained manner albeit with some volatility. Clearly, it can be highlighted the resistance zone of $8.60-$8.90 that was crossed earlier this year.
With achievable EPS of $1.50 in 2015, I'll take an adequate multiple of 12x earnings which is near the average of its competitors. In fact, while industry average stands at a P/E of 11.52, General Motors has 15, and Ford 8.5. Then, at a 12x multiple against EPS of $1.50, we arrive at a fair value of around $18 per share at the end of 2015, an upside potential of almost 80% within a year.
Conclusion
With the full early repayment of all monetary commitments, this merger transaction brings to a successful conclusion the process that led to reestablish Chrysler as a viable automotive enterprise. In my opinion, the merger of the two companies will have a striking and growing success as Fiat and Chrysler have been working together since 2009. The italian management has already shown great quality and excellent knowledge of the automotive sector. Its main goal will be to make this great company increasingly profitable in a very competitive market. I think Fiat Chrysler will have great success for its remarkable merger synergies, and a significant upside potential.
Disclosure: I have no positions in any stocks mentioned, and no plans to initiate any positions within the next 72 hours. I wrote this article myself, and it expresses my own opinions. I am not receiving compensation for it (other than from Seeking Alpha). I have no business relationship with any company whose stock is mentioned in this article.