Leasing company stocks have done well recently, especially compared to the downward stock market at the end of last week. The Dow Jones lost 158.7 to 11,008 from the recent high of 11,309, much of this due to a lack of confidence or fear from the backing of Greece, perhaps Spain and Portugal, too.
Overall, leasing company stocks have been rising -- Microfinancial (NASDAQ:MFI) as well as Chesswood and especially Marlin Business Services (NASDAQ:MRLN) , which went from a 52-week low of $2.75 to $11.74 at the closing last Friday. Even the officers are buying their own stock as well as board of directors. Friday, May 7th Marlin will be releasing its first quarter as well as holding a Webcast. It has also gotten back to its original strength, accepting limited independent broker transactions.
Resource America (NASDAQ:REXI) will release its results for the second fiscal quarter 2010 on Wednesday, May 5, 2010. LEAF-Specialty, Dwight Galloway's operation in South Carolina continues not to fund leases and is reportedly down to 12 employees, who are servicing the existing portfolio. Reportedly, AJ Batt, founder of ATEL Capital, considered getting back into the leasing business, but appears more interested in the hedge marketplace.
According to a reliable source, banks have looked at the Galloway operation portfolio, and seem interested, but not in the operation itself. Rumored to close down on April 1st, perhaps there are talks going on to be announced on Wednesday with Resource America results.
Lessors report more activity and new leasing companies and divisions are being announced, such as KeyCorp Chairman and CEO Henry Meyer Ill saying the bank is looking "…to expand businesses that have synergy with its community bank, such as its equipment leasing business and some products offered through the capital markets business" as well as the new leasing division at Beverly Bank, Chicago, Illinois.
Despite the crying of business, investors most likely see the demand for financing and leasing on the rise with leasing companies again a good stock investment.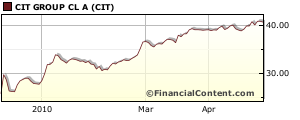 CIT GROUP, INC (NYSE:CIT)
Last Trade: 40.60
Change: 0.17 (0.42%)
Prev Close: 40.77
52wk Range: 24.83 - 42.94
Volume: 1,454,168
Avg Vol (3m): 2,168,190
(Click to enlarge)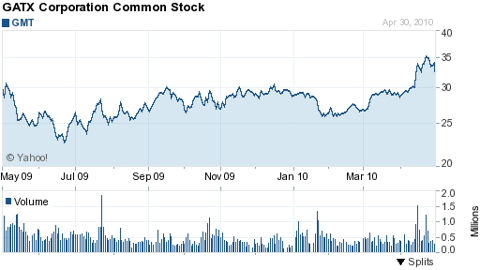 GATX CP (GMT)
Last Trade: 32.64
Change: 1.46 (4.28%)
Prev Close: 34.10
52wk Range: 22.74 - 35.75
Volume: 659,797
Avg Vol (3m): 440,359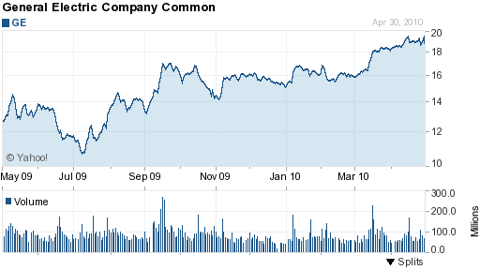 GEN ELECTRIC CO (NYSE:GE)
Last Trade: 18.86
Trade Time: Apr 30
Prev Close: 19.49
52wk Range: 10.50 - 19.70
Volume: 112,133,024
Avg Vol (3m): 81,089,600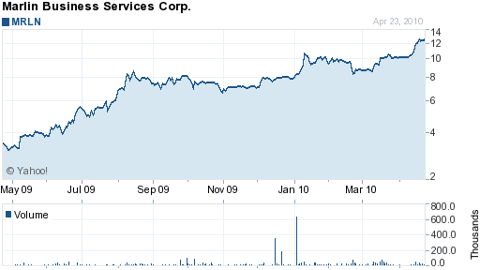 Marlin Business Services Corp.(MRLN)
Last Trade: 11.74
Trade Time: Apr 30
Change: 0.20 (1.68%)
Prev Close: 11.94
52wk Range: 2.75 - 13.00
Volume: 43,932
Avg Vol (3m): 22,451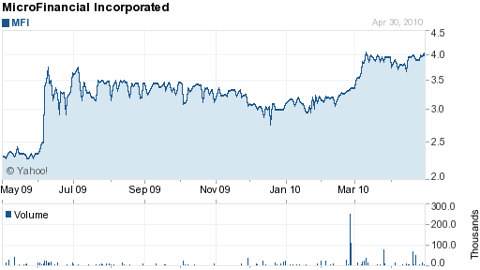 MicroFinancial Incorporated (MFI)
Last Trade: 4.00
Trade Time: Apr 30
Change: 0.03 (0.74%)
Prev Close: 4.03
52wk Range: 2.12 - 4.20
Volume: 3,302
Avg Vol (3m): 15,289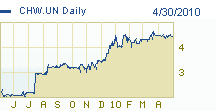 Chesswood Income Fund (Pawnee Corp.)
(Canadian monetary, tmx.com)
Last Trade: 4.47
Change: 0.03 (0.67%)
Prev Close: 4.50
Open: 4.47
52wk Range: 1.81 - 4.68
Volume: 230
Avg Vol (3m): 7,624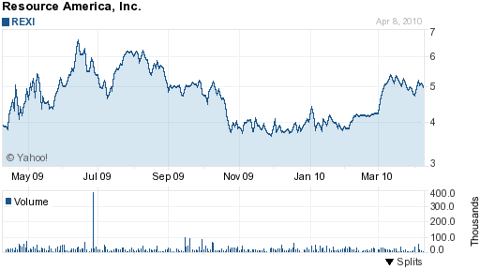 Resource America, Inc.(REXI)
(LEAF Corp; Leaf Specialty Group)
Last Trade: 5.91
Trade Time: Apr 30
Change: 0.23 (3.75%)
Prev Close: 6.14
52wk Range: 3.60 - 6.86
Volume: 25,763
Avg Vol (3m): 21,992
Disclosure: No position