Samsung (OTC:SSNLF) scheduled an event called UNPACKED 5, which will happen on February 24th 2014. Almost everyone expects Samsung to release details on the Samsung Galaxy S5 at this event with a full product demonstration.
But before February 24th, I'm going to do another quick rundown of what everyone expects the next big thing from Samsung is going to be.
Samsung Galaxy S5 rumor update
The Samsung Galaxy S5 will come with Android KitKat 4.4. In an earlier article, I thought Samsung's release of a phone with a different OS was going to have negative consequences on sales for various reasons. Maybe Samsung heeded my advice, or they realized that creating their own OS for mobile was mired with problems. To summarize, I felt the Tizen OS is wasted R&D dollars, and would reduce potential sales. I don't see Tizen being successful, and with application ecosystems likely to span across multiple devices (internet of things), it's unlikely that Tizen will be able to scale in an OS market that's consolidating. Google investors (NASDAQ:GOOG) should chuckle at Samsung for attempting to jump over a bar that it could simply hop over.
Samsung Galaxy S5 is expected to come with Snapdragon 805, and Adreno 420. This contradicts what the rumor mill had said earlier, as many had speculated that the Samsung Galaxy S5 would come with the Snapdragon 800, and Adreno 330. Remember, rumors are rumors guys, and until Samsung formally announces everything at its upcoming press conference, nothing is completely certain.
It's also rumored that Samsung isn't going to improve the casing around the device. It's going to go with polycarbonate, which is basically a form of plastic. If ceramic steel is too expensive, they could have gone with some sort of aluminum alloy (Alcoa makes aluminum that can be lighter than steel and stronger too). If rumors are true, Samsung is doing an awesome job at killing its own sex appeal. On the bright side, plastic allows for a lighter device.
So from what I understand, Samsung will use cheap plastic, Android OS, and include cutting edge semiconductor components. This is starting to sound like last year's product launch. However, on the bright side, Samsung believes that it can capture more consumers by releasing two versions of the same exact phone. So this two phone approach is Samsung's own way of imitating Apple's product launch with the iPhone 5C and 5S.
If rumors are true, the Samsung Galaxy S5 will come in two versions: one will have a 1080p (1920x1080) display and the other a 2k (2560x1440) display. The lower-end version will come with a Snapdragon 800 SoC, whereas the higher-end will come with a Snapdragon 805 SoC. The device is also expected to come with a fingerprint sensor, or a retina sensor. The retina sensor will serve the same function as a fingerprint sensor. It will identify you're the owner of the phone.
Could Samsung grow its market share?
Honestly, I've never seen a quarter where Samsung didn't grow market share. Since it's going to avoid the fatal mistake of releasing Tizen OS, the Samsung Galaxy S5 will ensure Samsung's dominance amongst Android OEMs.
However Samsung has some negative headwinds ahead. As I expect Samsung to lose some of the high-end to Apple (NASDAQ:AAPL) internationally. Apple will roll out the iPhone on China Mobile's network gradually. Analysts on Apple's conference call questioned year-over-year comps, for the next quarter, and wondered if the impacts from China Mobile were even included. Sales estimates are expected to be flat year-over-year, for CY Q1 2014. Tim Cook pointed out that the China Mobile rollout would take a whole year, and balancing demand with supply could take a while. Analysts expect sales growth to happen in the second quarter of 2014 as a result.
The expected sales gains by Apple are a negative headwind for Samsung. However, the secular growth of the whole entire industry should make up for the lost market share to the high-end. The problem is that high-end devices have better profit margins, and the loss of high-end share will negativley impact margins.
I expect Android's market share to eventually peak and decline. Apple and Microsoft (NASDAQ:MSFT) won't contest further territory to other handset manufacturers so easily. Remember, Apple and Microsoft combined have a lot of dry cash to throw around if in the event it turns into a dog fight of who's got more customers.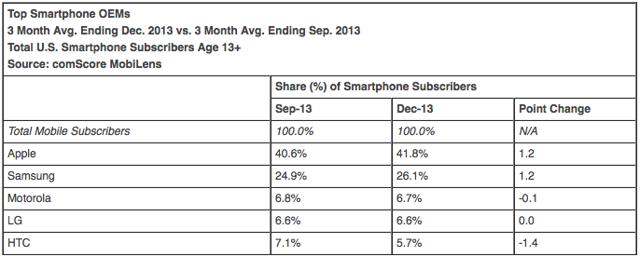 Source: ComScore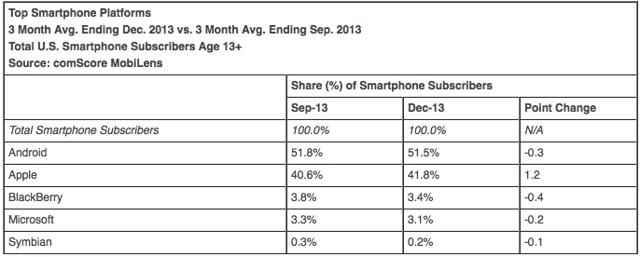 Source: ComScore
At the present moment, the United States smartphone market has 65.2% penetration. Based on statistics on the maturing U.S. market, Samsung and Apple have consistently added to their install base. Microsoft seems to be slipping up on market share, but as I have said earlier, Microsoft has the financial resources to navigate around this problem (M&A, advertising spend, and innovation).
Also, Nokia hasn't released its next generation Nokia 1525, 1820 yet. Nokia is catching up to the product refresh cycle, and appeals to a loyal install base of pure Windows users, therefore I expect Samsung to lose some customers to Nokia/Microsoft. However, this doesn't negate the fact that Samsung is able to consistently attract customers. Therefore, I believe that Samsung will gain market share, but will gain share against other OEMs that are using Android OS (HTC, Motorola, and LG).
Conclusion
At the present moment, rumors aren't indicating a product break-through. On the other hand, Samsung isn't going to have a product flop either. It's not going to release Tizen OS on the Samsung Galaxy S5, and it's going to capture more users with a simplified high and mid-end approach that's reminiscent to Apple's strategy with the Apple iPhone 5S or 5C.
On the other hand, Samsung has a lot of pressure on its shoulders to deliver a truly revolutionary smartphone. Expectations are either really low or really high going into this conference. But with everyone voicing their opinions on how Samsung rips-off almost all of its ideas from Apple, I'm sure analysts have really low expectations going into the conference.
I expect Samsung to lose a bit of the high-end to Apple over 2014. Samsung will earn more profit despite falling margins as it dominates the low-end. Most of the sector growth is expected to come from lower-margin devices.
So even if Samsung doesn't impress anyone with the Galaxy S5, it's not doomed. It just needs to sell more of its "cheaper phones."
Disclosure: I have no positions in any stocks mentioned, and no plans to initiate any positions within the next 72 hours. I wrote this article myself, and it expresses my own opinions. I am not receiving compensation for it (other than from Seeking Alpha). I have no business relationship with any company whose stock is mentioned in this article.