Two companies with strong fundamental value and measurable buying the last few months in their stocks are Rovi (NASDAQ:ROVI) and ON Semiconductor (ONNN). Both companies have managed to get into my Top 5 Victory Formation list during February, which is no small feat. Rovi and ON Semiconductor are high-technology selections with improving business performance and renewed organizational focus. The resultant increase in income and cash flow generation is starting to pay off for shareholders.
Rovi - Internet Media Encryption and Compression Technologies
Rovi is an international leader, innovator and patent holder in its business space. It helps the largest technology companies to discover, deliver, display, and earn income off digital media assets. Rovi licenses media content, codecs, and content protection to entertainment companies. You can find Rovi products being used by cable, satellite, entertainment, and online distribution networks around the globe. It offers interactive program guides, search, cloud services, and databases of information about television, movie, music, books, and game content. The company also sells video compression-decompression technology to enable the distribution of content across the Internet in streamed formats.
While I do not claim to be an expert on its technology, Rovi has licensing agreements, partnerships, or sells product to all the big boys, including Apple, Google, Microsoft, Samsung, Sony, Toshiba, Best Buy, Warner Brothers, Dish, Sharp, Charter, Armstrong, and many others! I welcome others to post more detailed insight about Rovi's technologies below in the comments section. Two other stories on Seeking Alpha in 2013 give some insight into the company's operating setup and licensing future.
The company has decided to focus on its most profitable, high-growth ideas in the last couple of years. Rovi has borrowed money to buy back shares and leverage its highest-margin business lines. It has sold off units and restructured others in 2013-14, including its retail stores. Several units remain for sale in 2014 and are expected to be shed soon, with the company now listing them as discontinued operations on accounting reports.
The biggest risks for Rovi investors, listed from least to most destructive to shareholder worth, are 1) the potential for slowing growth trends in media internet usage, 2) a major recession in the overall economy that causes large companies to cut back on capital spending, including new licensing deals with Rovi, and 3) a competitor inventing and patenting cheaper or more innovative technologies than sold by the company.
The new Rovi organization is projected by Wall Street consensus views to churn out about $1.70-$1.90 per share during 2014 in adjusted free cash flow generation, which includes expected GAAP earnings, the difference between ongoing capital expenditures, and the scheduled/estimated amortization of intangibles and depreciation from past asset purchases, plus the cash effect of equity-based compensation. $1.80 divided by today's $22 stock price gives you a little over 8% for a yearly free cash flow yield, much stronger than the average high-technology or regular S&P 500 alternative investment.
The company had $700 million in net working capital at the end of September, the latest available public data. In its December period earnings statement out this week, the company reported paying off $200 million in debt and repurchasing 4.1 million shares for another $75 million during the 4th quarter. Using Rovi's $55 million in non-GAAP earnings and free cash flow for the final three months of 2013, the company should have a net working capital number around $450-$500 million in February 2014. Considering the 30% estimated, after-tax profit margin for 2014 by Wall Street analysts and nearly $200 million in annual earnings and cash flow generation currently, Rovi appears to have a decent balance sheet alongside strong valuations. Subtracting out the working capital from total liabilities, today's annual free cash flow creation could pay off all liabilities in about 3.5 years. Such a low number is quite conservative and should help Rovi increase investments in new products, repurchase common shares, and pay down debt at the same time, with new money coming in the door each day.
The kicker is the potential for real growth in Rovi's business going forward. While most companies I review seem to have limited opportunities for sustainable growth down the road, when measured from today's record profitability level for corporate America, Rovi's future may truly shine. The highest growth rate spaces in internet traffic during 2013-14 are exactly the online video and entertainment avenues Rovi technology serves. It is not hard to forecast a 15%-20% annual growth rate in per share metrics for Rovi for the next 3-5 years as industry sales expand rapidly and the company buys back shares.
Putting it all together, Rovi has 1) above-average current fundamental valuations, 2) a better-than-average balance sheet vs. comparable businesses, 3) well-above average profit margins, 4) substantially stronger sales and earnings growth prospects vs. the vast majority of U.S.-based businesses, plus 5) well-above average technical buying momentum in its stock during early 2014. That's an outstanding combination of baseline characteristics, and extremely difficult to find in an international brand name company presently. Does this ultra-positive backdrop guarantee investment success in 2014-15 for Rovi? Absolutely not, but by putting your money to work in ideas where the path of least resistance appears higher on a variety of metrics, you are one step closer to building long-term wealth.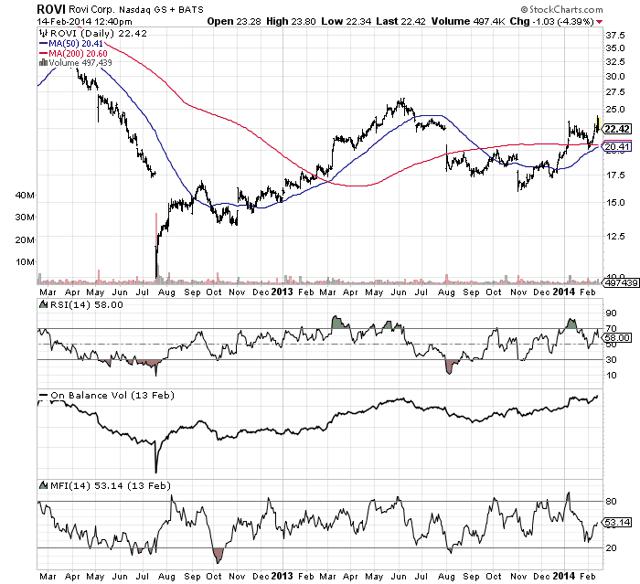 Charts courtesy of StockCharts.com
ON Semiconductor - Integrated Circuits and Semiconductors for Power Conversion and Switching
ON Semiconductor manufactures semiconductor components for electronic systems and items sold around the globe. The company provides digital, analog, mixed-signal, and advanced logic integrated circuits; power conversion and interface items; foundry and manufacturing services; power switching; circuit protection and signal conditioning products to support data transmission rates; microcontrollers; tuners; intelligent power modules; plus memory and discrete semiconductors. The company serves markets involved with automotive, communications, computing, medical, smart grid, and military applications. Products with ON components inside include small electronics, computers, game consoles, servers, automotive and industrial control systems, LED lights, power supplies, telecommunication and computer networking items, plus automated test equipment.
A few paragraphs taken directly from last week's earnings release sum up the bullish argument for ON Semiconductor best…
"With a strong design win pipeline across multiple segments and with substantial progress in previously announced restructuring measures, we believe we are well positioned to deliver strong operational results for 2014," said Keith Jackson, president and CEO of ON Semiconductor. "In 2014, we expect to resume strong free cash flow generation, which had been a hallmark of our operating model. Our momentum in targeted growth areas of automobiles, smartphones, and select segments of the industrial end-market should accelerate and enable us to deliver above market growth in 2014."

"Business trends during the fourth quarter of 2013 improved significantly with heightened order activity, and the strength has continued thus far in the current quarter. With an improving macro-economic outlook, especially for developed economies, and with favorable supply-demand dynamics, we are upbeat on our outlook for 2014."
ON Semiconductor made moves to restructure its cost baseline and refocus on the highest growth-rate opportunities for its operations in 2013. 2014 should reap some reward for this effort, from better sales trends and lower costs. The net result will likely be much stronger income and free cash flow levels than witnessed just a year or two ago. The stock valuation has clearly noticed, as its price has jumped from less than $7 a share in November to better than $9 presently. In the process, ON's strong price and volume accumulation trend has triggered a number of bells and whistles in the Victory Formation scoring system. The RSI (Relative Strength Index) reading in the second half of December was quite impressive, and usually kicks off a prolonged price upturn in an undervalued stock.
From a fundamental valuation standpoint, ON Semiconductor is trading at a lower-than-normal valuation vs. other semiconductor names. Based on 2014 estimates by Wall Street analysts, a consensus sum of $0.75-$0.80 in earnings and free cash flow against a $9 price would generate a yield of better than 8% annually on your invested money. But it gets better! As a consequence of the cost-cutting measures and increasing sales momentum, income estimates for 2015 are a good 20% above the 2014 numbers. To boot, ON has a terrific balance sheet, with short-term assets like cash, receivables, and inventories roughly equal to its total of liabilities and debt due over time. Usually, high earnings/cash flow yields (low multiples in Wall Street jargon) are assigned to companies experiencing difficulties in their business operations or holding too much debt. ON is clearly not in this boat, and should not have today's low stock valuation vs. its current sales, earnings, and cash flows.
Regarding investment risk, ON Semiconductor's fortunes could turn lower given a large downturn in industrial and automotive spending patterns, especially if we enter a recession. Another risk to properly evaluate is the company's relationship with the large Japanese Sanyo/Panasonic organization after ON Semiconductor's acquisition of the Sanyo Semiconductor division in 2011. The good news for shareholders is the company has become less dependent on the Sanyo/Panasonic relationship each year, with sales increasing elsewhere. The company is quite diversified in terms of counterparty payment risk, customer order flow, and regional presence.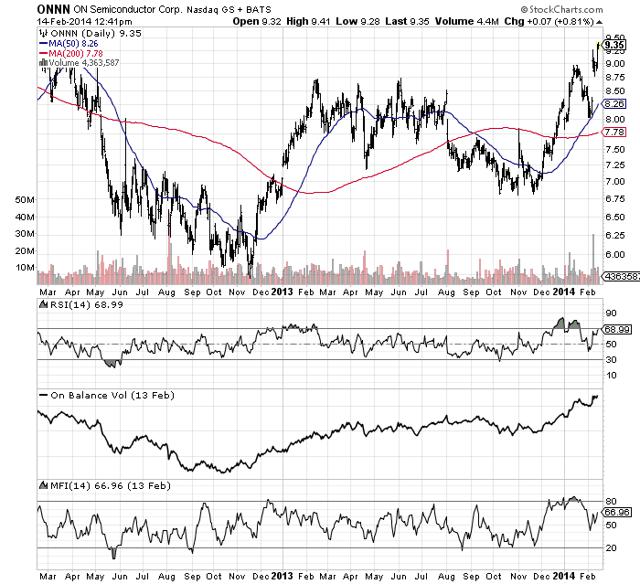 Conclusion
Rovi and ON Semiconductor are two excellent buy propositions in the high-technology industry. They are middle-capitalization size selections, with Rovi holding a $2.2 billion stock market value and ON Semiconductor sitting at $4 billion. I encourage readers to do their own due diligence and research before investing. Smaller company sizes often mean greater volatility in stock price and business trends, both to the upside and downside. I currently do not own either equity at the time of writing, but am looking to purchase both on price weakness.
Disclosure: I have no positions in any stocks mentioned, but may initiate a long position in ROVI, ONNN over the next 72 hours. I wrote this article myself, and it expresses my own opinions. I am not receiving compensation for it (other than from Seeking Alpha). I have no business relationship with any company whose stock is mentioned in this article.
Additional disclosure: I do not own Rovi or ON Semiconductor at the time of writing, but am looking to purchase both on price weakness.