Executive summary:
American Capital Agency (NASDAQ:AGNC) is an mREIT with a high caliber management team trading at an unwarranted discount to book value.
AGNC's portfolio is poised to capture the upside in widening mortgage spreads should the Fed reduce accommodative policy
AGNC's portfolio positioning is capturing more net interest margin today with limited extension risk to rising rates.
Investors should take advantage of the book value discount due to perceived interest rate risk fears.
_______________________________________
American Capital Agency is a mortgage real estate investment trust (or "mREIT") that uses substantial leverage to invest in mortgage-backed securities issued by government-sponsored entities. Investors expect to earn a rate of return through the interest-spread difference between the mortgage securities and AGNC cost of funding. With the amount of leverage used, AGNC must be highly effective in risk management ensuring that its assets and liabilities are balanced to capture the required spread without becoming insolvent due to interest rate risk. As we've noted in previous articles, AGNC's has the highest caliber mortgage portfolio management team among a wide universe of mREITs. Peers include Two Harbors (NYSE:TWO), Annaly (NYSE:NLY), and Hatteras Financial (NYSE:HTS)
AGNC shares recently traded at a substantial discount to their book value and the team took creative steps, including the purchase of other mREITs, to enhance shareholder value. (See Hatteras Financial disclosed stake.) While the discount has narrowed it still remains. Explanations may vary widely for the discount but generally mreit discounts emerge as investors become more concerned about the interest rate risk, particular rising rates.
In both their latest earnings call and a recent investors presentation AGNC detailed the interest rate risk profile of their portfolio and given the dynamics we feel the stock discount is unwarranted. Investors should look favorably in adding AGNC to their portfolio given what is described as little risk in the portfolio. (Investors looking for mREITs with upside in a rising rate environment should investigate two stocks, New Residential (NYSE:NRZ) and Cherry Hill Mortgage (NYSE:CHMI) in our previous article.)
AGNC's CIO, Gary Kain, recently commented that they anticipate little portfolio repositioning in the near future. The portfolio is structured to be overweight in fifteen year fixed rate mortgages versus thirty-year mortgages. (see AGNC slide below) AGNC anticipates the fifteen-year mortgages will return cash at a much more rapid pace than thirty-year mortgages. (Please see the companies recent comments at the CS Financial Services Forum) Kain anticipates that mortgage spreads to funding costs in the future could be much wider than today, particularly given Fed's accommodative policy may lapse. AGNC with more cash available can take advantage of the wider spreads and greater returns to shareholders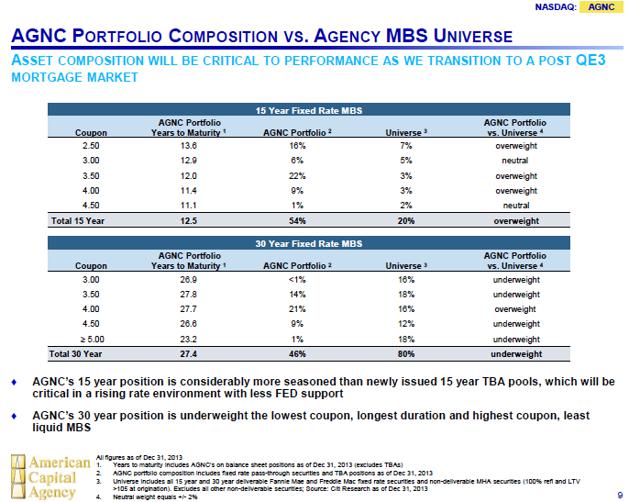 AGNC is currently managing a slightly more aggressive interest rate profile than previously with the interest rate sensitivity of assets exceeding that of liabilities, otherwise know as the duration gap. The duration gap allows AGNC to modestly increase its net interest margin overly a more matched position. Typically a duration gap exposes mREITs to upward movements in interest rates but with the current portfolio composition the impact is much more modest. Looking at the slide below AGNC's duration gap is 1.5 years. Even as interest rates rise the gap only modestly increases to 1.8 years. Investors can again see the advantage of the fifteen-year overweighting. As rates increase even 200 basis points the thirty-year mortgages extend more than 1 year while the fifteen year moves only ½ a year.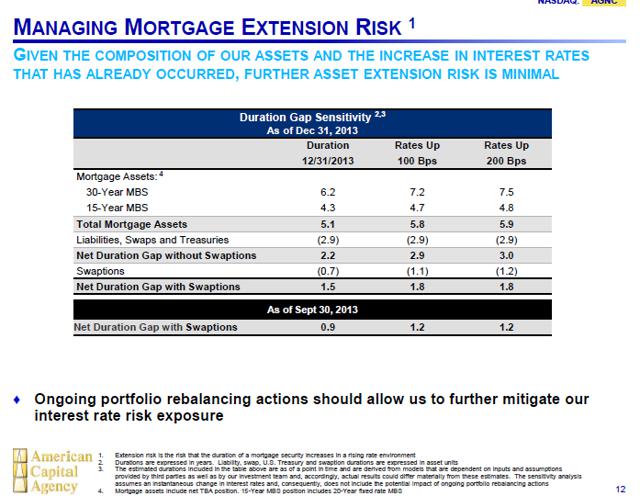 In conclusion AGNC shares trade at a discount to book value that is likely due to perceived interest rate risks. We believe the discount is entirely unwarranted given the limited amount of risk as rates increase. Further AGNC is capturing more net interest margin with a larger duration gap than what might be possible with greater extension risk. Finally, the portfolio is well positioned to benefit from a wider mortgage spreads should the Fed's monetary stimulus become less accommodating in the future, a proposition most find a matter of when not if. We recommend investors add undervalued AGNC shares to their portfolio without the perceived interest rate risk fear weighing them down today.
Disclosure: I am long AGNC. I wrote this article myself, and it expresses my own opinions. I am not receiving compensation for it (other than from Seeking Alpha). I have no business relationship with any company whose stock is mentioned in this article.