Ford Motor Co (NYSE:F) reported sales for the month of January that showed a y-o-y decline of 7.10%. The unusual severity of the weather conditions this winter were blamed for this decline in sales figures. The market was disappointed by this scenario but the fact remains that other auto manufacturers are also suffering from terrible sales declines due to the same reason.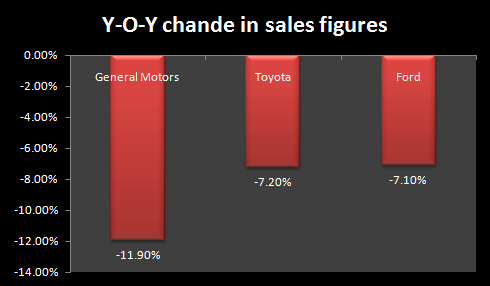 Source: ibtimes
Delving into the details we discover sales of the Ford brand declined by 8.4% whereas the Lincoln brand experienced an increase of 42.5%. However, this boost in sales of the Lincoln brand was earned at the cost of slimmer margins due to a 24% increase in incentive spending by the company. Incentive spending is a part of a pricing strategy and can take the form of cash discounts at the time of purchase. Increasing incentive spending shaves off a major portion of the company's profit margin. On the other hand Ford's F-Series posted a less than one percent decline and had the lowest incentive spending amount among the three big pickup truck manufacturers in January. Regions of weakness in January were the Great Lakes and the Eastern US. Both were down 10% whereas sales improved in the western and southeastern states by 5% and 3% respectively. On a positive note the company's revenue per vehicle rose by 3.50%.

Source: ibTimes
Though the January sales figures disappointed investors the important thing to note is that Ford has not lost sales to its competitors and therefore when the weather conditions become bearable the true picture of the company's prospects will gradually become apparent.
Total Shareholders' Return
Over a year, Ford stock prices soared by 14.11%. Combined with its attractive dividend yield of 3.34 this reflects a total return of 17.45% to shareholders' wallets. However, the price appreciation in General Motors' stock is way higher than Ford but Ford's robust dividend of $0.12 at a cheaper price makes it more attractive to investors. A low payout ratio along with a huge buffer of cash shields the company's ability to continue paying dividends at a growing rate. In this scenario if the company buys back some of its own shares it will not only increase its earnings per share but also revitalize investors' confidence in the brand. Share buyback will not be a problem for the company since it has plenty of cash reserves and marketable securities on its balance sheet. On the other hand, General Motors announced a quarterly dividend of $0.30 after six years that generates an annualized yield of 3.40% at a price of $35.35.

Source: Y-Charts
For the final quarter of year 2013, Ford had an earnings surprise of 10.70% when it managed to report EPS of $0.31 compared to analysts' estimates of $0.28. Analysts expect the earnings per share of the company will be $1.36 for the current year and $1.93 for the next year. This means that the company's forward P/E will be 11 and 7.75 for the years 2014 and 2015, respectively. Contrastingly the S&P's forward multiples range from 16 to 18 times of earnings. If an investor enters the stock today, he will be paying 11 times the company's earnings in 2014 and just 7.7 times of its earnings in 2015 based on the current price level of $14.96. The company's contraction of 20.9% in earnings ($1.39 vs. $1.75) will be brought about by the company's increased expenditure in order to finance new product launches in 2015. The reduced EPS will jump to high levels in 2015 once the company's product launches receive market acceptance. In this scenario we can predict a very promising future for the company's stock.
However the company's stock declined 6.91% in the previous month due to plunged sales brought about by harsh weather conditions. It is worth mentioning here that even the best stocks may fall in an overall down market. However, in a stable environment this stock still has a good upside potential even after its price uptake in the last year.
Financial Analysis
Ford is offering a return on equity of 29.07% in an industry that sets a benchmark of 22.36%. However Ford is offering an ROE that is 2.5 times greater than General Motors but the problem is the company is deriving its current level of ROE from financial leverage. This indicates the fact that the company is not generating returns from its operational efficiency rather that it is lodging more and more debt on its balance sheet to finance its assets. Ford's debt to equity ratio is another cause for concern as it stands at 540.49 compared to the industry's debt to equity ratio of 83.13. General Motors has a reasonable debt to equity ratio of 84.92 in relation to the industry benchmark. However, while the debt level does catch one's eye it is mainly related to the company's debt operations. In addition to this, the company has a current cash level of $25 billion that, in comparison to the company's value of $60 billion, seems impressive. Another positive aspect is that Ford is earning a net profit margin of 3.91 that is 1.64% better than General Motors' margin of 2.27. This indicates that Ford has the tools to generate a sustainable ROE in the future as well. A comparison of the asset turnover ratios of the two companies showcases the fact that General Motors' is managing its assets better than Ford.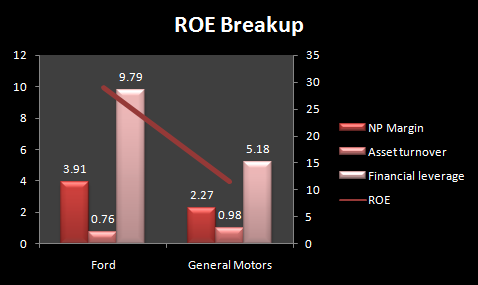 Source: Reuters
Future Outlook Seems Bright
As per the company's announcement in May 2013, Ford has plans to shut down its two auto manufacturing plants in Australia in October 2016. The highly competitive market, high cost of production, and strong Australian dollar acted as hindrances to achieving operational efficiency in that region. By closing its production in Australia, the company will enable itself to reduce losses and adverse effects of currency translation that can help improve its earnings. Ford will be followed by General Motors and Toyota Motors that have also planned to curtail their operations in Australia by the end of 2017.
Senior economist Emily Kolinski Morris sees 2014 as a better year than 2013 in terms of growth. Ford expects its European segment to be profitable by 2015 as indicated by the 2013 performance that led the operating margin of the company in Europe to improve from -6.6% to -5.8%. Ford's January sales propelled its market share in the UK by 0.4% as it stood as the leader in overall UK car and CV sales during the month. Ford's January car sales increased by 11% y-o-y and total car sales in the UK were up 7.6%. Future prospects in the UK market are also bright as reflected in the figure below. Just in the month of January, the overall commercial vehicle market grew by 5.3% as a result of the robust business confidence that is expected to further strengthen the market demand. Looking ahead, SMMT (Society of Motor Manufacturers and Traders) is confident regarding sustainable growth in car and van sales.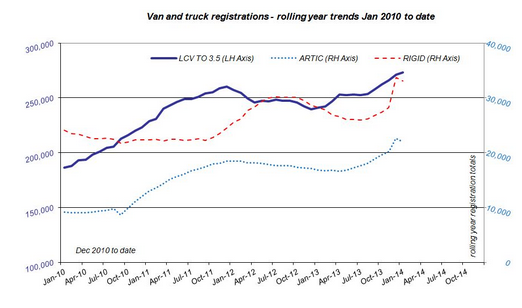 Source: SMMT
Looking at another bright aspect, Ford experienced a 53% sales increase in China in January compared to 35% in December and 47% in November. In 2013, Ford's sales in China jumped 49% year over year with a total sales figure of 935,813 vehicles. China is a country with a population that is 4 times bigger than that of the USA and only 10% of the population owns cars. With the rapid growth of the middle class population in China the future of auto manufacturers seems positive in the region. In response to this Ford has increased its shipments to China to as much as 40000 units per annum from the current level of 16,405 units. The historic trend reflects how much room Ford has in China that ensures its continued growth in the region.
India is another biggest market for auto manufacturers at the moment. Ford sold 2.7 million passenger vehicles in India in fiscal year 2013 and expects the sales of compact cars in India to double by 2018 reaching 2 million. Ford can avail the opportunities in India by deepened penetration into the market. Ford aims to excel in India by penetrating the compact car market that totaled approximately a 3rd of the company's total 2013 sales in India. After experiencing a robust demand for its EcoSport compact sport utility vehicle in the region, Ford has a new compact car concept to demonstrate at the Indian Auto show this year. Ford's vision of the compact car will be able to grab the market share since it is well positioned to deal in dynamic Indian and emerging markets.
Ford will definitely be able to earn much out of the emerging opportunities under the command of Alan Mulally who is known as an exceptional CEO with the ability to lead the company through the worst of times. Creating products according to customers' dynamic needs is what makes Ford more attractive than any other auto manufacturer in the industry.
Conclusion
There are many reasons to have Ford in an investor's portfolio. Other than the iconic brand Ford's the focused approach is something that makes the stock more attractive. Ford Automotives has to focus on two brands, Ford and Lincoln, whereas its rival General Motors has to devote its resources to its various brands including Buick Cadillac, Chevrolet and GMC. This focused approach allows Ford to allocate proper time and resources to each business participant and pave the way for robust revenue and earnings growth. Moreover, global expansion will be the company's best friend in this regard over time bolstering its top and bottom lines. Ford's new models will also improve its financial situation. Currently, despite the disappointing sales dilemma, one thing that went unnoticed was that Ford's sales were not stolen by its competitors. Rather the sales were delayed and will be regained once weather conditions become favorable. With that in mind I see the current dip in the stock price as an opportunity to buy the stock. Effective leaders, strong financials, and an iconic brand support this conclusion.
Disclosure: I have no positions in any stocks mentioned, and no plans to initiate any positions within the next 72 hours.
Business relationship disclosure: The article has been written by a Blackstone Equity Research research analyst. Blackstone Equity Research is not receiving compensation for it (other than from Seeking Alpha). Blackstone Equity Research has no business relationship with any company whose stock is mentioned in this article