US markets broke free from the downward pull of Greece and the rest of Europe Monday, rising to start the week despite indications from overseas that the proposed bailout of Greece may come up short of solidifying the region's finances. Several major benchmarks shot higher, breaking through key levels despite continued anxiety over the future of the eurozone. Elsewhere, tensions between the US and Iran intensified after Ahmadinejad made a speech to the United Nations in New York. The US is negotiating with other U.N. members to impose a fourth round of economic sanctions on Iran.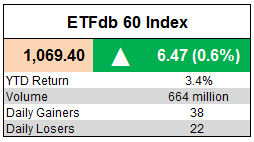 The ETFdb 60 Index, a benchmark measuring the performance of asset classes available through ETFs, climbed 6.47 points, or 0.6%, to close at 1,069.40. Trading was relatively light, with investors looking ahead to a key jobs report due out later this week.
Among the biggest winners on the day was the Vanguard Real Estate ETF (NYSEARCA:VNQ), which climbed 3.3% on the day. The advance came after Simon Property Group (NYSE:SPG) offered on Sunday to buy all of rival General Growth Properties (NYSE:GGP) in a cash and stock deal. Simon also came up with a recapitalization bid as a backup plan in case regulatory hurdles prevented the completion of the deal. Also climbing on Monday was the Claymore/NYSE Arca Airline ETF (NYSEARCA:FAA), which closed up 2.1%.
The biggest loser in the ETFdb 60 during Monday trading was the iPath S&P 500 VIX Short-Term Futures ETN (NYSEARCA:VXX), which retreated after a big run-up last week. Volatility indexes surged last week after ratings agencies downgraded Portugal and Spain and cut Greek to "junk" status, but a rebound in equity markets to start the week sent the "fear index" sharply lower.
Disclosure: No positions