Investors holding Annie's (NYSE:BNNY) experienced a jolt in the week of February 11th when the company lowered its full year fiscal earnings outlook as costs related to organic wheat increased.
Organic wheat at first seems like an unexpected reason for a stock to plummet, but a bit of analysis shows that some clues were out there and that investors may have been able to see this issue creeping up.
First of all, a rudimentary survey of the kitchen cabinet and freezer reveal that organic wheat is the first ingredient listed on two of Annie's products: macaroni and cheese, and frozen pizza. Analysts that were caught off guard by the organic wheat price increases were perhaps spending too much time considering the future prospects of BNNY's sales and not enough time thinking about how much ingredients cost.
Secondly, the USDA's Agricultural Marketing Service reports organic wheat prices, and this may present a way for investors to monitor the cost component. Below is a graph of the quarterly prices in dollars per bushel for two types of food grade organic wheat.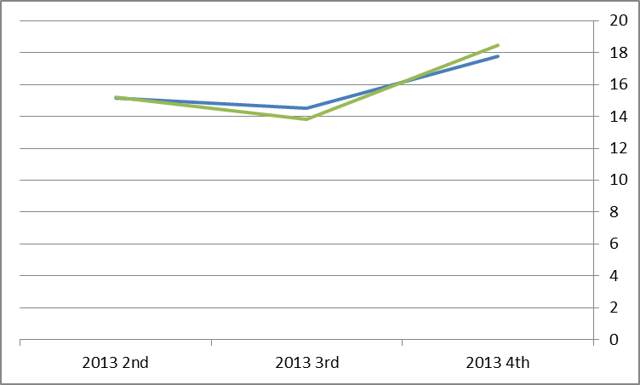 The report containing the organic wheat price data for the fourth quarter of 2013 was issued on December 24th, 2013, well in advance of when BNNY reported earnings for its corresponding fiscal quarter. It would appear though that market participants did not realize the implications of the increasing organic wheat prices until they were brought up in the earnings report. Below is a graph from Yahoo Finance of BNNY for the past three months up to February 14th. The first dot is placed on December 24th, immediately after which there was little significant movement in the stock, and the second dot represents when the latest quarterly earnings were reported, after which the market reaction was pronounced.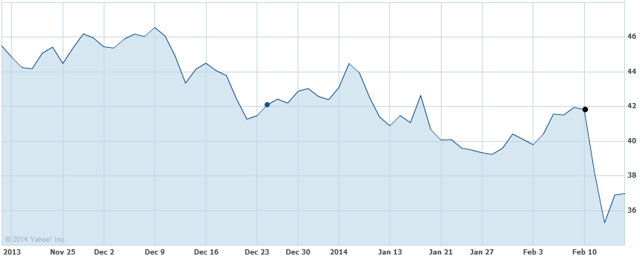 So, does this mean that investors can read the USDA Agricultural Marketing Services organic grain and foodstuffs reports and then short BNNY before the earnings reports in quarters during which there was an increase in organic wheat prices? Unfortunately, matters are not that simple.
First of all, this may not work because now that market participants are alerted to the importance of organic wheat in BNNY's cost structure, there may be more individuals paying attention to those prices, reducing the likelihood that keen investors can profit from the market being surprised again. Secondly, more data would have to be analyzed to produce an accurate picture of the relationship between organic wheat prices and BNNY stock.
Thus, investors should be aware that organic wheat prices as reported by the USDA's Agricultural Marketing Service appear to have continued upwards in January, and that winter weather has been causing problems for transporting commodities in general, which could potentially push prices higher still. However, even if prices continue to rise over the course of the first calendar quarter, it still may not be enough to justify shorting BNNY before the next earnings report for the reasons in the previous paragraph.
Disclosure: I am long BNNY. I wrote this article myself, and it expresses my own opinions. I am not receiving compensation for it (other than from Seeking Alpha). I have no business relationship with any company whose stock is mentioned in this article.