A little over three months ago the public reacted to comments made by CEO Bob Benmosche insinuating that American International Group (NYSE:AIG) may not reach some of its goals, at least in the time frame that was originally planned. In my previous article regarding AIG, I argued that the public should not overreact to Benmosche's remarks and stated that the company is positioning itself to excel. After the bell closed last Thursday, American International Group presented its 4Q13 financials. The company announced a net income of $2 billion or $1.34 per diluted share compared to a net loss of $4 billion or $2.68 per diluted share. AIG repurchased 8.3 million shares of common stock for an aggregate purchase price of approximately $405 million for the fourth quarter of 2013 and approximately $600 million for full year of 2013. Benmosche explained, "AIG's strong performance in both the fourth quarter and the full year of 2013 represents another successful milestone in our journey to further build on AIG's core insurance operations... global demand for our products and services, combined with our reputation for innovation, has helped to reestablish AIG as one of the world's preeminent insurance companies." This has been quite the turnaround story as AIG was almost wiped out by its derivative bets during the financial crisis.
AIG certainly had a decent quarter as the company has raised its dividend 25% to 12.5 cents from 10 cents per share and authorized a share buyback of up to another $1 billion, bringing the total authorization to $1.4 billion. As they have been able to make necessary changes, Benmosche still plans to make further adjustments including reducing the global workforce by about 3%. He stated, "To accomplish this, in many parts of the organization… we know that this will mean some changes in roles and in reporting structure and that some roles will have to be eliminated." As AIG continues to cut costs the company is taking a pre-tax severance charge of $265 million in Q4 amidst initiatives to centralize work streams into lower cost locations and developing a more efficient company. The self-learning algorithm utilized by us has a bullish forecast for AIG for the 1-month and 3-month time horizons as there has been a strong positive trend for the past few weeks.
Financials
With a new quarterly dividend of $0.125 per share, shareholders are being rewarded. However, this is still below its competitor's payouts. AIG has a payout ratio of 4%, while Allstate (NYSE:ALL) has a payout of 25% and MetLife's (NYSE:MET) ratio is 66%, according to Yahoo Finance. This could be a good thing as it leaves room for AIG to grow its payout ratio. Book value per share grew 3% from year-over-year to $68.62 and book value per share excluding accumulated other comprehensive income (AOCI) increased by 11% year-over-year, from $57.87 to $64.28. Revenues for the fourth quarter reached $17.3 billion, up 1% year-over-year. Full year net income was $9.1 billion, or $6.13 per diluted share for 2013 compared to $3.4 billion, or $2.04 per diluted share for the full year of 2012. After-tax operating income grew to $1.7 billion, or $1.15 per diluted share for 4Q13, well ahead of $290 million, or $0.20 posted in 4Q12, reflecting growth in each of AIG's core insurance operations. This was ahead of analysts expected earnings of 96 cents per share. However, consider that the 4th quarter of 2012 included a loss of $1.3 billion after taxes as a result of hurricane Sandy and a net-loss of $4.4 billion related to the sale of AIG's aircraft leasing business. Full year after-tax operating income was $6.8 billion, or $4.56 per diluted share, compared to $6.6 billion or $3.93 per diluted share. Chart one shows growth in pre-tax retail and institutional operating income from 4Q12 to 4Q13.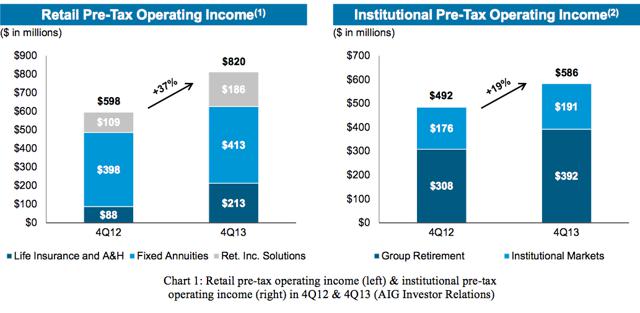 Ongoing active spread management, higher net investment income, growth in fee income and favorable mortality experience drove the retail pre-tax operating income up 37% from 4Q12 to 4Q13. Institutional pre-tax operating income increased 19% from 4Q12, driven by active spread management, higher fee income on group separate account balances and higher returns on alternative investments.
Sector Performance
While most financials depicted a positive picture, there was inadequacy in operations that lead to deterioration of its combined ratios. The premiums at AIG improved in the fourth quarter in its commercial insurance business from $4.4 billion to $4.8 billion and in its property casualty business from $7.8 billion to $8.0 billion. Property and causality operating income was $1.09 billion compared to a loss of $944 million in the Sandy-affected quarter a year ago. The combined ratio improved to 103.8 from 125.1 while the adjusted combined ratio deteriorated to 102 from 100.8. A combined ratio below 100 indicates an underwriting profit, which means that an insurer such as AIG is receiving more in premiums than it is paying out in claims. What investors should take note of is that after adjusting for the large catastrophic losses, such as Sandy, the ratio actually worsened 2 points.
In its consumer insurance business, premiums written fell by 6%, from $3.4 billion in 4Q12 to $3.2 billion in 4Q13. The combined ratio worsened from 101.3 to 103.6. Premiums in its commercial insurance business increased from $4.4 billion to $4.8 billion, up 10% from a year ago. The combined ratio improved from 130.3 to 107.7 and the adjusted combined ratio deteriorated from 95.8 to 97.1.
Our Prediction
We utilize an algorithm to forecast stock performance and to generate stock market forecasts. The algorithm distinguishes stocks trading in ranges that deviate drastically from the trends the algorithm deems rational. The machine utilizes 15 years of data and is updated daily as new information is presented generating stock market forecasts from 3 days to one year for algorithmic trading. The algorithm's methodology is conferred in more detail in my previous article 2014 Market Forecast and Gold Prediction Based On Algorithms. There are also multiple strategies that can be utilized together or individually as an algorithmic trader employing daily forecasts. Chart 2 shows the 1-month and 3-month forecast for AIG.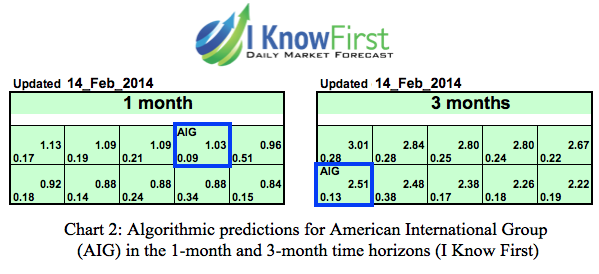 The ticker symbols for the other assets in this forecast have been removed however you can still see their signal and level of predictability. The signal, the number flush right in the middle of the box and the predicted direction (not a specific number or target price), is 1.03 for the 1-month time-horizon and 2.51 for the 3-month time-horizon. The predictably of this asset is .09 for 1 month and .13 for 3 months. This is very typical for the algorithm as it tends to be much more accurate for longer-term time frames.
Conclusion
As I argued in my previous article, American International Group: Are We Overreacting?, I asserted that this company is currently positioning itself to excel. Benmosche concluded, "With another year of solid performance under our belts, I am confident that we have positioned ourselves for strong growth and profitability in all of our operating businesses. Most importantly, this foundation will enable us to focus our energy on our customers." A solid performance indeed, as AIG's share price was up almost 48% according to Google Finance in 2013, from the beginning of the year to year's end. Shareholders will be rewarded with a dividend increase of 25% and should feel comfortable that AIG is dedicated to making itself more agile and sustainable for the long-term. While inadequacy in property and causality should be a concern if a trend becomes prevalent, only one quarter of results should not dissuade an investor from considering this insurer. If these earnings results verify anything, it is that AIG is capable of managing some instability in its core operations and still deliver overall positive results. At the very least, keep this company in your watch list.
Business disclosure: I Know First Research is the analytic branch of I Know First, a financial startup company that specializes in quantitatively predicting the stock market. This article was written by Joshua Martin, one of our interns. We did not receive compensation for this article (other than from Seeking Alpha), and we have no business relationship with any company whose stock is mentioned in this article.
Disclosure: I have no positions in any stocks mentioned, and no plans to initiate any positions within the next 72 hours. I wrote this article myself, and it expresses my own opinions. I am not receiving compensation for it (other than from Seeking Alpha). I have no business relationship with any company whose stock is mentioned in this article.