Annaly Capital (NYSE:NLY) recently notified the public through an SEC filing that two key executives would be departing. The action was immediately identified as a red flag by one quick-response article. However, the moves could be meaningless, or they might even represent a green flag for buyers of mREITs generally. Still, as far as the implication for NLY is concerned, it's probably still a red flag of some sort. Here's why…
Annaly Capital's 8K filing detailing the departures of its Chief Operating Officer James P. Fortescue and Co-Chief Investment Officer Kristopher R. Konrad admittedly offered a red flag for NLY shareholders recently. It's a legitimate reason for concern when key executives leave a company, because it may signal some sort of underlying issue that perhaps the executives are separating themselves from. It does not help the situation that Annaly reports results just a week from now and a few weeks post the announcement.
As an analyst, I looked carefully at such events, especially when there was other evidence of trouble. However, just like anything else, it is not always a signal of trouble when key executives depart. In the case of Annaly, it could simply bode well for the mortgage REIT industry and those working within it.
Rather than jumping to negative conclusions, we might consider that this widely held top of industry name might be a key resource for executive search firms today representing other REITs or other similar financial institutions now forming. Or major financial institutions, like say Goldman Sachs (NYSE:GS) or Bank of America (NYSE:BAC), perhaps needing intimate insight into the inner workings of mortgage REITs, would likewise have use for the men in question. Finally, there's the possibility that the executives are forming a new company of their own to better personally leverage their expertise. The two in question have been with Annaly for the long haul and are experts in the operation of a mortgage REIT, and one which has been popular over the years. So they would be in demand across the financial sector, but this thought has not been given any consideration as yet.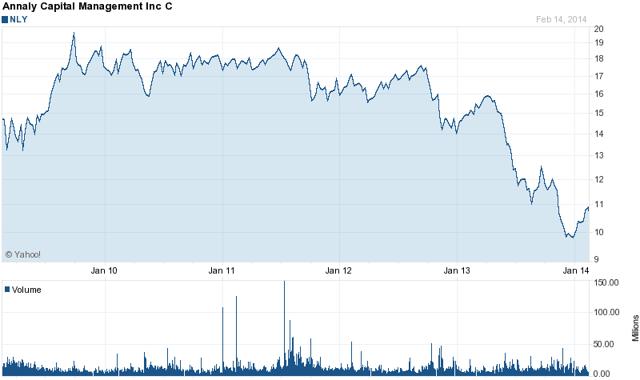 The recent performance of mREITs like NLY, American Capital Agency (NASDAQ:AGNC) and many others can lead some to immediately speculate that the executive move is for the wrong reason. In the case of Annaly, with a portfolio of assets garnered over a very dynamic period for the real estate and mortgage finance industries, it is perhaps disadvantaged now versus newly started mREITs without the baggage of interest rate sensitive asset portfolios ahead of what looks like future rate rise. That could be a good reason for an executive to find greener pastures, since his compensation will likely be tied to performance to some extent. Maybe that is the real red flag to spot here for NLY holders.
| | | |
| --- | --- | --- |
| mREIT | Year-to-Date | Last 12 Months |
| Annaly Capital | +8.3% | -19.8% |
| American Capital Agency | +14.3% | -21.2% |
| Chimera Investment (NYSE:CIM) | +0.3% | +21.5% |
| Two Harbors Investment (NYSE:TWO) | +7.9% | -4.1% |
| UBS ETRACS 2X Lev. mREIT (NYSEARCA:MORL) | +10.8% | -8.0% |
Last 12 months accounts for dividends & splits
Year-to-date does not include dividends
Still, NLY has climbed 8.3% year-to-date, benefiting in 2014 as I expected it would from capital flows. It still offers a dividend yield of 11.1% and its beta of 0.06 seems to offer safety against a market facing nascent economic softness evident in labor data. However, more recently, I have suggested that mREITs may be losing their safe-haven appeal. NLY's price-to-book ratio is still short of 1.0x at 0.86x, but it also remains burdened by a deteriorating book value and declining dividends. Roughly a week ahead of the company's earnings report, with a recent history of disappointing expectations, I would consider divesting NLY now or at least reducing risk heading into the report. However, it's not because I expect wrong-doing due to the executive departures. Yet, those departures may still offer a red flag of another sort that is worth paying attention to.
Disclosure: I have no positions in any stocks mentioned, and no plans to initiate any positions within the next 72 hours. I wrote this article myself, and it expresses my own opinions. I am not receiving compensation for it (other than from Seeking Alpha). I have no business relationship with any company whose stock is mentioned in this article.