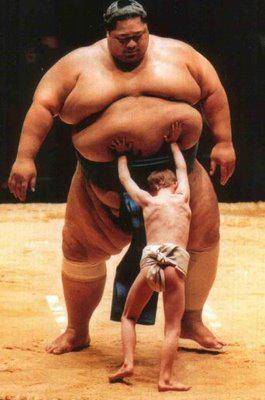 Executive summary:
The Alibaba IPO will generate many investment opportunities.
Amazon and eBay may suffer by comparison.
Yahoo will likely underperform Alibaba after the IPO.
Investors may sell YHOO post IPO to buy Alibaba.
The Alibaba IPO date is unknown.
________________________________________________________
The very first article I wrote for SA was about Yahoo's (YHOO) holdings of a company most people have never heard of named Alibaba. At the time Alibaba was valued at $38 billion and YHOO was trading at $19.66.
How then would an investor take advantage of this situation?

1) Understand the valuations. Alibaba is currently valued at $38 billion

YHOO trades at $19.66
At the time a valuation of $38 billion on Alibaba presented what I considered to be about as high a conviction trade as they come. I just simply couldn't believe the market was placing such a low valuation of this company. Either I was wrong on an epic scale, or the markets just hadn't started paying attention yet.
I would expect that as we get closer to the actual IPO, more and more major brokerages will release research on this topic, and so far this issue has resulted in 2 for 2 upgrades and no downgrades. I would expect more of the same, but time will tell.
Well, it turned out that I wasn't wrong on an epic scale, the markets were just slow to waking up to what Alibaba was truly worth. Estimates now place Alibaba over 4x the original estimate of $38 billion, valuing its IPO at $153 billion.
We note that for Alibaba, we model a valuation of $153 billion, based on a consensus estimate compiled by Bloomberg of analysts covering the company (as of February 5, 2014), and that an IPO of Alibaba may lead to significant changes in the company's valuation, depending on market conditions, quarterly results, and other factors.
While the Alibaba IPO makes a compelling case to buy YHOO and SoftBank (OTCPK:OTCPK:SFTBY), that topic has already been covered by myself and others. The investment concept of this article is the possible harm Alibaba may do to Amazon (NASDAQ:AMZN) and others. Up until now, AMZN has rested comfortably as king of the hill, with its only other real competitor eBay (NASDAQ:EBAY) a distant second.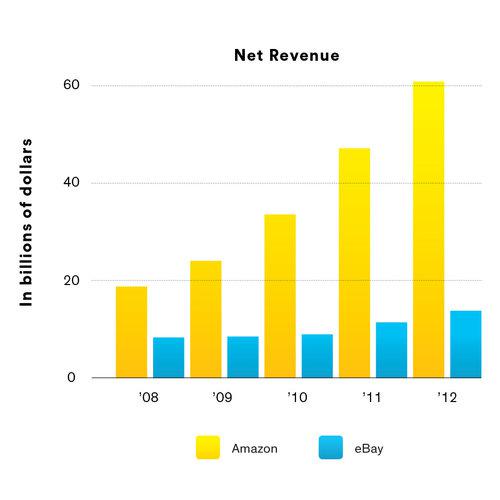 AMZN really doesn't have any competition, and that monopoly has allowed them to reach astronomical valuations of a TTM P/E of 608, and a forward P/E of 84. Those kinds of valuations are fine as long as investors have no other options. If you are the only restaurant in town it doesn't do you any good to complain, you have nowhere else to go.
The problem is, a new 5 Star restaurant is coming. AMZN will no longer be the only show in town. If you are a portfolio manager and are required to have 15% in the internet retail sector, it's a pretty safe bet AMZN will occupy a large part of that 15%, especially in index funds where AMZN basically defines the S&P Internet Retail Sub Industry Index.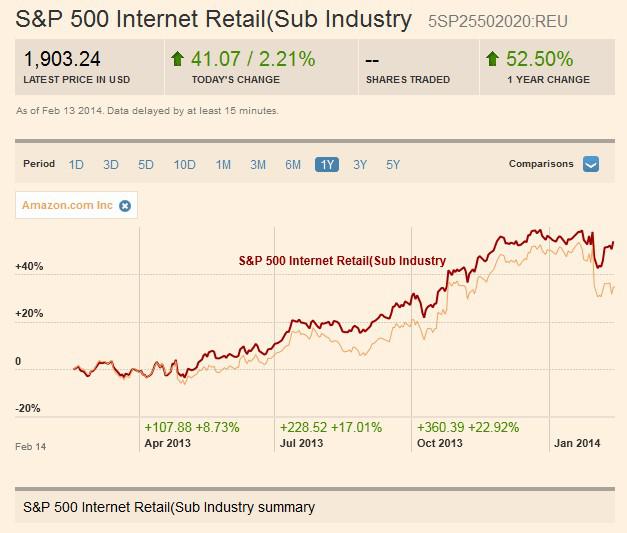 Because AMZN and Alibaba are very similar in capitalizations, $168B vs $153B, Alibaba threatens to represent an equal weight in portfolios required to have exposure to the Internet Retail Sub Industry and General Retail Industry.
To make matters worse, Alibaba doesn't only have real earnings, they have real earnings growth. AMZN simply doesn't measure up to the size of Alibaba's earnings and earnings growth rate. Alibaba's earnings chart looks like it took an overdose of Viagra, while AMZN looks to be suffering from a severe case of ED. Note, chart is in Yen.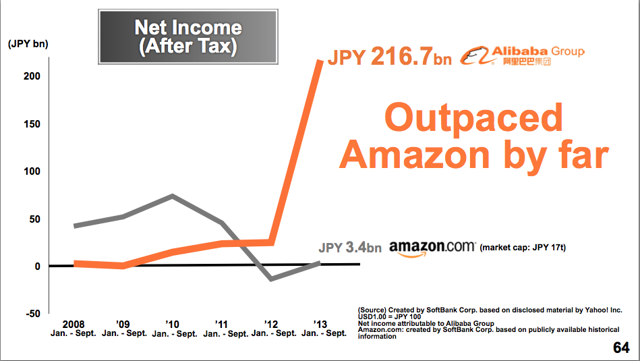 YHOO, eBay and AMZN's relative impotence therefore will likely create investment opportunities.
1) I would expect portfolio managers to rebalance their Internet Retail and General Retail holdings to accommodate Alibaba. Alibaba is technically more a wholesaler than retailer, but I doubt that will matter. If this happens, portfolio managers will likely sell AMZN and eBay to buy Alibaba.
2) I would expect investors to bid up YHOO in advance of the IPO, and anxious AMZN and eBay shareholders to sell. A Pre-IPO market neutral position of Long YHOO, Short AMZN and/or eBay might be worth exploring. Buying YHOO calls and AMZN and/or eBay puts would be a similar trade.
3) After the IPO a market neutral position of Long Alibaba, Short AMZN and/or eBay may be considered, as well as calls on Alibaba puts on AMZN and/or eBay.
4) Once the Alibaba IPO happens, I would expect YHOO to dramatically lag Alibaba. While it is uncertain as to how much of Alibaba YHOO will retain, it is almost certain that a large percentage of YHOO's move over the last year was due to Alibaba. Once Alibaba IPOs, I would imagine many people will sell their YHOO shares and buy Alibaba. I see no reason to hold YHOO after the IPO. I would argue that a portfolio of Google (NASDAQ:GOOG) and Alibaba beats a YHOO Alibaba combo if an investor still wants exposure to search.
5) The Alibaba IPO will also likely impact the portfolio weightings of eBAY more than AMZN. If AMZN doesn't measure up to Alibaba, eBAY certainly doesn't. I would imagine eBAY will get harmed more by the rebalance than AMZN. After eBAY's 2013 performance, I would imagine portfolio managers are looking for every excuse they can find to ditch the stock. While YHOO and Alibaba have been on a rise over the last year, eBay's performance has gone limp. AMZN's recent performance has begun to soften as well.

(Image Source Google Finance Quote Page)
This chart demonstrates how YHOO outperformed AMZN and eBAY over the last year. YHOO is an anchor for Alibaba, so I would expect that if you could carve out just the performance of Alibaba over the last year the performance difference would be much more dramatic. As the quotes above highlight, the estimates of Alibaba's valuation increased by 4x(+) over the last year.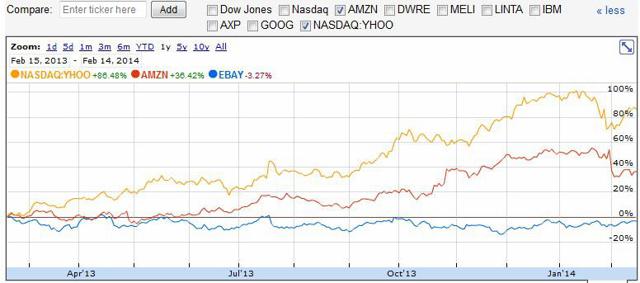 (Image Source Google Finance Quote Page)
Lastly, the date of the Alibaba IPO is unknown, and has already been delayed. I view that as a positive because it will draw more attention to the IPO and give analysts more time to evaluate its valuation.
At the moment, it is unclear when Alibaba's offering may come. Mr. Tsai said that while he worked on it for much of 2013, the company had hit the pause button, and the I.P.O. might not happen as quickly as some might expect this year. "We didn't formally kick off any process," he said, continuing the speculation that the banks and exchanges are playing.
In conclusion, the Alibaba IPO is likely to generate multiple trade opportunities. I would expect that the IPO will be bearish for eBAY and AMZN before and after, and expect the Alibaba IPO to be bullish for YHOO before and bearish after. Because the IPO will eventually have a defined date, investors may want to consider option strategies. The volatility of the related stocks is almost certain to increase shortly before and continue after the IPO.
Disclaimer: This article is not an investment recommendation or solicitation. Any analysis presented in this article is illustrative in nature, is based on an incomplete set of information and has limitations to its accuracy, and is not meant to be relied upon for investment decisions. Please consult a qualified investment advisor. The information upon which this material is based was obtained from sources believed to be reliable, but has not been independently verified. Therefore, the author cannot guarantee its accuracy. Any opinions or estimates constitute the author's best judgment as of the date of publication, and are subject to change without notice. Past performance is no guarantee of future results. For my full disclaimer and disclosure, click here.
Disclosure: I have no positions in any stocks mentioned, and no plans to initiate any positions within the next 72 hours. I wrote this article myself, and it expresses my own opinions. I am not receiving compensation for it (other than from Seeking Alpha). I have no business relationship with any company whose stock is mentioned in this article.