One might surmise that oil and gas equipment/services stocks would benefit from the price of crude rising. After all, as fossil fuels become harder to find, let alone access, future spending on equipment and services would likely increase to satiate the pursuit of profits.
And yet, year-over-year, the commodity (oil) has far outpaced the sector. For instance, in May 2009, the spot price on West Texas Intermediate Crude was roughly $50 per barrel. The spot price today is about 70% higher at $86 per barrel. Similarly, the futures price for a May 2010 crude oil contract has garnered 47% from one year ago, while the Dow Jones U.S. Oil Equipment & Services Index (NYSEARCA:IEZ) and the SPDR S&P Oil & Gas Equipment & Services ETF (NYSEARCA:XES) earned 33.4% and 35.4% respectively.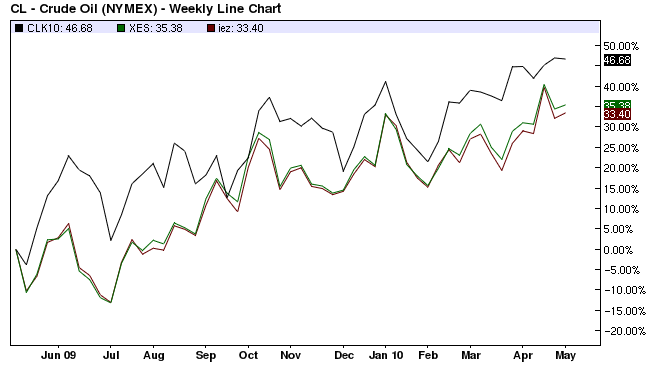 Clearly, stocks are underperforming the natural resource. The likelihood of this outcome going forward is something that Jim Rogers addresses frequently in his commentary.
Now, however, the oil and gas sector is plagued by costs beyond those associated with exploration/production. In particular, the British Petroleum (NYSE:BP) oil spill off the Louisiana coastline may run up to $3 billion or more of clean-up costs. Moreover, there are others that will share in the expenditures… leaders in the field like Transocean (NYSE:RIG), Anadarko and Haliburton (NYSE:HAL).
Not surprisingly, SPDR S&P Oil & Gas Equipment & Services ETF (XES) hasn't fared particularly well over the last 3 days. The S&P 500, albeit volatile, has held fairly steady, while oil/gas services have dropped 3 percentage points.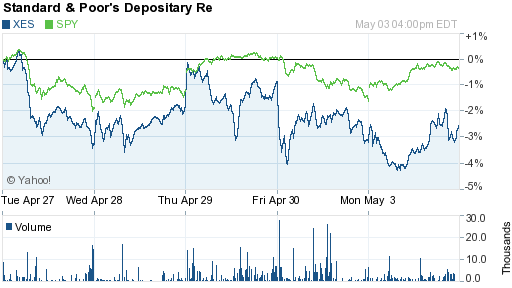 Keep in mind, any plans for offshore drilling after this disaster will meet with much heavier resistance. And with hurricane season set to begin next month, how can oil prices go anywhere but up?
Therein lies a conundrum for ETF investors. If it is better to invest directly in the commodity, and there's no simple way to invest in the spot price rising, do you accept the contango/backwardation limitations of United States Oil (NYSEARCA:USO)? I won't.
On the other hand, United States Gasoline (NYSEARCA:UGA) invests in unleaded gas futures contracts traded on the NYMEX. And while UGA and USO typically move in the same direction, the risks have not been quite as great for the lesser known gasoline tracker.
The futures curve for unleaded gasoline is only experiencing mild contango at this time. And… the ETF itself is in a strong uptrend.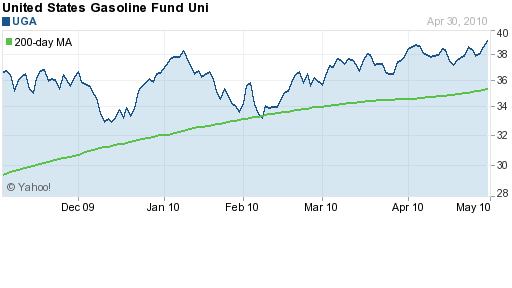 Disclosure Statement: Gary Gordon, MS, CFP is the president of Pacific Park Financial, Inc., a Registered Investment Adviser with the SEC. The company and/or its clients may hold positions in the ETFs, mutual funds and/or index funds mentioned above. The company receives advertising compensation at the ETF Expert web site from Invesco PowerShares Capital Management, LLC. The commentary does not constitute individualized investment advice. The opinions offered herein are not personalized recommendations to buy, sell or hold securities.