A recent article in the San Francisco Chronicle reports that 17 salt water desalination plants are in the planning stages along the coast of California. These plants represents a huge opportunity for Energy Recovery Inc. (NASDAQ:ERII). ERII is the market leader in transforming industrial fluid flows and pressure cycles into reusable energy with its patent-protected PX line of isobaric energy recovery devices. It was one of my small-cap picks to double in 2014.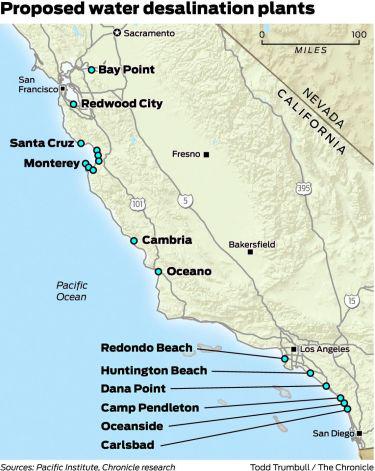 Back in July 30 of last year, ERII announced a huge contract award for the Carlsbad, CA salt water desalination plant:
Energy Recovery will provide 144 of its PX Pressure Exchanger Q300 units to the seawater reverse-osmosis (SWRO) plant, aiding the estimated production output of 189,250 cubic meters of desalinated water per day (equivalent to 50 million gallons per day). The units are expected to ship by the end of the year.
As I already reported in a previous article, ERII's patent protected PX line of isobaric pressure exchangers have allowed the company to dominate the desalination market with:
90% market share
60%+ gross margins

During the company's presentation at the Craig Hallum Alpha Select conference last year, which you can view here, I learned some additional facts about the PX line of energy recovery devices:
Average selling price ("ASP") is $25,000.
Over 14,000 devices have been sold on all 7 continents and all 7 seas.
Average size is 3 feet long and weighs ~200 pounds.
The company has sold as many as 550 devices for a single plant.
PX device are about 98% efficient in recovery the ~60% of energy otherwise wasted in the desalination pressure exchange process.
Return on investment is ~3 months, devices last 25 years, and require no maintenance.
California SWRO Plants Are A Huge Opportunity
To quantify the opportunity the 17 SWRO desalination plants might represent to ERII, let's make some assumptions:
ERII maintains its market share (90%)
Each plant is half the size of Carlsbad (72 devices)
The ASP for each device is $25,000
What we get is 17*72*0.9*$25,000 = $30.6 million.
This is ~1.5x the total company revenue for the first 9 months of 2013: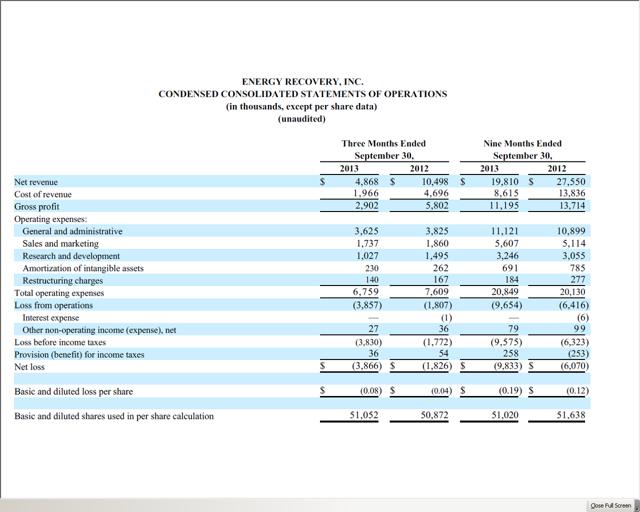 While these plants will no doubt take some time to get approved (after all, it is California), I believe the drought combined with the success of the Carlsbad plant in using ERII technology to save energy costs (and emissions) will be strong catalysts for the company going forward. With the severe drought in Texas and the enormous amount of water being used in the Eagle Ford and Permian basin for fracking, one can only wonder how long it will be before SWRO plants begin popping up on the coast of Texas like they have been in Florida and will be soon in California.
And don't forget, the gas processing market is a $1 billion market opportunity for ERII. We will very likely see the first inked contracts for ERII skids (see below) for that industry in 2014.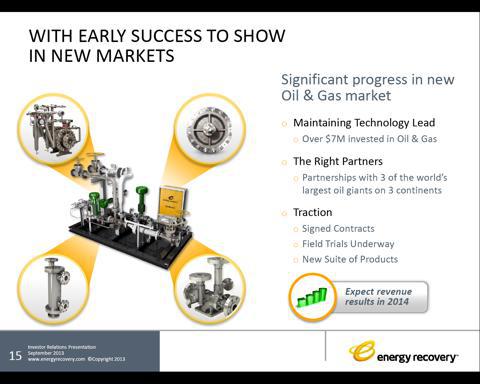 ERII is a BUY and could easily double in 2014 as it returns to solid profitability.
NOTE: Energy Recovery will be announcing Q4 and full year 2013 results on March 5. You can access the conference call here.
Mkt Cap: $223 million
EPS ((ttm)): -$0.24
Div (yield): nil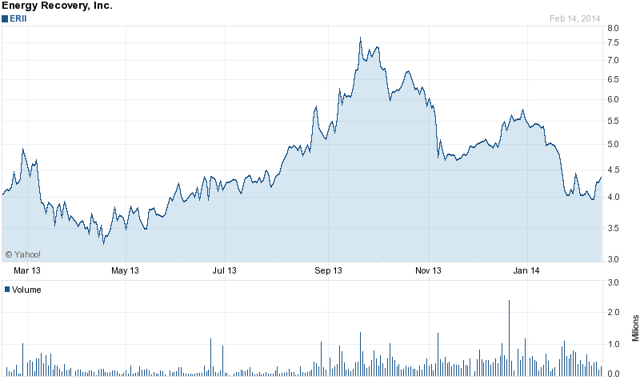 Disclosure: I am long ERII. I wrote this article myself, and it expresses my own opinions. I am not receiving compensation for it (other than from Seeking Alpha). I have no business relationship with any company whose stock is mentioned in this article.
Additional disclosure: I am an engineer, not a CFA. The information and data presented in this article was obtained from company documents and/or sources believed to be reliable, but has not been independently verified. Therefore, the author cannot guarantee its accuracy. Please do your own research and contact a qualified investment advisor. I am not responsible for investment decisions you make. Thanks for reading and good luck!