Enzymotec (NASDAQ:ENZY), an Israeli developer and manufacturer of lipid-based nutrition supplements and medical food, reported its 2013 financial results last week. Enzymotec, as shown in the graph below, presented record revenues of $65M, reflecting a 72% increase in 2013 revenues over 2012 with a gross margin and operating margin increase. Enzymotec's great results in 2013 were also reflected in its stock price that had a 55% run since its IPO in September. Indeed, 2013 was a great year for Enzymotec, but will the company also be able to leverage its good positioning and momentum to grow its earnings in 2014?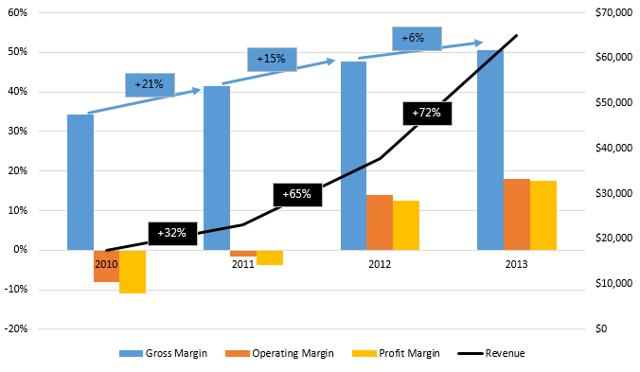 Enzymotec operates in two segments: nutrition and Vaya Pharma. In the nutrition segment the company focuses on two product lines: infant nutrition, under the InFat brand, and BioActive ingredients under the "K-REAL", "PS", and "GPC" brands. InFat is a nutritional ingredient for infant formulas that resembles human breast milk. InFat is developed and manufactured in a joint venture between Enzymotec and the Swedish company AAK and is sold to the biggest infant nutrition suppliers in the world such as Danone, Nestle, and Biostime. K-REAL is a krill oil-based omega-3 ingredient that is developed and manufactured by Enzymotec and accountable for a large portion of the company's revenues. "PS" (Phosphatidyl-Serine) and "GPC" (Glyceryl-Phsosphoryl-Choline) are ingredients targeted at improving the cognitive ability to think, learn, and remember. In the Vaya Pharma segment, Enzymotec offers branded medical food to be used under medical supervision either by oral intake or tube feed under clinical dietary management: Vayarin for patients suffering from ADHD, Vayarol for memory impairment, and Vayacog for hypertriglyceridemia.
At the end of 2013, Enzymotec took a number of actions to expand its presence in the omega-3 market while improving profitability. First, Enzymotec opened a new krill oil extracting and manufacturing facility in Israel that enables the company to turn krill meal into crude krill oil, which is expected to improve the company's gross margin by increasing sales and lowering manufacturing costs. Manufacturing costs will decrease by internalizing activities previously done by external vendors, using new extraction technologies, and improving the manufacturing process to be more cost efficient. The company will be able to increase revenues by increasing its krill oil manufacturing capacity to meet the growing demand for its krill solutions and start offering new krill byproducts that the company was not able to market under the previous agreement with the external vendor. As shown in the graph above, the gross margin increase is declining from an impressive 21% in 2011 over 2010 to a modest 6% in 2013 over 2012. Moving manufacturing into the new facility is supposed to improve the gross margin and the declining gross margin increase. Second, Enzymotec announced that it is expanding its offering in the omega-3 market from krill oil-based omega-3, to also offer fish oil based on omega-3 under the "Omega PC" brand. The new Omega PC product will be developed and manufactured in a joint venture with the Danish company Polar Omega and will enable Enzymotec a foot in the door of the omega-3 market, which is usually not krill oil-based. The ability to translate benefits from the new manufacturing facility into revenues (while not compromising on the gross margin) and the ability to gain a market share in fish oil-based omega-3 with Omega PC are two challenges Enzymotec will face in 2014.
Enzymotec has one main risk that may impact the K-REAL gross margin and profitability: the settlement term sheet with Neptune (NASDAQ:NEPT) on patent infringement. Neptune Technologies and its subsidiary Acasti Pharma filed a complaint to the International Trade Commission ("ITC") in early 2013, alleging that Enzymotec infringed omega-3 krill oil extract patents. Settlement is currently in a mediation program in order to reach a mutually satisfactory agreement. However, an agreement has yet to be signed and the results of that agreement that will probably contain a royalty payment to Neptune could have an impact on K-REAL's profitability and Enzymotec's earnings.
In the InFat product line, Enzymotec should be able to gain more of a market share in China following the latest changes in the one-child policy allowing couples to have two children if one of the parents is an only child. This policy change is expected to increase the number of births in China and grow demand for infant nutrition to feed the newborns. Currently Enzymotec is selling InFat to the Chinese market mainly thru Biostime infant formulas; however, In order to benefit from the increase in the Chinese market and to reduce dependency in one large customer, Enzymotec should look for other revenue streams there that are not reliant on Biostime, such as Danone, Nestle, or Mead Johnson Nutrition.
Also in the Vaya Pharma segment, Enzymotec is taking actions to grow sales; the company announced an increased sales force in the United States and expanded market coverage to eight states. Vaya Pharma sales grew in 2013 by 143% over 2012. To increase that growth even further, Enzymotec should expand its Vaya Pharma coverage both inside and outside of the US. In its earnings release, CEO Ariel Katz mentioned that Enzymotec is currently looking for new strategic partnerships in the Vaya Pharma market to expand its sales. The ability to grow Vaya Pharma sales outside the US and expand sales further in the US are two challenges the company will have to overcome in order to increase this emerging revenue stream and expand business outside the nutrition ingredients market.
Conclusion
Enzymotec revenues and margins increased in 2013 to a record high of $65M revenues and 51% gross margin. Enzymotec opportunities to increase revenues such as penetrating the fish oil omega-3 market with Omega PC, Increasing InFat sales as a result of the one-child policy change in China and expanding the Vaya Pharma market coverage in the United States are under pressure from the Neptune agreement cost and the potential to benefit from the new manufacturing facility in Israel. In its 2014 outlook ENZY provided an EPS range of $0.7 to $0.87 that reflects an upside of 13% to 41% in stock price based on a 41 P/E. Investors looking for a small-cap biotech company for the long run can find Enzymotec an interesting opportunity.
Disclosure: I have no positions in any stocks mentioned, and no plans to initiate any positions within the next 72 hours. I wrote this article myself, and it expresses my own opinions. I am not receiving compensation for it (other than from Seeking Alpha). I have no business relationship with any company whose stock is mentioned in this article.