February 25 will mark the conclusion of the 25-day quiet period on research for the underwriters of Malibu Boats Inc (NASDAQ:MBUU)'s January 31 IPO.
The expiration of the quiet period will permit underwriters to publish positive research reports on MBUU, likely causing a price increase in the performance boat manufacturer's shares.
MBUU priced at the midpoint of its expected range at $14.00 per share and enjoyed a 27% first day gain; the stock has since seen little movement, closing at $17.89 per share on February 14. See chart below.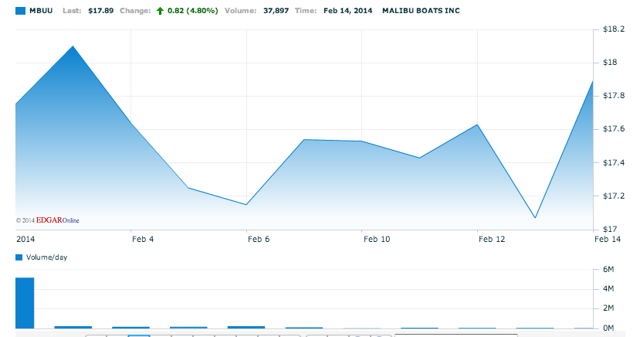 SOURCE: NASDAQ.COM
We expect that the firm's underwriters, including Raymond James, Wells Fargo Securities, Suntrust Robinson Humphrey, and BMO Capital Markets, will seek to recapture MBUU's early success with a wave of positive research beginning on the 25th.
Both recent academic studies and our past two years of research have provided empirical confirmation of a correlation between the number and renown of IPO underwriters and an improvement in the price of firms' shares at the close of their quiet periods. This rise in price usually begins a few days before the quiet period has expired, as knowledgeable investors buy shares in an effort to profit off the forthcoming underwriter reports. These investors realize that underwriters will release only positive information about firms that they have recently underwritten. These early purchases lead to a perception of rising demand and cause prices to rise before the quiet period's actual expiration.
Business of Malibu
MBUU designs and manufactures performance sports boats for water sports and general recreational boating. The firm markets its boats under a pair of brands, Malibu and Axis Wake Research. The Malibu brand is comprised of the firm's best offerings, pricing from $55,000 to $120,000, while the Axis brand is slightly more affordable, ranging from $40,000 to $85,000. The firm has enjoyed the largest market share in the United States since 2010. MBUU distributes its boats through 139 independent dealer locations across North America and 49 independent dealer locations across 36 countries outside of North America.
Though it has taken a dominant position in North American market share in terms of unit volume, at 32.9% for the nine months ending September 30, 2013, MBUU still faces significant competition from other powerboat manufacturers. Major competitors include MasterCraft Boat Company LLC, Correct Craft Inc, and Skier's Choice Inc.
Management
CEO Jack D. Springer has served in his current position since 2010. Mr. Springer was previously a partner and managing director with Qorval, LLC, a private consultancy that provides strategic leadership and executive management across various industries, a position that allowed him to take on numerous executive roles in companies including Diamondback Tactical and American Plastics. Mr. Springer received a B.A. in Accountancy from the University of Texas of the Permian Basin.
Conclusion
MBUU has seen impressive financial gains over the past few years. Between fiscal 2011 and the fiscal year ended June 30, 2013, the firm's net sales increased from $100 million to $167 million; over the same period, the firm improved from a net loss of $543,000 to achieve a net income of $18 million. The firm's results have no doubt been bolstered by an improving economy-powerboats are certainly among the luxury goods that benefit most from improving financial conditions.
The conclusion of the quiet period will offer growth investors a tempting opportunity to get a piece of this profitable, rising firm.
Disclosure: I am long MBUU. I wrote this article myself, and it expresses my own opinions. I am not receiving compensation for it (other than from Seeking Alpha). I have no business relationship with any company whose stock is mentioned in this article.