Trade: Long AVG Current price: 17.09 Expected price: 21 Upside: 23% Time: 1 year
Thesis:
High insider ownership, undervalued, fear of one-segment losing revenues, management change, growing industry, sticky business, opportunities in untapped mobile market and small and medium businesses, high margins and returns on capital, share buy-back, acquisition target.
Company:
AVG Technologies (NYSE:AVG) is a popular internet security and anti-virus software company. It offers protection, performance and privacy products and services to consumers and small businesses including Internet security, performance optimization, mobile security, online backup, identity protection and family safety software. The company has grown its user base to 172 million active users (with 57 million mobile users) as of 30 September 2013. The company's growth in the past few quarters has been driven by the continued transition to cloud computing and mobile computing. The business model leverages its large and engaged user base and low-cost Internet-based distribution.
AVG operates in 2 segments: subscription (59% of total revenues as of TTM 3Q12) and platform-derived (internet search revenue based on advertisement revenue-sharing with partners such as Google and Yahoo!) (41% of total revenues as of TTM 3Q12). Recently the platform-derived segment has been facing problems.
Problem:
AVG Security Toolbar and Google's guideline change: AVG has agreement with Google on internet advertisement revenue-sharing through AVG's search toolbar. This toolbar searches via Google protecting and warning customers from any malware or infected sites. Once it finds malware, it also removes it instantly. AVG gets a percentage of any advertisement-revenue generated by Google whenever a user searches via this toolbar and clicks on an ad.
The problem was when AVG free security (anti-virus) software was downloaded, the safe search toolbar (aka AVG Security Toolbar or AVG Secure Search product) was automatically downloaded, unless the user was alert enough to uncheck a box in the download process. This safe search toolbar installed itself on the user's browser (all browsers) as a default search engine. Web searches via this toolbar (searches via Google) are safe: the toolbar alerts you before you visit bad / infected websites to make sure your identity, personal information and computer are protected (hence secure search). Also, the toolbar's Do Not Track feature lets you identify which websites are collecting data on your online activities and gives you the option of allowing it or not. AVG gets a percentage of ad revenue (generated by Google) from ads that are clicked on any search done through this toolbar. The bad part was this safe search toolbar gave a lot of ads and was extremely difficult to uninstall. It was not just AVG but some other companies were also practicing this resulting in bad user experience. Google was getting a lot of complaints against bad user experiences mainly due to frequency of ads and the inability to uninstall (over 100,000 complaints in 90 days, about softwares that changed users' browser settings or about toolbars that they couldn't uninstall). In response to this, on 15 April 2013, Google posted an article, A healthy advertising ecosystem, on its official blog saying that in an ongoing effort to fight abuse it has recently updated its policies and enforcement to ensure that software accessing Google's services complies with the following rules:
· "Be pre-approved by Google;
· Offer one-click, complete uninstall;
· Provide clear, full disclosure and transparency to people about what is being installed and what changes are being made to their devices;
· Install itself on only one browser per download;
· Be bundled with and distributed by only reputable parties who comply with Google's policies."
This was the issue in mid 2013 and since then AVG has launched the following new features:
· Uninstall process - A one-click process that enables users to quickly revert to original settings.
· Toolbar cleanup - Enables users to easily clean up unwanted toolbars, including AVG's, and implement their personal search settings.
However, all this damaged the company's reputation and put the relationship with Google in jeopardy. Revenue from platform-derived segment (internet search based on advertisement revenue-sharing; 41% of total revenues as of TTM 3Q12) has grown at a cagr of 75%, from FY08 to FY13. With such high growth this segment became the main focus of investors. Stock price has fallen by approximately 34% from its peak of $26 in September 2013 to $17.09 as of 14 February 2014. An Israeli translation software company Babylon doing a similar (but much worse) search toolbar trick recently announced that Google did not plan to renew its internet advertisement revenue-sharing agreement with them. Babylon's shares plunged by 62% in a day (on 30 October 2013). In the recent 3Q13 conference call, when asked the question by a Morgan Stanley analyst that would AVG face similar situation to Babylon in November 2014 when Google is up for contract renewal, here is what the CEO replied, "particularly with this change, we are not and are not going to walk down a path of doing, what I call, more devious practices. It's just bad for the brand and it's -- our customers do not like it. So that in and of itself should provide a lot of confidence. Google, obviously, will make the changes they need to make for their business. But for us, in pursuing the renewal of the relationship next year, is we are going to continue to deliver search value, which Google historically has paid for. And as long as that doesn't contravene any of their guidelines or deprecate their brand, then those relationships stay for a long, long while. I spent most of my career developing these relationships. We have a very good relationship with Google, we are going to build that relationship stronger and we took significant steps that we just talked about today (installed the above new features, changed management and the company is exiting third-party toolbar business) to move away from anything that could even approach devious behaviors that would compromise that relationship. So I'm comfortable that it'll continue."
In its recent 3Q13 conference call, the company announced that it is exiting third-party toolbar business and trying to focus on more profitable organic search users. Third-party distribution represents about 27.5% of platform revenue (or 9.4% of total revenues) in 3Q13, and is substantially less profitable and strategic.
Problem analyzed
The contract would have already been terminated, if Google wanted: Google is AVG's major customer contributing 44% of the revenues as of FY12 and hence losing it could be a major problem. However, it is important to note that in November 2012 AVG renewed its contract with Google by signing a new Internet search and advertising services agreement which expires on 30 November 2014 which is terminable in second year (by either party) from 30 November 2013 upon 60 days notice which must be received on or before 1 October 2013. The complaints and the issues mentioned above were bought to Google's attention in April 2013. Google had ample time to terminate the contract (on or before 1 October 2013), if it wanted to, but it didn't. Because after complaints AVG has taken steps like: one-click uninstall process for its toolbar, toolbar not checked during the free anti-virus download process (user has to check the box manually, if they want to install it), not installing automatically (as was the case previously) when any of AVG's products are downloaded, announcing exiting of its third-party toolbar business and change in management, it seems like Google is comfortable with AVG. Anything may happen in the future, the above point just highlights that Google had the option to cancel, if it wanted, but it didn't.
Catalysts
1) Minimal impact on revenue growth and profitability: Quarterly revenues from Google went from 48% (as a % of total revenues) in 3Q12 to 24% in 3Q13. That's a 24% wipe-off in top line from a big client. Number of searches declined to 1.4 billion as compared to 1.8 billion in the prior quarter. This was mainly due to adding new features as discussed above and change in the way an offer is presented to a user. Previously when AVG free anti-virus was downloaded, the safe-search toolbar download box was already checked. Unless the user doesn't unclick the box, downloading AVG free anti-virus would automatically download AVG's safe-search toolbar. Now with the new policy the box is un-clicked and the users have to check the box to download the toolbar. This has resulted in a significant decrease in AVG's acceptance rate of the offer, which directly affects revenue.
This 24% wipe-off in top line theoretically should have a major impact on revenues and bottom line. However, that was not the case. Overall revenues increased by 5.1% for 3Q13 as compared to previous quarter. Platform-derived revenue (advertisement revenue-sharing) declined by 26% but that was offset by 34% growth in subscription revenues. Basically, even with a 24% decline in revenues from a big client (Google), EBITDA only declined by 18.5%, free cash flow by 14.8% and operating cash flow by 1.7%. This shows that the company is growing strong in other areas which are offsetting the decline in platform derived revenue. As of FY13, revenue contribution from Google is approximately 29% down from 44% in FY12. By next year this will be down significantly to approximately 19% (as modeled), after which the contribution from Google would be insignificant to have any impact on top or bottom line. In FY14 AVG's bottom line could feel some pressure of this declining revenue steam, however the impact would depend on growth in other areas, which may offset the decline. FY15 onwards revenue contribution from Google will be down significantly after which it may not have any significant impact on top or bottom line, and the growth should resume again.
2) Diversification of platform revenues: To mitigate the heavy dependence on Google for its platform revenues and to offset the loss, AVG is trying to diversify and now has search agreements with Google (ending Nov 2014), Yahoo (ending late 2015), Bing, and Yandex (Russia/Turkey). While Google is falling, Yahoo is picking up. See the chart: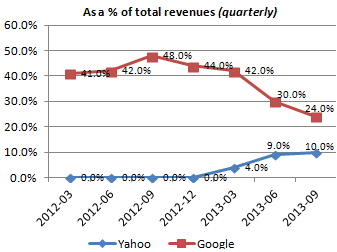 3) Significant and growing part of the business is consistent and growing: With 16 million customers, revenue stream from subscription segment: premium security antivirus, Internet security, and Tune-Up (maintenance/utilities) software is a consistent business. Also this segment is highly profitable with gross margins as high as 85%-90%, contributes approximately 60% of total revenues (as of TTM 3Q13) and has been growing on average by 19% for the last 7 quarters. The contribution of this segment could be as high as 70% - 75% next year. This segment is ignored by the market.
4) Industry growth: IT security is a USD 60bn industry. As per Gartner, the security infrastructure spending market stood at USD 62 billion in 2012 with an 8.4% growth rate. It also forecasts that the worldwide security technology and services market will reach USD 67.2 billion in 2013, up 8.7%. Gartner analysts outlined three main trends influencing the technology security industry moving forward - big data, mobile security, and advanced targeted attacks. The firm projected that the market would grow by another 28% from 2013 to 2016 to more than USD 86 billion. It also highlighted that cyber security, which was previously a concern for larger companies and is now a worry for small and medium businesses as well. Security is becoming one of the top IT concerns and is considered to be a top priority across all technology categories in large, medium and small business. Smart phones and tablets are becoming common and number of devices connected to the internet have increased at 16% cagr from 2010 - 2014 and this trend will continue world-wide. This has resulted in increasing mobility of the workforce and growing demand for remote access has also raised new security concerns and requirements: and hence the need for protection has increased exponentially. This coupled with consistent increases in the complexity and volume of targeted attacks and necessity of companies to address regulatory or compliance-related issues have all added to the growing demand and are driving the industry growth. North America has the biggest slice of the global cyber security market pie. Overall, North America is set to spend USD 93.6 billion on cyber security in next 10 years, from 2013 to 2023, as per recent estimates. Europe comes next, with the total cyber security market valued at around USD 24.7 billion. Asia-Pacific is projected to spend an estimated USD 23.2 billion on cyber security in the next decade, followed by the Middle East and Latin America with USD 22.8 billion and USD 1.6 billion respectively. With USD 400 million in annual revenues AVG doesn't even have 1% share of this huge and growing industry and has very significant room to expand.
5) Management changes: On 4 December 2012 the company announced that Rob Blasman resigned as a managing director of AVG's management board, effective 29 November 2012. In December 2013 the company announced that Dariusz Prończuk resigned as a supervisory director of AVG's supervisory board, effective 12 December 2013. In a filing dated 30 August 2013, it was announced that John Giamatteo (Chief Operating Officer) wishes to resign as a managing director to pursue other opportunities. He was recently appointed as a managing director effective 19 June 2013, for a period of 4 years. On 31 July 2013, AVG announced Gary Kovacs as Chief Executive Officer and Managing Director. Mr. Kovacs was most recently CEO of Mozilla Corporation and responsible for expanding the company's desktop and mobile businesses. On 30 Jan 2014, the company hired Todd Simpson as a chief strategy officer. He was the chief of innovation at Mozilla where he spearheaded the move to mobile and cloud. These recent resignations and new appointments are most likely related to the secure search toolbar issues discussed above and the company's effort to innovate (organically or via acquisitions) and diversify its revenue base.
It is important to note that the new CEO (Mr. Kovacs) will only be paid annual base salary of USD 600,000; annual performance bonus up to USD 600,000; 400,000 options; 500,000 restricted stock units (subject to the terms). Basically most of his worth is related to the stock price of the company which serves the management an incentive to perform and grow. Probably he is initiating all the management changes and wants the new management of his choice? The point being this new management would need to prove itself and their fortunes are tied to the stock price: so they strive their best to perform.
6) Reward based on stock price: In 3Q13 the company granted 100,000 market restricted stock units (market RSU's) to the CEO at a grant date fair value of USD 5.56. Subject to the CEO's continued service to the company, the market RSUs will vest if the average closing price of the company's shares (for last 30 consecutive trading days) exceeds 2.5 times the closing price of the shares on the Start Date (31 July 2013: stock price USD 22), as defined in the RSU agreement. This is a clear motivation for the CEO to get that stock price up organically or via acquisitions, buy backs or anything else as his incentive is evidently tied to it.
7) Small and medium business (SMB): AVG is focusing on and trying to strengthen its offering to businesses. It acquired Level Platform (offers remote monitoring and management platform) in 2Q13, a managed workplace solution, to complement its CloudCare product for small and medium businesses. Level was purchased for 1.9x sales and is expected to contribute 5m of revenue in 2013 and 15m in 2014. With hacking at its all time high and only growing exponentially, SMBs could be a huge growth area for AVG. On 19 December 2013, it was reported that about 40 million Target customers (one of the biggest retailers in the US) had personal and credit/debit card information hacked in a security breach. Later it was confirmed that number of people affected were 70-110 million. The theft went undetected for almost 2 weeks. Following this, in January 2014, Neiman Marcus (a high-end retailer) announced that they have had similar data theft issues and it was undetected from July until mid December 2013. Even big, well established companies are vulnerable to data theft and hence damaged reputation. One can only imagine how vulnerable small and medium businesses are. This shows that our corporates are extremely underinvested and vulnerable to the exponentially growing and increasingly sophisticated malware attacks. With such incidents companies will start focusing on security and increasing their security budget in overall IT spending.
Two-thirds of Symantec's (AVG's competitor, known for its Norton anti-virus product) revenue is generated from software programs designed for enterprises and large corporations. However, for AVG that's not the case. Services to small and medium businesses, enterprises and large corporations is a huge untapped market for AVG and could be the next growth area for the company.
8) Taking advantage of the situation: End of November 2013 Symantec announced plans to close down its Backup Exec.cloud service (cloud-based offering for small businesses and remote branch offices). The service is mainly focused on off-premises data protection for sites with no IT staff. The rationale for shutting down the service was that it lacks mobile and content-sharing features such as synch & share and mobile access, which the customers very much want. Simplifying its product lineup to provide fewer, more integrated solutions were also a few more reasons for closing.
Symantec stopped selling subscriptions or renewals for this cloud service on 6 January 2014 and the service and support for it will end on 6 January 2015. Refunds will be made to customers with multiyear subscriptions that go beyond that date. To compensate, Symantec is offering its other products which have similar features at a discount to the existing users of this service. However, current users will have to migrate their own data to any alternative service as customers' data in the cloud will be deleted after their subscriptions expire. As per the article, Symantec is not able to provide any data migration services as part of this announcement.
Taking advantage of the situation, on 10 December 2013, AVG offered AVG Online Backup service (cloud-based small business protection platform) for free, to the existing Symantec Backup Exec.cloud channel partners looking for migration. The offer is only for a limited time (until 31 March 2014). Those customers (partners) affected can immediately receive alternative protection and an initial free license(s) of AVG CloudCare Online Backup for the remaining term of their existing Symantec Backup exec.cloud license(s). Additionally, they will also receive AVG AntiVirus license(s) for 12 months. However, by taking the offer partners commit to giving customers a paid subscription to begin at the expiration of the term. Capturing these partners and customers would help AVG boost its base.
9) Exponentially growing mobile base still untapped: AVG mobile active users stand at 55 million as of 3Q13 and is growing exponentially at triple digits. The company hasn't been able to monetize this segment so far (neither subscription nor search), and is focused on this growing opportunity. It expects to see some contribution in 2014. With mobile malware increasing at a very rapid pace, attacks getting more sophisticated and smartphones having all the personal information and data needed for hackers, consumer security becomes a focal issue and AVG is well-positioned for this. The company is planning to start monetizing this base from 2014 onwards. Long term plan is to provide a connected solution across both mobile and PC platforms.
ABI Research estimates the current mobile security management market to total USD 560m by the end of 2013 globally and to double to more than USD 1 billion by 2015.
10) Valuation: Multiple approach: As of TTM 3Q13 AVG is trading at an EV/FCF and EV/EBITDA of approximately 6.9x. This is quite cheap for a net debt free technology company that has stable free cash flow, with return on capital employed of more than 100%, operating in a growing industry and has been increasing its revenues and EBITDA at double digits. Its closest competitor Symantec (NASDAQ:SYMC), which is much more matured, trades at an EV/FCF of 11x. Assuming an 8.5x FCF multiple gives a stock price of approximately 21, a 24% upside.
DCF approach: Assuming that profits would take a hit, a negative growth rate of -8% in 3Q13 TTM FCF for next 3 years (discounted at 10%) and then a 1% terminal growth rate discounted at 13% gives a stock price of approximately 21, a 23% upside from the current stock price of 17.09 even with pessimistic assumptions.
Sum of parts approach: Assuming FCF multiples of 10x for the subscription business and 4x for platform-derived business gives a stock price of 19ish, approximately 15% upside.
Further assuming a dire scenario of a 25% and then 15% drop in platform-revenues in FY14 and FY15, while subscription revenues increasing by 20% and 10% for the same period, respectively, the company trades at an EV / FCF multiple of 8.0x in FY15, as modeled. A 9.0x FCF multiple in FY15 would give a price of approximately 19.
In essence, the stock is trading at levels with built in margin of safety and is undervalued in every approach, even using pessimistic scenarios. Also, none of the 7 sell-side analysts have a sell recommendation (1-buy, 6-neutral), with a minimum target of 18.5 and a high of 29 (median 18.5, mean: 19.7).
11) Share buy-back: With stock trading at a discount, on 13 November 2013 AVG announced the second tranche of its repurchase program (the first tranche was initially announced on 9 May 2013). AVG may repurchase up to 2.5 million shares (4.6% of diluted shares outstanding as of 3Q13) between 13 November 2013 and 10 May 2014. During the first tranche, 1.5 million shares were repurchased between 19 June 2013 and 5 November 2013. Buybacks gives some confidence and support to stock price.
12) Recent value fund betting big: As per 13-d filed on 26 December 2013, Okumus Fund Management increased its stake in AVG to 8.3 million shares (approximately 15.2% of diluted shares outstanding) from 4.1 million shares as per 13-d filed on 15 November 2013. Okumus is an opportunistic value fund and they usually place concentrated bets with portfolio of 20 or fewer stocks. The fund definitely sees value in the company and hence has recently doubled its stake.
13) Acquisition target: AVG operates in a very fragmented market. With its huge active and growing user base, low valuations (7x EBITDA and FCF multiple) and IT companies having a lot of cash on the sidelines, it could very well be an acquisition target. Also, recent acquisitions in IT security (below are a few) have been at significantly higher multiples as compared to current AVG trading levels.
McAfee was acquired by Intel (NASDAQ:INTC) in 2011 for USD 7.68 billion at a 15x EBITDA multiple (more than twice AVG's current EBITDA multiple).
Intel via McAfee continues to acquire smaller technology security companies. In July 2013 McAfee acquired Stonesoft Oyj, develops and markets software security products: firewall, virus protection and encryption products, for USD 389m, 7.5x sales multiple (3.2 times AVG's current sales multiple). AVG currently trades at 2.3x sales as of TTM 3Q13.
In October 2013, Cisco Systems (NASDAQ:CSCO) acquired Sourcefire, a maker of cybersecurity software to boost the company's growing security business. The deal was priced at USD 2.7bn, 9.3x sales multiple (4 times AVG's current sales multiple).
On 22 January 2014, VMware (NYSE:VMW), the leading provider of virtualization software, announced to acquire AirWatch, a private company: maker of mobile security and mobile management software, for about USD 1.54bn, estimated 15x sales multiple (6.4 times AVG's current sales multiple).
Conclusion: AVG is in a dynamic and growing internet security business and is trying to be a one-stop-shop offering enhanced performance and optimization, protection (pc, mac, desktop, laptop, tablet and mobile: Android and iOS), privacy, back-up and cloud services. The company needs to focus on execution and strategy, targeting enterprise rather than individuals, which we may see with the change in management. Company's exponentially growing and untapped mobile user base, great opportunity in SMB segment and existing sticky customer base is ignored by the market and the spotlight is just on platform-derived segment, which has recently faced problems. As we discussed in the thesis, even if revenues from platform-derived segment fall significantly, growth from other segment (subscription) would be able to offset that.
Other points ignored by the market include a huge insider ownership of approximately 27%, recent management changes and potential for a turnaround, smart acquisitions within the internet security by buying small businesses from all over the world (4 acquisitions just in 2013), very focused R&D side of the business as that expense is growing at an average rate of 35% - 40% showing their commitment to innovate, add better functionalities and make a better product.
AVG will announce FY13 results on 19 February 2014. If the company announces a significant fall in its FY14 guidance or misses its FY13 estimates, the stock price could fall 10% - 15%ish. That might be a buying opportunity. On the other hand, if it beats estimates and guides better for FY14, with a 28% short as a % of float (as of 31 Jan 2014) and a short ratio of 10.7 days, short covering could result in a significant price rise.
Disclosure: Long AVG
Disclaimer : This is not an investment advice. DO NOT make any investments based on this article. Please read the disclaimer in detail.
Disclosure: I am long AVG. I wrote this article myself, and it expresses my own opinions. I am not receiving compensation for it. I have no business relationship with any company whose stock is mentioned in this article.