(Editors' Note: This article covers a stock trading at less than $1 per share and/or with less than a $100 million market cap. Please be aware of the risks associated with these stocks.)
I have been following Soligenix (NASDAQ:SNGX) since last summer and am still a big fan of the company. One of the reasons I like SGNX is that management can executes its strategy very well. In my previous articles about SNGX, I talked about its multiple clinical and preclinical programs targeting various indications including oral mucositis, Crohn's disease, and biodefense vaccines.
In this article, I am going to discuss a specific program, melioidosis, in which Soligenix is making progress.
Soligenix Initiates development of SGX943 for Melioidosis
On February 14, 2014, Soligenix announced that the National Institute of Allergy and Infectious Diseases (or "NIAID") has awarded Soligenix a Small Business Innovation Research (or "SBIR") grant to support further preclinical development of SGX943 as a treatment for melioidosis. The award will provide Soligenix with approximately $300,000 over one year to conduct the studies in collaboration with Tulane University.
Melioidosis remains a significant biothreat as well as a major life-threatening endemic disease in Southeast Asia and Northern Australia. Melioidosis is caused by the Gram-negative bacterium Burkholderia pseudomallei (or "BPS"). Current treatment for melioidosis requires long and intensive antibiotic administration and extensive supportive care. In endemic regions, mortality from melioidosis can be as high as 40%. In addition to causing a high rate of endemic disease in Southeast Asian and Northern Australia, Bps is also considered a top five priority in the most recent Public Health Emergency Medical Countermeasure Enterprise (or PHEMCE) Strategy document.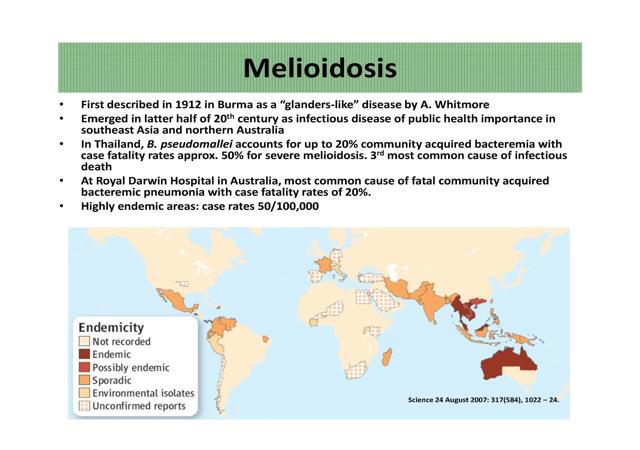 SGX943 is the drug product designation for the active ingredient SGX94 in the treatment of melioidosis. SGX94 is an innate defense regulator (or IDR), a new class of short, synthetic peptides that has a novel mechanism of action in that it has simultaneous anti-inflammatory and anti-infective activity. IDRs have no direct antibiotic activity but modulate host responses, increasing survival after infections with a broad range of bacterial Gram-negative and Gram-positive pathogens, as well as accelerating resolution of tissue damage following exposure to a variety of agents including bacterial pathogens, trauma and chemo- and/or radiation-therapy.
SGX943 has been comprehensively evaluated in bacterial infection models and has shown preclinical efficacy with Gram-positive methicillin resistant Staphylococcus aureus (or MRSA) as well as with other Gram-negative pathogens. As an innate defense regulator, SGX943 does not have direct antibacterial activity, but rather stimulates the innate immune system to combat infection while simultaneously suppressing inflammation. Thus, SGX943 has the potential to be a novel adjunctive treatment paradigm for antibiotic resistant infections, including melioidosis.
This new grant will support further evaluation of SGX943 in the treatment of melioidosis in preclinical studies. These results will represent a significant step forward in the development of SGX943 as a medical countermeasure for melioidosis.
Soligenix has two distinctive programs for melioidosis now: SGX943 and SGX101.
Soligenix is also developing SGX101 for the treatment of melioidosis through a worldwide exclusive collaboration with Intrexon. Under this collaboration with Intrexon, Soligenix intends to develop and commercialize human monoclonal antibody therapies for new biodefense and infectious disease applications for melioidosis using Intrexon's advanced human antibody discovery, isolation and production technologies. Intrexon will provide discovery and development of therapeutic antibody candidates, as well as optimize and expand production of human monoclonal antibodies targeting melioidosis. Soligenix will undertake preclinical and clinical development, regulatory and government interactions, as well as the commercialization of therapeutic products.
We are very pleased to see that Soligenix is advancing its melioidosis programs, especially for the SGX943 program through the government support. The grant from the US government not only boosts the company's balance sheet in a non-dilutive way, it also further validates the company's platform technology.
The melioidosis program further expands Soligenix's biodefense pipeline, which has the potential to qualify for the FDA's tropical disease voucher program sometime in the future.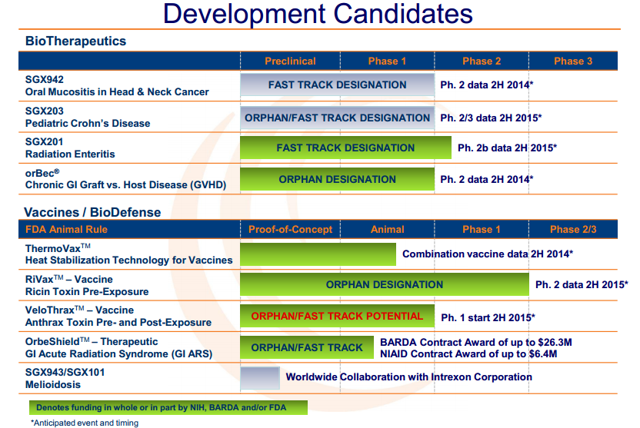 Market Potential for Melioidosis
Melioidosis is a potentially fatal infection caused by the Gram-negative bacillus, Burkholderia pseudomallei (or "BP"). Highly resistant to many antibiotics, Bp can cause an acute disease characterized by a fulminant pneumonia and a chronic condition that can recrudesce. Antibiotic therapy is intensive (involving both intravenous and oral administration over months) and despite this therapy, the mortality rate still ranges from 15 - 40%. There is no preventive vaccine or effective immunotherapy for melioidosis. Therefore, there is a significant medical need for improved prevention and therapy.
Bp infection (melioidosis) is a major public health concern in the endemic regions of Southeast Asia and Northern Australia. Moreover, the organism has a worldwide distribution and the full extent of global spread is likely underestimated. In Northeast Thailand, which has the highest incidence of melioidosis recorded in the world, the mortality rate associated with Bp infection is over 40%, making it the third most common cause of death from infectious disease in that region after HIV/AIDS and tuberculosis. Bp activity is seen in Southeast Asia, South America, Africa, the Middle East, India, and Australia. The highest pockets of disease activity occur in Northern Australia and Northeast Thailand with increasing recognition of disease activity in coastal regions of India. Melioidosis has been under recognized and is likely to be under-reported in China.
Estimated Incidence of Melioidosis in Certain Countries/Regions
| | |
| --- | --- |
| Country/Region | Incidence |
| Northeast Thailand | 21.0 /100,000 |
| Southwestern (Er-Ren River Basin) Taiwan | 36/100,000 |
| Northern Australia | 19.6 /100,000 |
| Kimberley region of Western Australia | 14/100,000 |
| Singapore | 1.7/100,000 |
| Alor Setar, Malaysia | 16.35/100,000 |
| India | conservative estimate 10/100,000 |
| China | conservative estimate 10/100,000 |
Beyond its public health significance, Bp and the closely-related B. mallei (or "Bm") are considered possible biological warfare agents by the U.S. Department of Health and Human Services (or "DHHS") because of the potential for widespread dissemination through aerosol. Bp, like its relative Bm that is the cause of Glanders, was studied by the U.S. as a potential biological warfare agent, but was never weaponized. Bp is classified as a Tier 1 biothreat and a category B priority pathogen by the National Institute of Allergy and Infectious Diseases ("NIAID") and is a top five priority in the most recent Public Health Emergency Medical Countermeasure Enterprise ("PHEMCE") Strategy document.
Melioidosis is a disease of the rainy season in endemic areas. Bp is a saprophytic organism found widely in soil and is associated with high mortality. It can be transmitted from the soil to humans by inhalation, through cuts in the skin and by ingestion. It mainly affects people who have direct contact with wet soils and/or have an underlying predisposition to infection, i.e., individuals with diabetes mellitus, renal disease, cirrhosis, thalassaemia, alcoholism, or those who are immunosuppressed, as well as individuals who are immunologically naïve. In retrospective studies, up to 20% of documented community-acquired septicemias in Thailand, and 40% of all deaths due to community-acquired septicemia, are caused by melioidosis, despite aggressive antibiotic treatment.
Bp is intrinsically resistant to antibiotics normally used for first line treatment of Gram-negative bacteria, including first, second and third generation cephalosporins, aminoglycosides, penicillins and polymyxin, highlighting the need for recognition of melioidosis when presumptive antimicrobial therapy is commenced. Lengthy courses of treatment are required, including a prolonged eradication phase.
Soligenix is currently pursuing two novel and proprietary development approaches with its melioidosis program, which the Company anticipates funding in large part through government grants and / or contracts:
SGX943, an Innate Defense Regulator ("IDR") immunotherapy, which has been shown to have preclinical efficacy against both gram-positive and gram-negative bacterial pathogens, including those that are antibiotic resistant. Since SGX943 enables the host innate defense system without targeting the bacteria directly, it has the potential to be broadly applicable in infectious disease and can be given when fear of antibiotic resistance prevents the use of antibiotics. In addition, it can be given before a definitive diagnosis of the causative agent of infection is known.
SGX101, a monoclonal antibody (or "MAB") or monoclonal antibody cocktail as a passive immunotherapy. Passive immunotherapy utilizes antibodies in the same manner a host-derived antibody would be used, targeting and labeling foreign entities and infected cells. SGX101 is the designation for a novel therapeutic product for melioidosis to be developed under an Exclusive Channel Collaboration between Soligenix and Intrexon Corporation (NYSE: XON). SGX101 is intended as a human Mab therapy directed at host cells infected with Bp. SGX101 may also be utilized in conjunction with available antibiotic therapy.
Either of these approaches, if successful, may be extended to other difficult to treat bacterial infections. In particular, the IDR approach could be directly translated to other infections. In the case of SGX101, the product would be specific to Bp and perhaps Bm infection but the process whereby the product was identified could be generalized to other difficult to treat infections with intracellular bacteria.
There are several major market segments that can be projected for an immunotherapy against melioidosis, assuming product sales initiating in 2018, as outlined below. In addition protection against different virulent strains of Bp may also translate into protection against Bm, which could be used in veterinary medicine or under exceptional circumstances in humans (e.g., human glanders).
Potential for DHHS and Department of Defense (or "DOD") Stockpiling.
A single dose of an effective Mab or cocktail or IDR could be sold to the DHHS through project BioShield, administered by Biomedical Advanced Research and Development Authority (or "BARDA"). It is projected that the immunotherapy product would be supported during inception through early DoD or DHHS (National Institutes of Health) grants and contracts, as Bp is a high priority agent within the PHEMCE initiative of DHHS. For the later phases, the acquisition of the immunotherapy through BioShield would be based on the potential for emergency use authorization (or "EUA") and would be supported by development, manufacturing, and acquisition contracts that can be estimated at $300-400M for a successful immunotherapy countermeasure through 2025. These figures are similar to the contract awards to other suppliers of DHHS monoclonal antibody-based medical countermeasures.
Potential International Markets Opportunity.
Initial markets would comprise Thailand, Australia, India and China. Market estimates would depend on the cost of the treatment and the need for prior absolute diagnosis for Bp. A relatively low-cost and safe treatment which could be given prior to absolute diagnosis of Bp would have a larger market potential in these regions. It is expected that immunotherapy would ameliorate the outcomes of acute infections in conjunction with antibiotics and also would be used in longer term treatment regimens to prevent recrudescing disease.
Soligenix is Undervalued
We maintain an Outperform rating for Soligenix and reiterate our 12-month price target of $4.50 per share.
Soligenix is a mid-stage development biopharmaceutical company focused on cancer supportive care and GI disorders, two large pharmaceutical markets both in the US and around the world. Soligenix also develops vaccines/oral therapeutics for biodefense.
Soligenix has built a diversified pipeline using three proprietary platform technologies. We are especially optimistic about its lead drug candidate SGX942 for the treatment of mucositis. SGX942 is currently under a Phase II study. Results will be available in 2H14, which, if positive, would be a significant de-risking event for Soligenix. SGX942 has a new mechanism of action and will command a significant market share of the oral mucositis market if approved in our view.
The Company's oral BDP has the potential to target multiple GI disorders such as Crohn's disease, radiation enteritis and GVHD as well as ARS.
Soligenix's vaccines and biodefense therapeutics are being developed under specific FDA regulatory guidelines called the "Animal Rule." The Animal Rule provides that under certain circumstances, where it is unethical or not feasible to conduct human efficacy studies, the FDA may grant marketing approval based on adequate and well-controlled animal studies when the results of those studies establish that the drug is reasonably likely to produce clinical benefit in humans. Demonstration of the product's safety in humans is still required.
We think the "Animal Rule" means a lot for Soligenix, because this can accelerate the development of the ricin and anthrax vaccines as well as OrbeShield. Once approved by the FDA, Soligenix will have the opportunity to negotiate a stock-pile contract with the US government. These stock-pile or procurement contracts have been very lucrative for other companies supplying similar drugs to the US government and will provide significant cash flow to Soligenix.
Based on our analysis, we think Soligenix shares are undervalued at this time. Currently, shares of Soligenix are trading at around $2.10 per share, which values the Company at $42 million in market cap. We admit that it's always difficult to value a development stage biotech company. Soligenix is no exception. However, we do think that current market value of Soligenix is a deep discount compared to its peers in the same industry.
Most small biotech companies of development stage are valued from $50 million to $500 million depending on how advanced the pipeline is and which indications the company is targeting. Soligenix has two Phase II programs, and two more programs will move to Phase II/III study this year. Soligenix has multiple catalysts in the next 6 to 12 month or so.
Our price target of $4.50 per share values Soligenix at $86 million in market cap which we think is very conservative.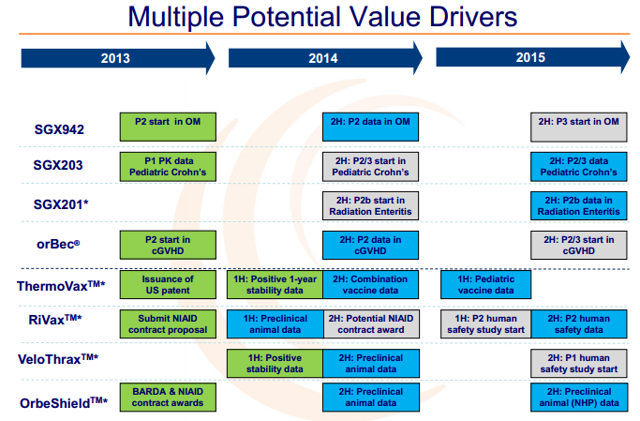 Disclosure: I have no positions in any stocks mentioned, and no plans to initiate any positions within the next 72 hours. I wrote this article myself, and it expresses my own opinions. I am not receiving compensation for it (other than from Seeking Alpha). I have no business relationship with any company whose stock is mentioned in this article.
Disclosure: I/we have no positions in any stocks mentioned, and no plans to initiate any positions within the next 72 hours.
Business relationship disclosure: I work as a Consultant Analyst for Zacks Investment Research. The article is written by me and is 100% my opinion. I receive compensation from Zacks for writing equity research reports and providing valuation analysis on this company's stock and expect to do so in the future. Zacks receives compensation from the company. Please see the Zacks Disclaimer for further information: http://scr.zacks.com/Disclaimer/default.aspx