Although the early price action in US markets has been a surprise to us, it has provided a nice opportunity for those who were looking to either add to positions or open new ones on a pullback. Although we are only about a month and a half into the new year, a lot has happened and there have been some moves by companies which we think set the table for some of our predictions to materialize.
First off, we think that M&A is going to see a serious rebound in 2014 and the early indications appear to back up that thinking with momentum building. As cash continues to pile up on balance sheets and equity prices rise, buying one's own stock becomes less attractive and buying other companies becomes more so.
Readers need to continue to watch this trend in the market, paying special attention to the tech sector and later on with the banking sector (although further clarification on the regulations will need to be issued before this ramps up in high gear).
Chart of the Day:
In our outlook for 2014 and beyond we highlighted biotech as a key driver of the Nasdaq, and one of the reasons we believed that all-time highs were attainable in the near-term. With the biotech sector having not given up their market leader status we continue to feel strongly about this call, even with the market turbulence in the first two months of this year.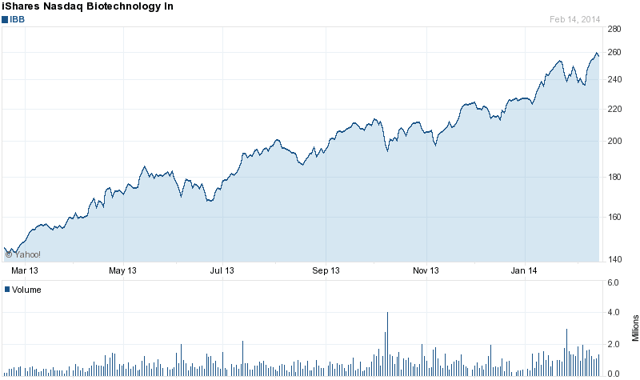 Source: Yahoo Finance
We have economic news today and it is as follows:
Empire Manufacturing (8:30 a.m. EST): Est: 7.5 Act: 4.5
Net LT TIC Flows (9:00 a.m. EST): Est: N/A Act: -$45.9 Billion
NAHB Housing Mrkt Index (10:00 a.m. EST): Est: 56 Act: 46
Asian markets finished higher today:
All Ordinaries -- up 0.18%
Shanghai Composite -- down 0.77%
Nikkei 225 -- up 3.13%
NZSE 50 -- up 0.00%
Seoul Composite -- up 0.03%
In Europe, markets are trading mixed this morning:
CAC 40 -- down 0.19%
DAX -- down 0.06%
FTSE 100 -- up 0.44%
OSE -- down 0.95%
Merger "Monday"
One of the things we have said we would be looking for in 2014 is a pick up in M&A activity across multiple sectors/industries. Already this year there have been a few large deals struck, but this morning has given investors further reason to cheer and believe that more consolidation could be down the road.
Investors are pushing shares of Forest Laboratories (NYSE:FRX) higher by nearly 30% after Actavis, PLC (ACT) said it would pay about $25 billion to acquire the company. The deal was structured to pay shareholders of Forest Labs $89.48/share, which was a 25% premium, with $26.04 being paid in cash and each Forest share being exchanged for 0.3306 shares of Actavis. With investors also pushing Actavis shares higher, we have seen the value of the deal increase and thus the reason for Forest rising by nearly 5% more than the stated premium.
This is the type of reaction that one likes to see when an acquisition is announced. It shows that management teams are making wise deals that increase shareholder value on both sides and paves the way for healthy growth down the road.
A Chink In The Armor
With all of the negative publicity surrounding the suits that the US Speed skating Team is blaming for their poor performance in the Winter Olympics, shares in Under Armour (NYSE:UA) have been under pressure as of late. The move is not a very large move overall, but when one looks at the market segment that this could theoretically affect we believe that the concerns are overblown and the market's reaction overdone.
After the last quarter, any weakness is to be bought. The speed skating suit issue has been a reason for investors to take profits off of the table, but the weakness is an opportunity for new investors to buy into a great name.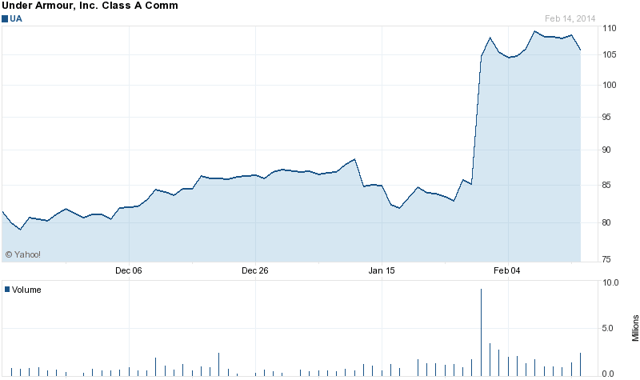 Source: Yahoo Finance
We have seen a few notes and articles over the weekend which stated that this was Under Armour's attempt to break out on the international stage in their ongoing battle with Nike (NYSE:NKE) and that the embarrassment for the team was an embarrassment for the company, but that too seems to miss the point with us. The old suits that the team switched back to did not change the results, so one has to believe that the issue is not with "the arrow, but the indian." Investors should take this weakness as a opportunity to add shares rather than fleeing the name. The concerns are overblown here and it is our belief that the company will continue to make inroads into various segments of Nike's business through innovation.
IPOs Soon To Arrive
We have previously discussed the likelihood that King Digital Entertainment, the maker of Candy Crush Saga and other popular app-based games, coming public in 2014. Well the company has now filed the paperwork to get the process started and Wall Street is very excited as there is prestige to be had and money to be made on such a deal. As great as this is for Wall Street and King itself, we still believe that investors in Zynga (NASDAQ:ZNGA) need to pay careful attention to this deal as it will give a competitor with serious momentum a currency to transact future deals with as well as keep key employees around should the stock perform decently.
We have not been fans of Zynga for quite some time; believing that each rally should be sold into and having been correct in this thinking for over a year. With the King IPO in the works, it might be time for speculators to once again book recent profits in Zynga as potentially rough seas lie ahead. There are much better places, from a value standpoint as well as a momentum standpoint, to invest one's capital right now.
Disclosure: I have no positions in any stocks mentioned, and no plans to initiate any positions within the next 72 hours. I wrote this article myself, and it expresses my own opinions. I am not receiving compensation for it (other than from Seeking Alpha). I have no business relationship with any company whose stock is mentioned in this article.