PetSmart Inc (NASDAQ:PETM), the leading provider of products, services and solutions for pets in North America, dropped sharply in early 2014 after analysts at Deutsche Bank downgraded the stock. In doing so, they joined UBS in already downgrading the stock this year. As a result, the share price is now down some 16% from its 2013 high.
Our research indicates that the company has potential, owing to strong financial position and positive demographic trends. The recent drop in share price means there is good value in acquiring the stock at current prices.
Strong Financials
PETM had an unexciting 2013, gaining just 6.4% before dividends, compared to the 29.5% total return of the S&P 500. However, the return may not be justified given the strong financial situation of the company. The last 5 years have seen net income grow at an average rate of 12.7% while EPS for 2013 was $3.55. This is expected to grow to $3.97 per share in 2014 and $4.50 per share in 2015.
Price Earnings (NYSE:PE) has dropped to 16.14 following the recent downward lurch and Price Sales (P/S) to less than 1. Furthermore, PetSmart maintains a respectable Return on Capital (NYSE:ROC) rate of 43.7% and an Earnings Yield of 8.9%. The balance sheet position is also stable with $300m of available net cash and $500m of debt.
Demographic Trends
On the whole, our view for specialty retailers in 2014 is mixed as discretionary retailers could underperform. With regard to pet supplies retailers, our view is more optimistic and our research points to solid growth in 2014/15 driven by stable demographic trends. We maintain that the industry is relatively recession-resistant and we feel consumers will continue to look after their animals withstanding a dramatic drop in income. With this in mind, our analysis suggests sales will rise by 2.9% in 2014 and 5.9% in 2015 as a result of 45-50 new store openings and a 3% - 4% increase in same store sales. We also envisage a 1% boost to same store sales from inflation.
In terms of negative risk factors, we report the main risk factors to be major macro-economic headwinds that could negatively impact store traffic and sales, the inability for the company to find attractive locations for new stores and competitive pressures from other retailers.
Bottom Line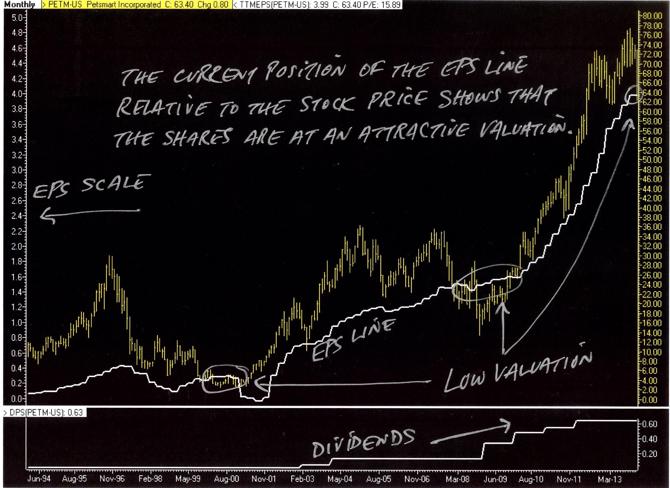 (Source: ThomsonOne / John Schwinghamer PurpleChips.com)
Importantly, we suggest that the position of PETM EPS relative to price shows that the valuation of PETM is at the low end of its historical 20 year range. As you can see from the chart, the recent decline has taken the market price back to the EPS line, indicating historically low valuation.
Our analysis suggests a 12 month price valuation of $75 for the stock on the high side and $66 on the low side. This is according to our Purple Chips model based on DCF and historical valuation ranges and compares with the average analyst PETM target of $75.22 according to First Call. We conclude that the stock is undervalued at current prices.

Thanks to analyst downgrades and recent market pullback, prices offer an excellent proposition for value investors.
Disclosure: I am long PETM. I wrote this article myself, and it expresses my own opinions. I am not receiving compensation for it. I have no business relationship with any company whose stock is mentioned in this article.