1. Business overview
Hexcel Corp (NYSE:HXL) engages in the development, manufacture and marketing of lightweight and high-performance structural materials with commercial aerospace and defense and industrial applications. Its products have a variety of end-applications, such as commercial and military aircrafts, space launch vehicles and satellites, wind turbine blades, automotive, skis, etc.
Hexcel is a company with more than half-a-century long tradition (founded in 1946) and is currently the leader in advanced structural materials worldwide. It has 17 plants in North America and Europe and 1 in Asia and is based in Stamford, Connecticut.

Image by Hexcel
2. Last earnings report
Hexcel Corp. reported great Q4 earnings on January 23, 2014. Fourth quarter fully diluted EPS came in at $0.46, which was 28% higher than the previous year's $0.36. Sales during that period were also 10% higher than last year's, which was driven mainly by the Commercial Aerospace segment - an important trend that I am going to discuss in further detail later.
The concluded fiscal year was also very strong for Hexcel. Sales edged up 6.3% and EPS was up almost 20% on a YoY basis.
Overall, HXL has a history of strong earnings performance. Since 2010, the company beat expectations 11 times, met them twice and missed only once.
3. Catalysts
Investing in Hexcel is for people who buy into the U.S. and global economic recovery. As a major player in the carbon-fiber market, Hexcel is expected to benefit from the rapidly growing demand for composites. According to Lux Research the carbon-fiber market is set to increase at a rate of 13% annually, growing from the current $14.6B to $36B by 2020. With just a few analogous companies available on the stock market, Hexcel is set to fly higher than the Airbuses (OTCPK:EADSY) and Boeings (NYSE:BA) it produces.
We all know that diamonds are the hardest material on Earth. In fact, they are 58x harder than the next hardest mineral - carbon, which makes up diamonds. Carbon, therefore, provides engineers and manufacturers with enormous advantages - it is very strong, cost-efficient, weighs less than the majority of other materials, and is able to conduct heat.
Carbon also makes up many highly cyclical end-products, most of which I am very bullish on. For example, the automotive industry is a place where carbon fiber has been finding use recently. Compared to steel, carbon fiber-reinforced polymers make the coupe 30-50% lighter and a lot cheaper to assemble. Moreover, from a customary satisfaction standpoint, carbon has corrosion resistance.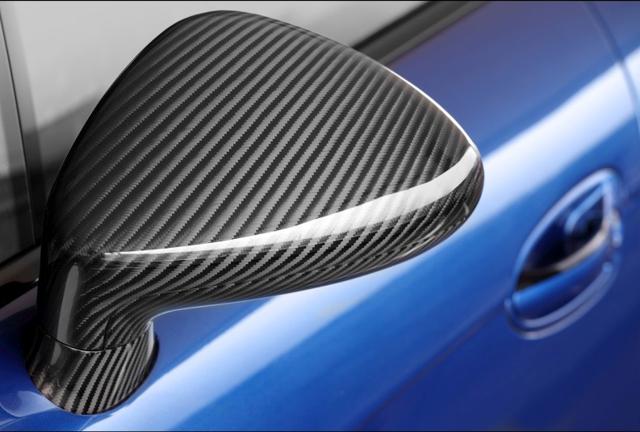 Image by News Hot Car
Hexcel is also a major player in the wind turbine industry, which has plateaued in the recent years, but is still an important piece of the green-product portfolio of giants like General Electric (NYSE:GE). Its Hexply technology, which is used in glass or carbon fiber prepregs, is cutting edge, and gives Hexcel a great advantage over its competitors.
Now my favorite part: within the carbon-fiber market (comprising 77% of Hexcel's total sales), the company generates the majority of its revenues through commercial aerospace products - 63% of total sales by end-industry (the rest 23% come from Space & Defense and 14% from Industrial goods). According to PwC analysts, the demand for commercial jets is expected to increase by 40% to 1,700 large aircrafts annually. Although, according to the PwC research, the defense industry is struggling with sequestration and government uncertainty, in the commercial aerospace industry we are witnessing output levels and backlogs of record proportions, coming mostly from Asia, the middle East, Eastern Europe and Latin America. Hexcel is on its way to cash in from this immense growth with their long-term contracts with leading commercial aerospace providers, such as Boeing, Airbus, Lockheed Martin (NYSE:LMT), etc. In early November, Boeing and Hexcel came out with a statement that, because of the expected growth in demand, they are going to expand their joint venture - Aerospace Composites Malaysia - by 40%. It produces surfaces for all of Boeing's commercials programs, including the 737, 747-8, 767, 777 and 787 Dreamliner.
These long-term commitments between Hexcel and the commercial aerospace providers I mentioned earlier are a result of the superiority of carbon fiber over aluminum as a building material. Carbon fiber is increasing more and more as a percentage of the total weight of all modern jets. For example, Airbus A350 MSN2 has 53% of its airframe made up of carbon-fiber-reinforced polymer (CFRP). [For a full breakdown, click here].
4. Summary and Price Objective
Just to recap, more than 3/4 of Hexcel's sales come from the carbon fiber composites market, which is expected to almost double before 2020. What is even more impressive, more than half of the sales are made with major commercial aerospace providers, which seem to be thriving in this environment. The other half comes from automotive, wind turbine and other cyclical end-products, which are expected to further grow, while also utilizing more carbon-fiber composites.
Hexcel is seen by many as the leading carbon fiber composite materials supplier and will, in my opinion, trade at a premium to the market in order to factor in the expected strong demand for composite materials, which I already discussed. Further, because of the rather unique exposure of Hexcel, I expect the market to put scarcity premium on the company's stock.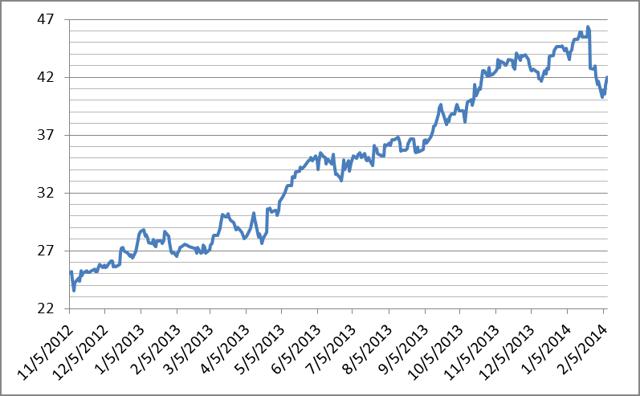 Data from Yahoo! Finance
Recently, the market presented an excellent buying opportunity to everyone who had missed it - stock is trading in the $42-43 price range, after a pullback from its $45-46 levels. According to my valuation, by the end of the year, Hexcel will be trading at $50 at a forward multiple of 25 on Q4 2014 estimates.
Disclosure: I have no positions in any stocks mentioned, but may initiate a long position in HXL over the next 72 hours. I wrote this article myself, and it expresses my own opinions. I am not receiving compensation for it (other than from Seeking Alpha). I have no business relationship with any company whose stock is mentioned in this article.