By Nick Hodge
I covered smart grid start-ups on Tuesday, in which I mentioned Itron Inc. (NASDAQ: ITRI) as a pure play.
On Friday, the smart grid was the focus a Recovery Act Investment Update hosted by Obama himself in the Rose Garden. The event featured Itron president and CEO Malcom Unsworth and several employees from the company's U.S. smart grid manufacturing facilities.
That event, coupled with good earnings, was enough to make investors respond: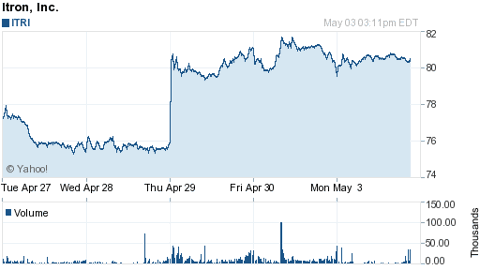 When companies get attention, investors buy.
And right now, the smart grid is getting plenty of attention — Rose Garden attention.
A $3.4 Billion Kick-off Party
Obama's recent Rose Garden party served to brag about, among other things, the $3.4 billion his Recovery Act committed to upgrade and development of the electricity grid
Itron was there because they manufacture smart grid and smart metering technology in two U.S.-based plants: one in South Carolina and one in Minnesota.
But here's the thing... The smart grid isn't on one-trick pony. Itron, and few other players, may have cornered the smart meter market.
But with 60% of the electricity generated in this country lost to inefficiencies (yes, that figure is accurate), there are plenty of profitable gaps for young smart grid companies to fill.
And the $3.4 in political paper was a direct invitation to the party.
Enter Trilliant, a prime candidate for a 2010 smart grid initial public offering (IPO).
The company makes wireless devices that attach to existing meters and devices at each tier of the electricity distribution system, allowing for the real-time relay of information about substations, outages, and the energy usage patterns of neighborhoods and schools.
For the tech savvy out there, Trilliant's products are better than their competitors because they support multiple modes of data transfer, including static IP, dynamic IP, and circuit-switched.
What's more, the company is in bed with the big boys. Their products are compatible with a number of branded meters, including models from GE, Landis+Gyr, and Obama's darling, Itron.
Consumers can even get the data on their cell phones. Trilliant's feed is compatible with Verizon (NYSE:VZ), Sprint (NYSE:S), AT&T (NYSE:T), Telus, Rogers, and a number of other wireless service providers.
And Trilliant is allowing things to be done in the electricity industry that have never been done before...
Real-time pricing based on usage profiles of homes and neighborhoods
Remote connect/disconnect
Voltage reporting
Automated power outage reporting
Further down the line, Trilliant's systems will be used to optimize energy efficiency, enable demand response, help integrate distributed sources like wind and solar, and help with the adoption of charge-at-home vehicles.
What we're about to witness is the networking of the grid — the Internet for energy. This was the aim of the $3.4 billion: to bring smart grid solutions to the table.
A Seat at the Table
Given these new solutions, it's estimated that the world will have 250 million smart meters by 2015, representing a $3.9 billion market.
And everybody wants in — Cisco (NASDAQ:CSCO), GE (NYSE:GE), Siemens (SI), and IBM (NYSE:IBM) are all pursuing smart grid solutions.
But those are already Blue Chips. The big money stands to be made by the up-and-comers... like Trilliant.
Thing is, you can't invest in Trilliant... yet.
Along with Silver Spring, which I profiled last week, Trilliant is a highly favored candidate for a 2010 IPO.
We'll pounce on smart grid IPOs as they happen. For now though, we'll have to stick with publicly-traded companies for personal profits.
As I said earlier, the profits are where the publicity is. And right now, smart grid is all over the place. Heck, the CEO of GE says it'll be "the biggest investment of the next 50 years."