Executive summary:
Coca-Cola (NYSE:KO) reported soft 2013 Q4 number this morning, sending shares down 4% as of this writing.
This presents a great buying opportunity for long term investors, as Coca-Cola now yields close to 3%.
With the continuing onslaught on sugar and soda, are there any positives at all for investors in this beleaguered giant?
_________________________________
As mentioned above, Coca-Cola reported disappointing Q4 number this morning:
EPS came in line at 46 cents per share.
Revenue missed by $270 Million.
North America volume continued to dip.
Guidance came in below estimates, due to currency fluctuations.
But it wasn't like there were no positives in the report at all:
Improved Productivity: Coke promised to make up for the soft volume growth with productivity improvements. And when this company talks about cost cutting and improving its efficiency, investors better believe it. It has the best distribution network already and is known for continuous improvements.
Other Markets: Volume increased in Europe, Asia, and Africa.
Powerade: Even in North America, Powerade brands are going strong. This could be an indication that the anti-soda, anti-sugar war is actually having some effect and that people are moving into "healthier" choices. Growth in Powerade is important as that division now makes up almost 20% of the stock price according to Trefis, as shown below.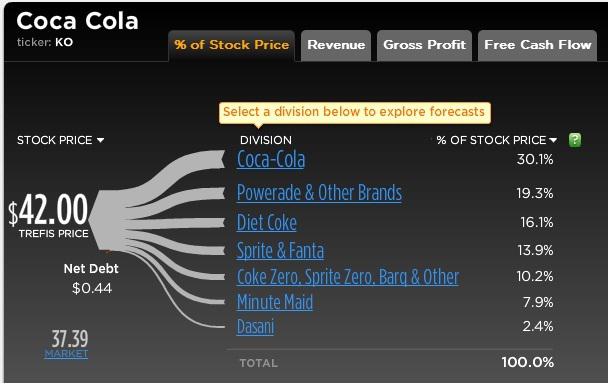 (Source: Trefis.com)
In addition, there are quite a few reasons to warm up to Coke here. Let us see them in detail below.
4 Year High Yield: Coke's upcoming dividend will put its yields well above 3.20%. The company has paid the same 28 cents dividend for 4 quarters in a row and has a history of announcing dividend increases the third Thursday of February. That happens to be the 20th of this month, 2 days from today.
As the chart below shows, Coke's yield after the likely announcement on Thursday will be its highest in almost 4 years.

(Source: YCharts.Com)
Dividend Growth: This is a point well known about Coke but it's worth repeating at times like this when the stock is not loved. A company that has increased dividends for 51 consecutive years (52 soon) definitely deserves the love of income investors. The table below shows the last 5 years dividend growth rates. We predict Coke to surprise investors to the upside and announce a 8% to 10% dividend increase. That will put the new annual dividend per share between $1.20 and $1.23.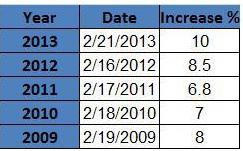 (Source: Yahoo Finance)
Price Target:
In case you didn't notice, scroll up to the Trefis.com chart shown above. Coke is trading almost 12% below Trefis' price target.
Coke is now 20% below the price target of $45 according to more than 15 analysts on Yahoo Finance.
Let us not forget the year end upgrade from Barron's, which called for a 20% upside to the stock.
Extrapolation: Buying when a stock is yielding 3% versus when it is yielding 3.2% might seem like a small difference on paper. But reality says otherwise. Assuming Coke increases dividends at 7% per year for the next 5 years, the yield on cost will grow to 4.55% for someone buying at an initial yield of 3.2%.
Under the same assumptions, the yield on cost for someone buying at an initial 3% yield will be 4.32%. Again, the difference might appear small but that is a difference of $2.50 per $1000 invested every 5 years. If you multiply by tens of thousands of dollars over multiple decades with dividend reinvestment, the end difference can be quite handy that many retirees can do with. In short, when these well known "premium" stocks are available even on a little sale, it might be prudent to add more.
Conclusion: "Be greedy when others are fearful." It is no irony that this quote is from a man who has made a fortune from investing in Coke. Companies that increase dividends through thick and thin are the best bets for long term investors. So far, Coke has not disappointed there and this quarter's numbers will only be a blip in the long term. If anything, the lower expectations are good for long term investors and it will shake off the weak holders. And if you bring the argument "Coke does not have share price appreciation potential" into the picture, this rhetorical question for you "Why does Coke not yield 10% or more with all the yearly dividend bumps"?.
Disclosure: I am long KO. I wrote this article myself, and it expresses my own opinions. I am not receiving compensation for it (other than from Seeking Alpha). I have no business relationship with any company whose stock is mentioned in this article.