Doing some catch up on portfolio company earnings from late last week...
Skyworks Solutions (NASDAQ:SWKS) reported a quarter / guidance, much as it did three months ago [Jan 21, 2010: Skyworks Solutions Beats Estimates, Raises Guidance - But Still Sold Off], but this time the market was happy about it. It's just the random nature of market reactions to earnings, I suppose.
I didn't see much different than the TriQuint Semiconductor (TQNT) quarter, which got a big fat snore from the market. But Skyworks had a gap up last Friday on very similar data. It has since retraced to the bottom of the gap up open. I sold some ahead of earnings to be cautious and most likely will end up trying to buy those shares back at the same price I sold them very late last Thursday. Let's see if this gap fills. (Click to enlarge)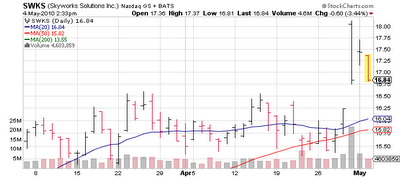 I continue to love the positioning of names in this sector as true secular growth stories; they are in the middle of all the action with mobile internet and increasingly the smart grid.
A quick look at the earnings and guidance is below. Please keep in mind that Skyworks, like TriQuint, increased guidance mid quarter so this is a beat versus a raised expectation. Looks like analysts have moved up consensus from $1.02 to $1.14 for 2010; not a bad value for a $17 stock.
Cellphone chipmaker Skyworks Solutions Inc's second-quarter results edged past market expectations, helped by expanding opportunities in smartphone, broadband access and smart grid applications, and the forecast a strong third quarter.

The company

expects third-quarter earnings of 30 cents per share,

excluding special items,

on revenue that is 10% to 15% higher on a sequential basis

.

Analysts were looking for third-quarter earnings of 25 cents a share, before special items, on revenue $243.9 million.

For the

second quarter ended April 2, Skyworks earned $27.7 million, or 15 cents a share,

compared with a loss of $5.7 million, or 3 cents a share, a year ago.

Excluding items, the company earned 24 cents a share

, narrowly beating analysts' expectations of 23 cents a share.

Revenue rose 38%

to $238.1 million, ahead of analysts' estimate of $232.2

million.

"We believe Skyworks remains one of the best positioned players in the handset front-end semiconductor market and regard current valuation levels as attractive," Kaufman Bros analyst Suji De Silva wrote in a note.

"Skyworks

also continues to see strong growth outside its core handset market from wireless infrastructure and energy meter reading content

," said the analyst, who raised his price target on the stock to $20 from $18.

"We believe

the company could exceed its 25% operating margin in the near to medium term,

" Svanberg said.

For the second quarter ended April 2, Skyworks posted an adjusted operating margin of 20.5%.
Disclosure: Long Skyworks Solutions in fund; no personal position