How do you recover and turn around your business when your once mighty retail locations have been downgraded to show rooms for your largest competitor? A competitor ran by a genius whose eyeballs play chess against each other while he sleeps. That's the mountain electronic retailer Best Buy (NYSE:BBY) is attempting to climb in the face of stiff price competition from the likes of Amazon (NASDAQ:AMZN).
The analysts covering the stock have been lowering the bar quicker than double shots at a speed dating event. Nineteen analysts revised earnings to the downside both for the current year and next year. This helped drop EPS consensus from $2.46 to $1.85 for this year and from $2.82 to $2.23 for next year. Unfortunately for Best Buy this also helped drop the stock down to a Zacks Rank #5 (Strong Sell). A very frustrating sequence of events for a company that worked hard last year to get back on track.
You could argue that last year's positive earnings revisions helped the stock have the great year it did. Now we are seeing the opposite effect. This could kick off another steep downtrend like the one the stock was entrenched in from April 2010 to the end of 2012.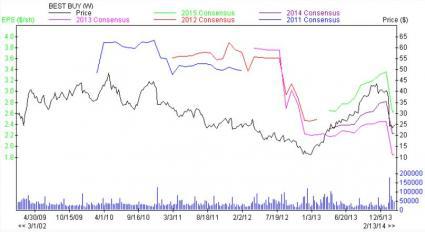 The technical picture is nothing to write home about either. BBY dropped below the 25x5 SMA in mid-November and has not broken back above on volume since. The recent drop in price from $37 didn't relent until we scraped the top side of $22. The initial drop saw the stock open around $28 which was about half the range of 2013. Here at $25 or so the stochastics are already in overbought territory and flashed a sell. If BBY breaks down below $22 again, the next stop could be all the way down at the 76.4% Fibonacci retracement level of $19.08.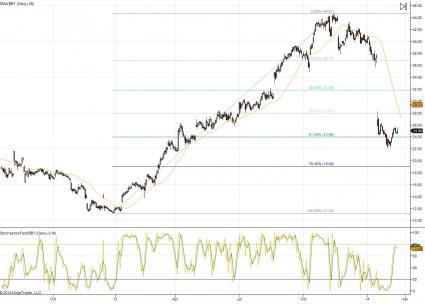 It's not just Best Buy that's struggling in this space. The Zacks Industry Rank is 257 of 265, putting it in the bottom 3% of all the industries we rank. The problems present at Best Buy are not exclusive to Best Buy. Online electronics retailers have the advantage of not needing expensive real estate to set up brick and mortar locations to reach the market. The strongest stock in this industry appears to be Conn's (NASDAQ:CONN) out of Texas and Louisiana. CONN had been a Zacks Rank #1 (Strong Buy) up until this week as the last upside revision hit a shelf life over 60 days which wiped it from our screens. As a result, the stock is now a Zacks Rank #3 (Hold). Conn's should remain on your radar to keep an eye on revisions in the future to see if it gets bumped back up to a buy but for right now I would stay away from this industry as a whole.