The value of publicly-traded equities in the United States has increased by 35% over the past two years, and the US public market cap is now north of $22 trillion, or 139% of GDP. Global equity markets have received a big boost from the US, which makes up 35.8% of global market cap. Public equity markets across the globe are worth over $62 trillion USD, up from $50.8 trillion USD two years ago. Below are two charts comparing total US and global market cap and the US share of global market cap.
Other developed markets have dropped in their contribution to global equity market gains as a strong year in the US left other markets behind. Canada has seen its share of global market cap fall almost continuously over the past two years, losing 15% of its market share during that period. Japan, despite an Abenomics-fueled surge in market cap share during 2013, now stands at a lower share of global equity value than it did two years ago, 0.3 percentage points, down from 7.35% to 7.05% market share in February of 2012. France and Germany have both gained while a newly-resilient UK economy hasn't contributed to large market cap share changes for London-listed companies.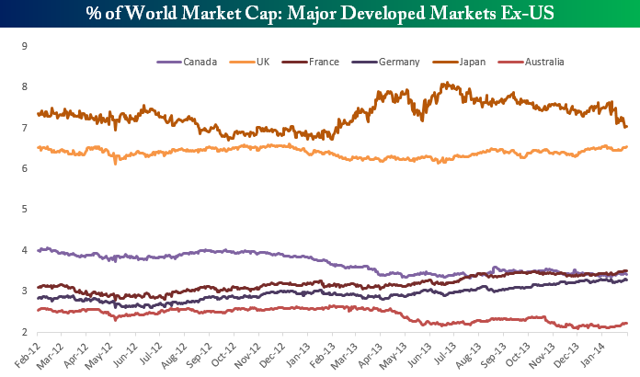 Finally we turn to EM, where a currency crisis fueled by concerns over the effects of the Fed's taper have burned investors. While EM equities have lost market cap share over the past year, it's worth pointing out that these countries have not seen massive drops in their contribution to the value of global equities.