This morning's release of the Empire Manufacturing report for the month of February hardly set the tone for a positive week of economic data. While economists were expecting the headline reading to come in at a level of 8.50, the actual reading came in about 4 points lower at 4.48. The top chart below shows the General Business conditions index of the Empire Manufacturing report (blue line) as well as what respondents are expecting six months from now (green line). As shown, while the current General Business Conditions Index saw a downtick this month, expectations for six months from now actually saw a modest increase, rising from 37.51 to 38.99.
The lower chart below shows Technology and Capital Expenditure plans for manufacturers over the next six months. As shown, both indices declined this month to multi-month lows. While plans for Technology spending dropped to their lowest levels since last June, plans for Capital Expenditures are down to their lowest levels since July 2009.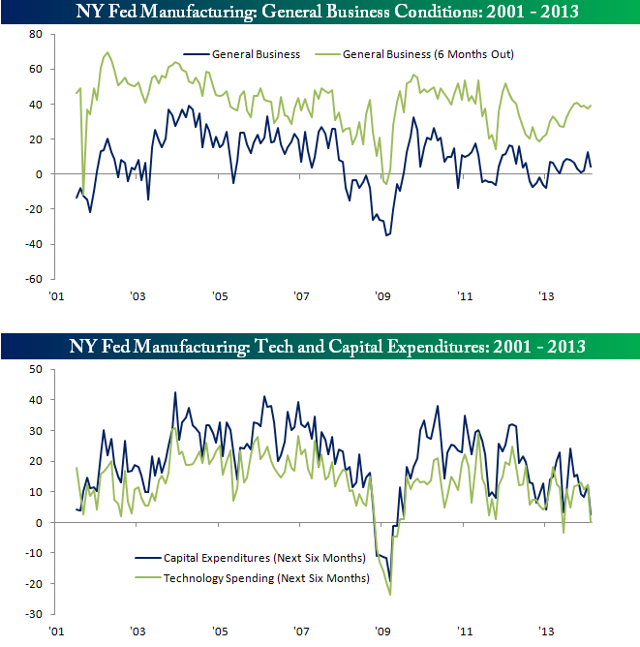 Breaking out February's Empire Manufacturing report by each of its various components showed a mixed picture. Of the nine sub-components, five dropped this month with the biggest declines coming in Shipments, Prices Paid and New Orders. On the upside, Delivery Times saw the largest increase (+9.8), while Average Workweek, Unfilled Orders and Prices Received saw modest increases. Finally, when we compare the difference between current conditions and expectations over the next six months, the biggest gaps are in New Orders and Shipments. So, while business may be slow for manufacturers in the NY area right now, they are expecting a sizable pickup in the months ahead.