Executive summary:
Macro trends and company fundamentals are expected to continue driving notable recovery for Bank of America.
The pending final decision on MBS settlement is unlikely to have much negative impact on the share price.
Bank of America's cheap relative valuations at large discounts to both S&P 500 and peer levels make the stock a compelling buy.
_________________________________
Share price of Bank of America (NYSE:BAC) has appreciated by 37% over the past 12 months, largely outperforming a 20% return for S&P 500 Index. Given the company's current recovery momentum and the stock's cheap valuation, I believe the price uptrend will continue to build.
BAC has delivered solid performance post financial crisis as reflected by its stabilizing return on common equity trend (see chart below). Since 2011, the company has not incurred any notable loss on common equity and has managed to drive up the profitability starting from early 2013 owing to continued recovery of the US economy and management's effort to contain operating costs. BAC's EPS bottomed in 2010 and recovered subsequently (see chart below). Market consensus expects the current EPS uptrend to continue rising and reach $1.88 per share by 2016, representing a 28% CAGR from the level in 2013.


Looking forward, I consider macro developments as strong tailwinds for BAC's recovery. I expect BAC's consumer banking and lending businesses would be buttressed by continued improvement in employment and housing markets in the US. As interest rates would likely to continue rising driven by QE tapering, the trend would benefit BAC's net interest income. Owing to the strong equity market performance, continued pick up in corporate activities (e.g. M&A transactions and borrowings) are expected to accelerate growth in capital market business.
Aside from the favorable macro backdrop, management recently indicated their bullish view on the company's wealth management business, which generated approximately 21% of total revenue in 2013. Owing to BAC's best-in-class wealth management platform (e.g. advisor network and technology infrastructure) with industry-leading products, management expects the scale and scope of the business will continue to benefit from efficiency improvement and cross-sell opportunities. The wealth management business generated 26.4% pre-tax margin in 2013, and management anticipates profitability to increase and believe a 30% pre-tax margin is achievable. Given the materiality of the wealth management, I believe this development to have meaningful positive impact on BAC's bottom line going forward.
On the regulatory front, BAC won approval of its $8.5B MBS settlement in late January. However, investors led by American International Group (NYSE:AIG) managed to postpone the final decision from taking effect until at least February 19. Despite the delay, I believe a much worse outcome has already been baked in the stock's current cheap valuation, and thus I expect the final settlement at $8.5B or even an amount with slightly higher value would be a positive de-risk catalyst for the share price.
BAC now trades at 10.3x 2015 forward P/E multiple, which is at a whopping 34% discount to S&P 500's 15.6x. Given that 1) the valuation discount averaged at just 25% in the past 12 months; 2) BAC has demonstrated continued recovery momentum over the past 12 months, and there is a better visibility into the MBS settlement issue at present; and 3) the company's consensus long-term earnings growth estimate of 9.8% is even slightly better than the average estimate of 9.4% for S&P 500 companies, I am of the view that the 34% valuation discount is overblown and investors should leverage on the cheap relative valuation with a long position.
Further, BAC's 2015 forward P/E trades at 9% discount to peer average (see chart below), though its consensus long-term earnings growth estimate exceeds peer average (9.8% vs. 8.3%). Both BAC's price to book and price to tangible book value multiples are just half of the comps averages, making the stock a very compelling investment given the fundamentals just discussed.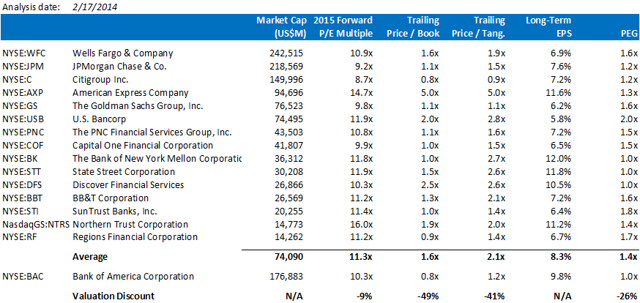 In summary, BAC is a bargain right now owing to the cheap relative valuation but promising growth prospects. A buy rating is warranted.
All charts are created by the author and data used in the article and the charts is sourced from S&P Capital IQ, unless otherwise specified.
Disclosure: I am long BAC. I wrote this article myself, and it expresses my own opinions. I am not receiving compensation for it (other than from Seeking Alpha). I have no business relationship with any company whose stock is mentioned in this article.