San Juan Basin Royalty Trust (NYSE:SJT) is a natural gas trust that receives proceeds from wells operated by Burlington Resources (a subsidiary of ConocoPhillips (NYSE:COP)) in northwestern New Mexico. SJT recently announced a $0.0867/sh. distribution for December 2013 sales and its shares have recently traded around $18/sh. Considering two months in early 2013 when SJT failed to pay a distribution, its 12-month trailing yield is a paltry 4.8%.
Better times are ahead. The distribution has already staged a mild recovery, but with a continued steep decline in well development costs and rising natural gas prices, my analysis suggests that SJT's monthly distribution is set to surge an additional 50% in the coming months-likely starting with January results due next month. The rising distribution presents several different plays that investors may wish to consider, including both long and short positions.
SJT Distributions Show a Near-Term Rise and Long-Term Fall
As those familiar with my articles know, I analyze trusts using an engineering-style model that considers forecasts of future production, sales prices, and expenses, as well as a trust's unique underlying circumstances. Key assumptions for SJT include:
2014 CapEx costs will be 80% lower than 2013
Total well production will decline from historical levels due to planned reductions in CapEx
Future sales prices will equal NYMEX HH and WTI futures markets, adjusted for historical spreads (-$11.76/boe for oil and +$0.02/mcf for gas)
Future lease and tax expenses are proportional to sales volume, total price, and time, as appropriate for the type of cost
SJT will terminate when trust distributions fall below $2M in two consecutive years and pay a residual, which is estimated as a multiple of prior year production
I explicitly avoid consideration of published reserves.
Using the model, I forecast that SJT's future distributions will increase substantially during 2014, to $0.13 for January (+40% month/month) and $1.70 over 12 months (+100% year/year). However, the model also suggests that SJT does not represent a good long-term buy. Even with the rise in distribution, SJT's long-term IRR is only 4.3%, which is lower than most of the trusts that I have reviewed. To figure out how to play this contradictory trust, we need to look at the forces and trends that are driving the distribution.
Sales Price and CapEx Trends Indicate Rising 2014 Distributions
SJT is an aging gas trust with notably consistent production, revenues, and expenses. These patterns are so stable that, over the past two years, just two factors are needed to explain nearly all of the variation in SJT's distribution. The chart below compares SJT's total monthly distribution (gold line) against average natural gas sales prices (blue line) and total CapEx costs (red line). If we consider just those periods when CapEx is low, the total distribution correlates very well to the price of gas. However, when CapEx is high, such as between September 2012 and March 2013, the distribution plummets, regardless of price.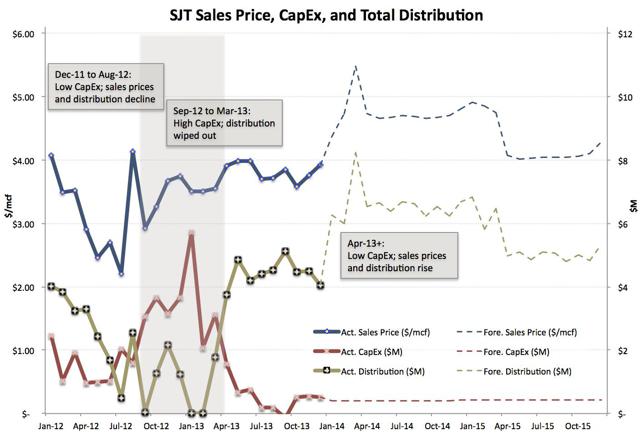 Source: created by the author from SJT's SEC publications and EIA and NYMEX published HH gas prices
Looking forward, 2014 bodes very well for SJT's distribution. On Jan. 24, Burlington Resources announced that the expected total CapEx for 2014 is $4.8M, a 78% reduction from 2013 ($21.6M). With low CapEx, SJT's distribution should continue to correlate with gas prices, which have traded significantly higher since December.
Long Term, Distribution Declines Are Expected
Over the long term, a different picture emerges. The chart below shows historical and long-term forecasts for total gas production (blue line), operating revenues (green line), operating costs (red line), and distribution (gold line). Although SJT has recently exhibited relatively stable production and costs, these trends will not continue indefinitely. Over time, even modest production declines and cost increases will slowly squeeze the distribution.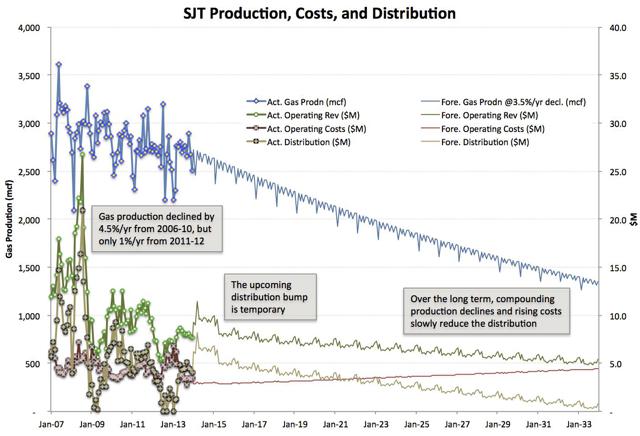 Source: created by the author from SJT's SEC publications and analysis
SJT as a Possible Play in 2014
SJT's forecast rise and dip in distributions offers two possible plays for investors.
Over the near term, SJT's distribution growth may portend a similar rise in share price. The chart below compares SJT's recent distributions with its market share price around the time of the distribution. As I read the chart, SJT's share price appears to track well with the distribution; which suggests that the market may respond favorably over the next 2-4 months.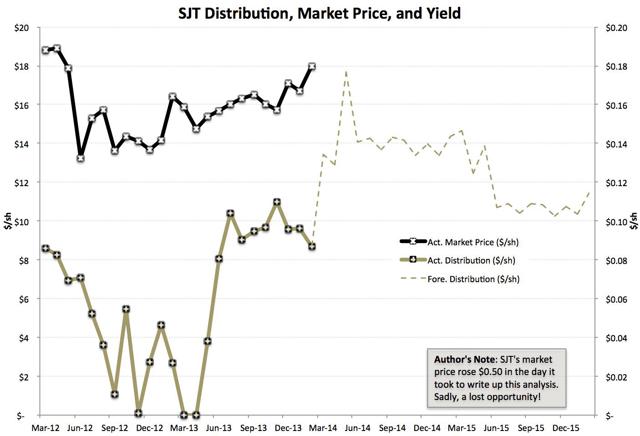 Source: created by the author from SJT's SEC publications and SeekingAlpha-reported market prices
Investors who seek to play the rising market action may wish to take a small short-term stake in SJT at current prices or on weakness. Given that the distributions may begin to decline in mid-2015, investors who go long should review their positions in late 2014 to determine if and when an exit is appropriate. An options play could offer additional risk/reward for those who are truly bullish; Jul-19 $20 call options are currently trading at $0.20.
The reason why a near-term exit strategy is recommended is due to what I see as a fundamental mispricing of SJT's risk by the market. Given the forecasts that I discussed above, SJT's IRR is 4.3% at today's market prices ($17.98 as I write this), which compares poorly to other trusts that I have reviewed. Using NPV-8 as a measure of fair value, I would only seek to accumulate a long-term long position at prices around $12.00.
It should be noted that my valuation is consistent for various alternative assumptions. For example:
If forecast sales prices rise 15% above current forecasts (measured as a gradual increase over 8 years and based on WTI, HH, and prior spreads), the IRR is 5.2%
If Burlington reinstates its well development program (at a cost of $18M/yr and limiting production declines to 1%/yr), the IRR is 5.3%
If production declines at 1%/yr, but without additional CapEx (a very optimistic assumption), the IRR is 6.1%
If higher sales prices are realized and production declines at 1% without CapEx, then the IRR is 7.4%
Essentially, for SJT's market valuation to be justified a lot has to go right!
The market's overvaluation could make SJT a good short candidate later in 2014. Once the upward share price pressure due to the distribution increase has passed, there are a number of possible downward triggers that may develop, including a mild 2015 winter, a renewed capital investment program, new legal issues between SJT and Burlington/COP, and rising interest rates. Investors interested in a short position should revisit SJT in late November, as winter forecasts are being developed and Burlington's 2015 CapEx program begins to roll out.
Regardless of long or short positions, all investors should keep an especially sharp eye on CapEx; although capital investment may raise SJT's long-term value, a renewed program could wipe out several months of distributions and affect the market price accordingly.
Disclosure: I have no positions in any stocks mentioned, and no plans to initiate any positions within the next 72 hours. I wrote this article myself, and it expresses my own opinions. I am not receiving compensation for it (other than from Seeking Alpha). I have no business relationship with any company whose stock is mentioned in this article.