By Sumit Roy
Diverging demand trends characterized the 2013 gold market, according to the World Gold Council.
The final gold figures for 2013 are in, and they come as no surprise to anyone who has been following the gold market over the past year. Last year was a tale of two markets for gold with record amounts of physical buying that was offset by even larger amounts of selling in the "paper" market.
All told, global gold demand tumbled by 15 percent to 3,756.1 metric tons in 2013, according to the latest Gold Demand Trends report from the World Gold Council.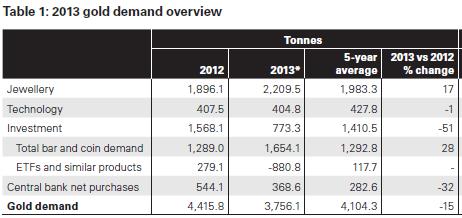 On the physical side of the market, things couldn't have been any better. Jewelry demand jumped 17 percent, putting it back to what the WGC calls "pre-crisis" levels, or the highest point since 2008.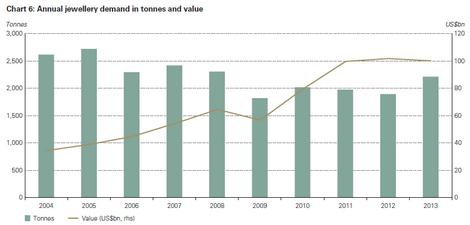 Even more impressive than the increase in jewelry consumption was the surge in physical bar and coin demand. That category saw an enormous 28 percent rise to a record 1,654.1 metric tons on the back of record demand from China.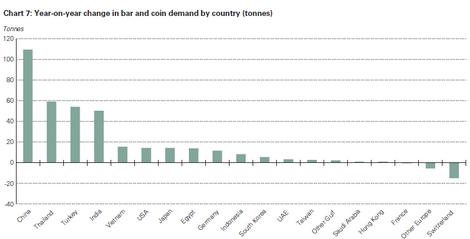 Consumer gold demand in China (bar and coin demand plus jewelry) totaled 1,065.8 metric tons, surpassing India for the first time. However, India's demand was not shabby by any means. At 974.8 metric tons, it was the third-highest total ever and came in the face of stringent import restrictions by the government. Combined, China and India accounted for about half of global gold demand in 2013.
Also supporting demand were purchases by central banks. As a group, they purchased 368.6 metric tons, down 32 percent from the 50-year high set in 2012, but still a very healthy amount. According to the WGC, the big buyers were Russia with 77 metric tons, Azerbaijan with 20 metric tons, and Korea with 20 metric tons.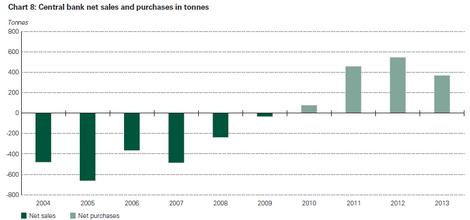 Overshadowing all of the aforementioned good news on physical demand was the massive "paper" market selling in the gold market in 2013. Investors in exchange-traded funds and similar products sold an incredible 880.8 metric tons worth of gold. That's a big swing from the 279.1 metric tons worth of purchases in 2012, and was the primary reason why gold prices plunged 29 percent last year.
Finally, the supply side of the market was much less eventful than the demand side. Overall supply slipped 1.7 percent. A 14 percent decrease in recycled gold - which tends to fluctuate with prices - was partially offset by a 5 percent increase in mine production.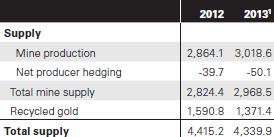 Coming off such a volatile year last year, 2014 promises to be an interesting period for the gold market. Investors should keep a close eye on whether the record gold demand in China keeps up, and whether the pace of selling by exchange-traded funds slows.